Ronald Koeman and Juan Mata are rather fond of each other. During his time in charge of Valencia, Koeman handed Mata his La Liga debut. Towards the end of last season, Mata heaped praise on the then Southampton boss.
A reunion between the pair has been on the cards for a while.
Now, Everton look set to benefit from the pair's mutual admiration. As Koeman begins his first pre-season in charge of the Blues, he knows where he needs to strengthen. He needs to take away some of the creative burden on Ross Barkley and he needs a player to help the Toffees tick over.
Juan Mata looks set to be that player.
According to reports from Infosport, Everton and Manchester United are not too far from agreeing to a deal, set to be in the region of €25 Million euros.
The Spaniard, 28. finds his position at Old Trafford in jeopardy with the arrivals of new manager Jose Mourinho and signings such as Henrikh Mkhitaryan.
Helping Ross Barkley
A player like Mata would help players like Ross Barkley immensely. Barkley bears a lot of the central playmaking burden, with help from out wide only coming from Gerard Deulofeu.
In recent years, the Blues would be able to call on support from their full backs, Leighton Baines and Seamus Coleman, but last season the pair found themselves more on their heels going backwards than helping out in attack.
Mata can play anywhere behind the striker, but operates much more effectively behind the striker, the same position that is occupied by Barkley. The arrival of a player like Mata could signal a move backwards for Barkley, allowing him to finally play in the centre of midfield.
Barkley is hugely effective on the counter attack, running at defenders with the ball. In his time playing behind Romelu Lukaku, he's found himself stuck, without the room to operate like he should.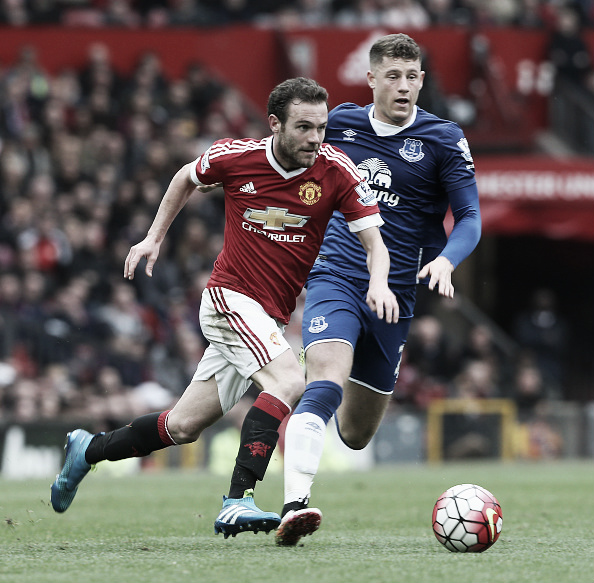 Making a statement
Koeman and Farhad Moshiri are looking to make a huge statement as their era at Goodison Park begins. Moshiri is ready to back player purchases with his own money and is already shaking things up behind the scenes.
The new Dutch boss has already laid out his list of targets, including names like Axel Witsel, Kevin Strootman, Virgil Van Dijk, Fraser Forster and Graziano Pelle. Koeman will have high expectations at Goodison Park, with a return to European football being the ultimate target.
Everton are also reportedly close to making a statement regarding a new stadium. The Blues have their eyes set on a waterfront stadium on the Liverpool docks.