Daniel Sturridge gives Liverpool the "fear factor" that they miss in his absence, according to captain Jordan Henderson, who also revealed that recent criticism has "hurt" the striker.
The prolific No.15 made a goalscoring return to the starting eleven on Sunday in the Reds' emphatic 6-0 away win at strugglers Aston Villa for his fifth goal in just eight games this season.
Sturridge netted the first goal of the game on 16 minutes, meeting Philippe Coutinho's excellent cross and planting his header into the bottom corner for the breakthrough at Villa Park.
Henderson, who revealed that many of the Reds' squad have been impressed by Sturridge in training, hopes that Jürgen Klopp can call upon his compatriot for the remainder of the season as they look to end the campaign strongly.
Henderson: Sturridge gives Reds extra quality
Speaking to the Liverpool Echo, Henderson explained how Sturridge "makes a huge difference" and said that you can see "how much he has been missed" in the recent games in which the England international has played.
"He has been brilliant since he has come back training and is looking really sharp," declared the 25-year-old, who said he hopes the striker "can continue to stay fit and cause problems when he plays."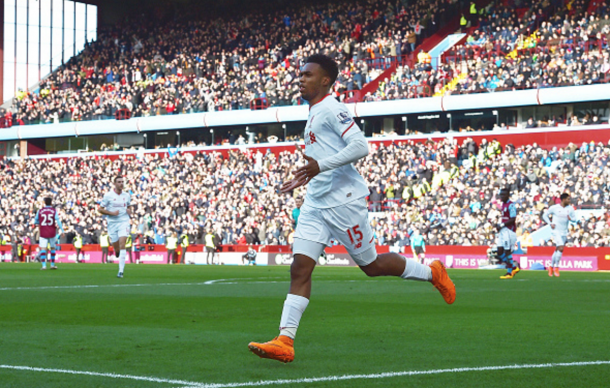 The skipper said that "everyone knows" how good Sturridge is but said that "because he has been out for a while, you do forget the quality he has got and how good he actually is."
Henderson explained that there are "lads in training who maybe haven't seen that much of him" and have been "very impressed" after seeing him, as he added that "his sharpness is top drawer" looking at him "in the game with his movement" and said he's "a massive bonus" to the side.
"He definitely gives us that fear factor back," continued the Sunderland-born midfielder, describing that any defenders playing against Sturridge "will be wary" because they "know how quick he is" and "how sharp he is with the ball."
The No.14 said that his teammate "can cause anyone problems" and said teams should "be worried about coming up against him" due to his quality."
An injured Sturridge as frustrated as anyone, explains Reds skipper
Sturridge's hour-long cameo was his first league start since October 4 and just his fifth appearance in all competitions since then, having once again had his season ravaged by injuries.
Some have questioned the striker's attitude and mentality, particularly since Klopp suggested he had to learn the difference between "serious pain and only pain."
But Henderson jumped to his fellow Englishman's defence and said that he has been just as frustrated as supporters whilst enduring another spell on the sidelines.
Henderson explained that he has known Sturridge "for years" and has spoken to him regularly, insisting: "You have to understand he has been more frustrated than anyone."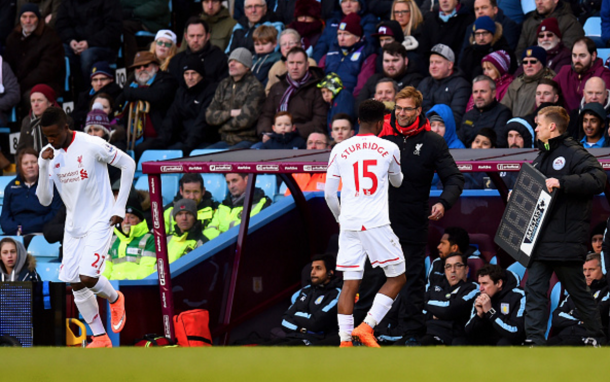 He acknowledged that "a lot gets said about him outside of our group" and explained that "it hurts him" and it's "hard for him to take" but declared Sturridge is "doing things to try and get back" because he "doesn't want to be injured."
He repeated that his teammate is "more annoyed than anyone" when he's not playing, but reassured supporters he is "back" and he has "got a smile on his face" - as well as saying "he has been world class" already since his return.
In fact, Henderson believes that Sturridge is up there with the best strikers around - insisting he's "definitely one of the best" and that "when he is firing, he is one of the best in the world."
He lauded how the 26-year-old, who has 45 goals in 74 appearances in all competitions for Liverpool, has "got everything" and praised his "finishing, touches, movement" because "he gets one chance and scores one goal", calling that "the difference" between him and other strikers.
But he admitted that Sturridge's "biggest problem" is simply putting "a run of games" together and "finding consistency and just staying fit." He said that's the "only issue" with him, and vowed that he "becomes world class" when he is fully fit.
Front-three can help Liverpool beat anyone, says midfielder
As well as Sturridge, attacking midfielder Philippe Coutinho - who scored on his first-team return in the FA Cup in midweek - made his first league appearance back from a hamstring injury.
The two formed a fluid front-three alongside Roberto Firmino, who was the team's stand-out star without them, which Villa struggled to deal with throughout.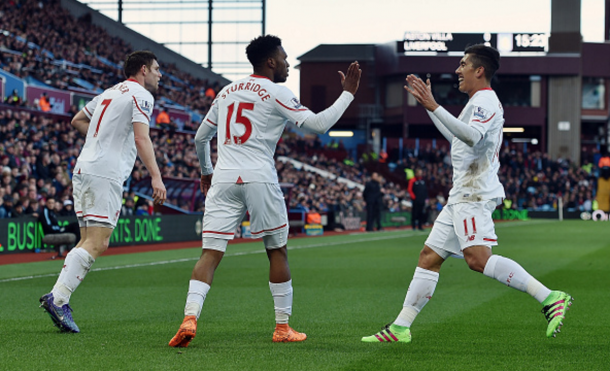 On the impact of having Firmino, Sturridge and Coutinho up top, Henderson said that they are "top, top players" and Klopp only has to "let them go and play and cause havoc."
Henderson said that, such is their quality, he constantly finds himself wanting to "join in with them" but accepted that he has to "be careful about leaving space in the middle" because he's got to "think more about protecting the defence" with "players of that quality in front of us."
He added that they have "had a lot of injuries this season" and sometimes "struggled because of it" but said that they "have been through the worst of it" and if they can overcome their struggle "to find consistency" and "keep it going" then they can "beat anyone."