Jürgen Klopp has given Dejan Lovren's Liverpool career a push in the right direction, according to the centre-back himself.
The Croatian signed from Southampton for a fee in the region of £20 million, the most the club have ever spent on a defender, under Brendan Rodgers in the summer of 2014.
But he failed to maintain the same form he showed on the south coast after his move to Merseyside and became a scapegoat for the Reds' poor season, which saw them fail miserably in the league, crash out of European competition twice and fall at the semi-final stage of both domestic cup competitions.
However, since Rodgers was sacked earlier this season - and his replacement Jürgen Klopp was appointed - Lovren has hit a richer vein of form which has seen him establish himself as a first-choice centre-half.
And the 26-year-old says he owes a great deal to the German boss for allowing him to express himself at the club.
Defender thankful for Klopp's confidence in him
Having helped keep six clean sheets in his last 10 games, as well as 10 in his 19 displays under Klopp, Lovren told the Express that he had been "happy to be here from the first day" but admitted that "sometimes it goes well, sometimes not" and "sometimes you need time."
"It depends on people who manage you well," added the Croatian international, insisting that "things have changed a lot" since Klopp's arrival at the club in early October.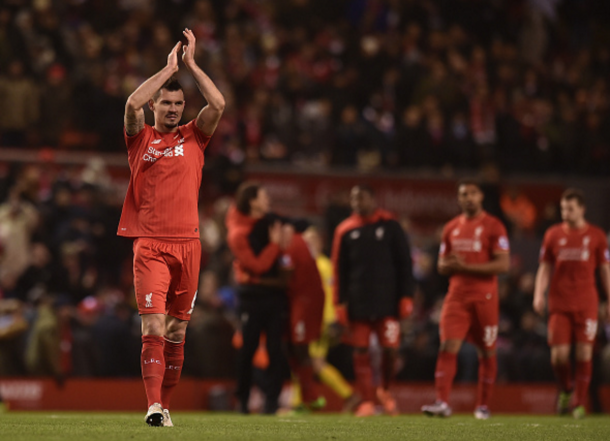 He explained that perhaps his resurgence in form is down to enjoying life under the manager, insisting: "I changed also because I really like his work. This pressing and, I would say, the need to be always 100% ready for the fight in training and in matches."
He refused to be drawn on whether Rodgers failed to get the best out of him, insisting that he would not say "Jürgen gave me the confidence" but that: "He gave me the push. 'Hey, you are a good player and here is your chance. Take it'."
"I took it. I am here still," added Lovren, who has turned heads with the manner of his recent performances - which has slowly began to justify the price-tag the club paid to bring him to Anfield.
Reds must take their chances against United, warns Lovren
He's expected to line up once again under Klopp this evening as the Reds take on fierce rivals Manchester United in the second-leg of their UEFA Europa League last-16 affair.
Going to Old Trafford with a healthy 2-0 advantage from the first leg, the pressure is on United to come out and attack in order to reach the next round - but Lovren believes he and his teammates have a fantastic opportunity to close in on their end goal, winning the competition.
Asked about the first-leg display, Lovren said that it "felt like a moment" despite admitting that he didn't know "if it was just because it was Manchester United."
He acknowledged that they "need to play like this against every opponent" and to show "the passion and fight and winning football" in each game they play.
But he also warned that they "need to finish well" against United tonight if they are to ensure their progression into the quarter-finals, saying that they have "a big chance to be where we want to be."