One of the beauties of pre-season is that it allows the lesser-known younger players to come to the fore. It gives them an opportunity that barring the kind of injury crisis that allowed Manchester United to give Marcus Rashford a chance last season, they just wouldn't receive.
Joe Gomez's impact this time last year, with no-one having knew what to expect after he signed from Charlton Athletic, and the fact he became first-choice left-back for the start of the season is an obvious example of what influence a good pre-season can have.
And though Liverpool have played only one of their nine pre-season friendlies after Friday's 1-0 win over Tranmere Rovers, the name on everybody's lips is the same. Ovie Ejaria.
Very few people even knew about him earlier in the day. So much so, various websites were desperate to get pieces up after the starting line-up announced Ejaria would be getting a chance from the offset, with profiles and background information on the midfielder to answer the questions of supporters. Many of whom simply asked: "Who's he?"
Fair to say, though, the same people who knew so little about him beforehand, knew plenty after the final whistle was blown. Such was the impression the athletic, industrious, and obviously talented, Ejaria made.
The tongue-in-cheek Twitter comparisons to Paul Pogba and Yaya Toure were just that, tongue-in-cheek - but there was obvious and understandable excitement about Ejaria's performance.
On his first ever showing for the senior side, he relished the challenge. Always looking to get on the ball and drive forward in possession, Ejaria's confidence and composure was refreshing to see.
Signed from Arsenal - his boyhood club - just two years ago, the 18-year-old's talent belies his age and inexperience.
One of the stand-out performers, can Ejaria continue this form through the rest of pre-season?
From a No.10 berth, Ejaria's work ethic, vision for a pass and close control - somehow managing to wriggle free of danger in the tightest of spaces against Tranmere despite looking almost certain to lose the ball.
The awareness he showed, when escaping his markers and when looking for a teammate, was arguably the most exciting facet of his performance. A tougher skill to teach than the rest, his ability to read the game will surely do him well in the coming years.
His towering height and dominating presence also allows him to mix it in the middle, Ejaria far from shying away in an combative battle against the Reds' lower league opponents.
At the very least, the teenager's performance was enough to put him more firmly into the picture for the coming pre-season games. You would imagine he is likely to earn more minutes against Fleetwood Town, Wigan Athletic and Huddersfield Town in the next few weeks.
Should he take those opportunities, a place in the squad for the tour of the United States is not beyond reach. Take that chance and then a shot in the first-team, perhaps in the lower rounds of cup competitions next term, becomes a possibility.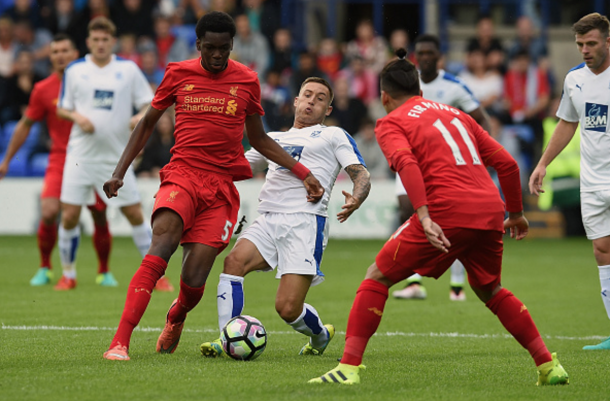 It was not a surprise that the Reds' Under-21s boss Michael Beale showered Ejaria with praise after his Tranmere performance, insisting: "I'm very excited about Ovie Ejaria. I knew him from my time in London. He went to West Ham and ended up at Arsenal."
Ejaria turned down a scholarship to stay at the Gunners, instead moving north to Merseyside, and Beale continued that he has "done very well" with Liverpool and has "trained in and around the first-team" and "managed to settle well."
Beale, formerly a youth development officer at Chelsea and U14s coach, admitted that Ejaria appears "a little tall and gangly" and that the club are "still waiting for him to develop more physically" before adding: "But he is a lovely player and has fantastic technical ability."
The Reds' Academy coach also praised the impact of playing "in front of a local crowd alongside first-team players" and said it would be a great experience for a player like Ejaria. So it proved.
Nevertheless, Beale warned that the young players - not just Ejaria - must "keep their feet on the floor" and "show that they're progressing" if they are to dream of chances of playing for Jürgen Klopp.
Reds cannot get carried away over Ejaria, despite memorable first impression
And as might be expected for someone with a UEFA A License, Beale's right. At this stage fans clearly cannot afford to get carried away. This was just one game. In fact, this was only 45 minutes.
Over-expectation after all, is part of the reason why Jordon Ibe's potential £15 million move to Bournemouth has been met with such delight.
Had Ibe not been tipped to become the natural replacement for Raheem Sterling after his switch to Manchester City last summer, perhaps there would be more disappointment that Liverpool would be losing such an immensely talented youngster in Ibe.
With his career still ahead of him at just 20 - his disappointing 2015-16 campaign may be more easily understood had Liverpool not expected quite so much of a player who until December, was still a teenager.
Building players up for what they are not has also been the downfall of many, many seemingly promising young talents at Liverpool - from pre-season wonder Dani Pacheco to Suso, to Jack Robinson to Krisztian Nemeth. There were many before them and there will be many after.
But having scored the winner for Liverpool's Under-18s side in a match at their Kirkby Academy in Klopp's early days as manager, Ejaria clearly left a lasting impression.
The hope is that on this evidence, he will leave a lasting impression on the club, and rival supporters, in the years to come. He certainly seems capable if he can continue his current development, though too much cannot be expected too soon.