Tottenham Hotspur have announced the signing of midfielder Victor Wanyama on a five-year deal lasting until 2021. It is understood that Spurs paid £11m to Southampton for the player. Wanyama apparently flew from Kenya to undergo a medical on Monday.
Pochettino and Wanyama reunite
It is understood that Wanyama was very keen to link back up with his old manager Mauricio Pochettino. Wanyama was signed by the Argentine for Southampton, from Celtic in 2013 for £12.5m. Tottenham were also apparently in for Wanyama last summer transfer window but then manager Ronald Koeman stopped the move. However since the manager left Southampton gave up on trying to keep the midfielder.
Pochettino was also keen to add the defensive midfielder to his squad, as Spurs will look to build on their form from last season especially with Champions League football on the horizon. The Kenyan will be good back up for current midfielder Eric Dier who played all but one Premier League game for Tottenham, the one he missed due to a suspension. He may also potentially challenge Dier for a first team spot.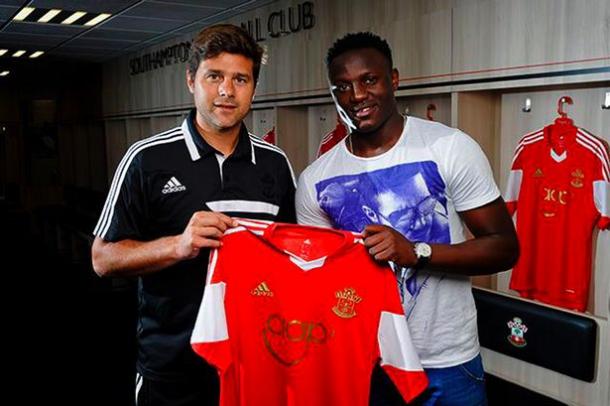 Wanyama's open letter to Southampton fans
On his official website Wanyama penned an open letter to Southampton fans labelling his departure as "very emotional" as the club "gave [him] the chance to be the first Kenyan to play in the Premier League". Waynama also added that the fan's "support and affection" have helped him "grow as a player and a person" before commenting that he feels "really proud that [he] got the opportunity to wear the Southampton shirt". He concluded by thanking his teammates and staff. Wanyama thanked the players for giving "100% effort" and that he "will miss all of [them]" before adding that the backroom staff "never get credit for their contribution to our success on the pitch" and that the club is "nothing without you".