Paulinho spoke to the media ahead of Brazil's next World Cup Qualifying match against Colombia.
The former Tottenham Hotspur player is now plying his trade across the Asian continent with Chinese Super League club Guangzhou Evergrande and has pledged to make use of this second opportunity giving to him by Selecao manager Tite.
The 28-year-old made his debut for the Selecao on September 14, 2011, under Mano Menezes in the first leg of 2011 Superclassico de las Americas against Argentina. since then, he's played a crucial role for the team, helping the country to its fourth Confederations Cup title in 2013. He's scored five goals in his thirty-three appearances for the Selecao.
"A remarkable honor"
He told the press, "Every player who is here deserves to be here because the technical committee are scouting all of our games and have knowledge of our talents." He continued, "My return to the Selecao is a remarkable honor, I have to cherish every moment and make the best out of it, as did against Ecuador."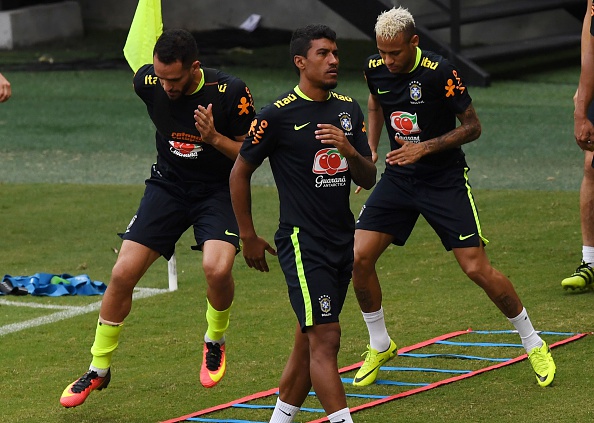 The former Corinthians man has been described as a box-to-box midfielder, with immense movement into the box. He offers a useful presence in set piece situations at both ends of the pitch. He also possesses the ability to push his side forward from midfield to append his strong defensive mindset.
Good understanding with Augusto and Tite
He also took time during the press conference to praises a teammate and talks about his relationship with Tite, who he worked with during his times at Corinthians. He says: "I feel at ease playing alongside Renato Augusto, it's not a secret we were teammates back at Corinthians. He has impressive technique." On Tite, he says: "We worked together for three years at Corinthians, we understand each other from eye-contact."
The Sao Paulo-born midfielder has also talked about out of favored at Real Madrid, James Rodriguez, he said: "James is a special player, we have to neutralize him and reduce spaces. We can't give him time on the ball." And he claims that the Selecao is superior to Jose Pekerman side. "Colombia always want to provoke us because they know we're technically superior. We prefer a less aggressive game." Says by the central midfielder.