The Seleção Brasileira will commence in one training session today Sunday before travelling at night to Mérida, one of the largest city in Venezuela where they will face La Vinotinto at Estadio Olimpico Metropolitano de Merida on Wednesday for the10th round of Conmebol World Cup qualifiers.
Brazil hammered Bolivia 5-0 over the weekend with the goals scored by Neymar, Gabriel Jesus, Coutinho, Felipe Luis and Roberto Firmino. Claiming the second spot with eighteen points, one point behind leaders Uruguay and two points ahead of both Ecuador and Colombia.
Since the start of the Russia 2018 World Cup qualifying, Brazil has won five matches out of nine, having drawn three times and lost only one time to Chile in the opening of the campaign. However, Brazil is yet to lose a game under new manager Tite, since his emergence as their new head coach they've managed to win all of his three games.
How Tite restored the team confidence.
Philip Coutinho spoke to GLOBO on how Tite restored confidence to the team and the future of the newly Manchester City signing Gabriel Jesus. He says: "Tite does his best to make everyone feel important." Adding, "He always talks to the ones who don't play, so when we enter we'll feel confident."
The Liverpool's man continues: "Every single one of us is confident and the games are going well." He adds that: "Brazil has the strongest attack among the qualifiers." Countinho continues: "We've great individuals but I think this is the result of the superb work of the whole group."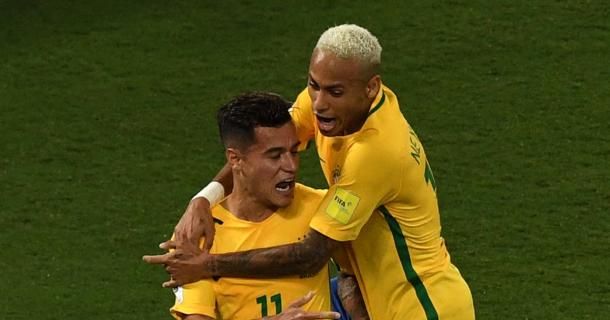 One hundred and thirty goals have been scored out of forty-five games that have been played thus far in the Conmebol qualifiers and Brazil are with only two goals ahead of Uruguay who scored 19 goals, and Ecuador holding the third with 16 goals, followed by Chile who netted 13 times.
Sensational Gabriel Jesus and prestigious Barcelona's Neymar are topping the Seleção's goal scoring chart with both having scored three goals per each player.
Word on superb Jesus
Coutinho on Jesus future with Manchester City: "Gabriel is a superb player, he won't have any difficulty to adapt to England. He is physically strong and very agile. He has all the characteristics to succeed in the premier league." He continues: "Jesus is a crack, he will be a huge hit in English football without any doubt."
Philip's outstanding styles of play
Coutinho made his Brazil senior team debut on 7 October 2010, starting in a friendly match against Iran. Since then he has scored five goals in his 20 appearances for the Seleção.
He was considered to be an archetypal Brazilian playmaker, he excels at providing assists for teammates. His former manager at Espanyol Mauricio Pochettino used to compare him with Ronaldinho due to his ability to dribble, pace, vision, and agility.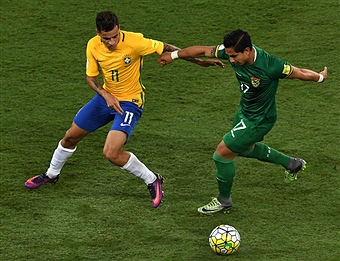 The former Internazionale player is now directly used in the flanks, even though he's naturally a right footed. When asked about being in competition with Chelsea's Willian in the national team, he says: "It's a good for the group, but it doesn't hinder our friendship." Coutinho states: "He was the first to celebrate my goal against Bolivia."
According to GLOBO in Neymar's absence, the Seleção attack trio against Venezuela will be Wilian in the right, Gabriel Jesus in the center, and Coutinho on his favorite left position. As he admitted to GLOBO, The little magician says: "Playing on the left is my position at Liverpool." Coutinho concluded: It's where I feel comfortable."