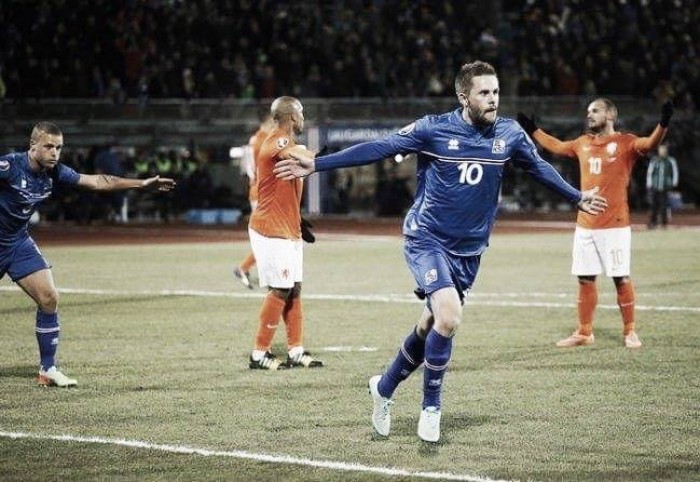 A nation of just over 329,000 people, Iceland are heading to their first ever major tournament this summer, with Euro 2016 to see them debut on the big stage.
The achievement in qualifying alone is incredible. The Nordic island are the smallest nation to ever reach a major tournament by some way - their population massively inferior to that of Northern Ireland, who would have held the title this summer otherwise with their 1.81 million.
Speaking to Sky Sports in the build-up to the tournament, Gylfi Sigurðsson has underlined how big the feat really is.
"People said to me, 'oh, it's a shame you're from Iceland. You're never going to play in a major tournament,'" he revealed.
However, he is now not only set to play for his country at the Euros, but he is the man who has spearheaded their charge to France.
Changing of the guard
There were many factors helping the tiny country on their way. External factors such as the capitulation of the Netherlands in qualifying have been heavily documented, but the most decisive factor has certainly been an internal one - one by the name of Gylfi Sigurðsson.
Iceland's star man over the years has been Eiður Guðjohnsen but, despite an illustrious career taking him to the very top of the game with the likes of Chelsea and Barcelona, the now 37-year-old forward has never been incredibly prolific.
One short of a century of goals in 261 appearances for the Blues but managing just 18 in 112 games for the Catalans, he is Iceland's most famous and most successful export, but perhaps not for much longer.
Enter Sigurðsson; a goal-scoring midfielder who is the country's new shining hope after leading them to France this summer.
Having relied on Guðjohnsen for so long, the weight of expectation has now shifted to a 26-year-old midfielder entering the prime of his career.
After top-scoring in Group A in qualifying with six goals - a total only bettered across all groups by out-and-out forwards - it's clear why too. Sigurðsson was involved in nine of Iceland's 17 goals on the road to France, with him single-handedly taking the huge home clash with the Netherlands by the scruff of the neck, scoring a match-winning brace in the 2-0 victory.
It was after those three points that the prospect of qualifying for Euro 2016 was realised as something more than just another pipedream, and Sigurdsson continued to lead the way.
Scoring the winner against the Czech Republic and hitting the only goal of the game in the reverse against the Dutch in Amsterdam; Iceland had finally found a reliable and consistent performer who they could rest their hopes upon.
Guðjohnsen was always a quality player - and still is in fact - but he hasn't got the service over the years that he needed to take his country to a major tournament.
Sigurðsson is that creator - not just for players like Guðjohnsen in front of him, but for himself too. The midfielder has the individual quality to muster things up out of nothing, and that is what sets him apart from past Icelandic stars. This is what has seen him drive the team to their historic qualification.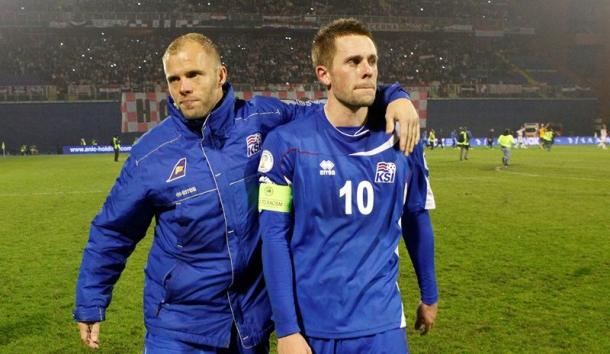 Momentum plus belief, equals glory?
This has rang true in his domestic football too this season. Sigurðsson was the driving force for Swansea City as they staved off the threat of relegation, scoring 11 goals on his way to being crowned the club's Player of the Year.
Match-winning strikes against Norwich City and Chelsea were notable, while he also scored in wins over Aston Villa and Everton. Even when the team endured a difficult run of form, he was on hand to secure important draws against Crystal Palace and West Bromwich Albion to keep them plodding along.
The midfielder won points almost on his own at times this season, helping to drag the Swans up the standings - with his 2016 form, which saw him bag nine goals in 17 games, particularly significant in keeping them up.
Sigurðsson's rise to prominence under the charge of Francesco Guidolin was terrific to watch, and it means he heads into the summer with great confidence as a result.
He doesn't lack belief either. Despite not many outside of Iceland believing it was possible, the midfielder says he "always believed" that he "could" and "would" make it to a major tournament.
"I knew it would be very tough for a small nation, but the majority of the squad has been playing together for a long time now and that's obviously a big advantage for us."
With a relatively kind group draw too, one which pits the Nordic nation against Portugal, Austria and Hungary, Sigurðsson sees no reason why they cannot go far.
"We've got nothing to lose," he says. "I can't say there's not going to be any pressure on us; everyone at home expects us to win every game. But as long as we do well and get some points on the table, everyone will be happy."
Stranger things have happened and one can imagine Strákarnir okkar will look at surprises sprung in the past for inspiration; Greece in 2004, Denmark in 1992.
"If you get a good start to the tournament, then anything is possible," especially when you've got a player like Gylfi Sigurðsson pulling the strings.