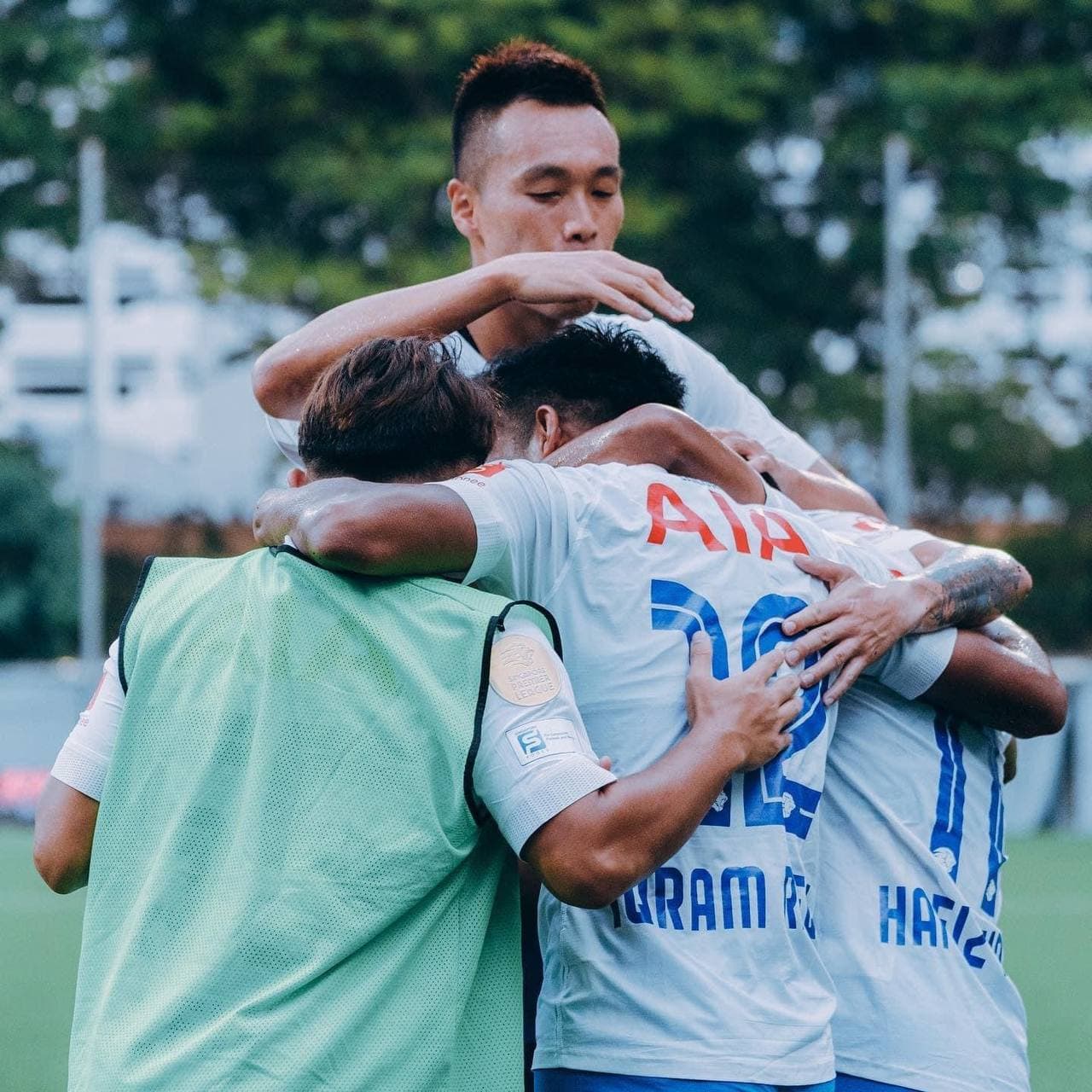 Lion City Sailors kickstart their 2022 SPL campaign strongly with a win against Hougang United last Sunday. The game ended with a score of 3-1 in favour to the Sailors. An impressive comeback from the Sailors as Hougang opened the scoring in the seventh minute of the game.
Hougang's debutant Pedro sure gave the Sailors and the crowd a beautiful impression that was one to remember as he had a perfect timing when impacting that volley which ended up at the back of the net.
It did not take too long for Sailors to put an end to the Cheetah's lead, when South-Korean Kim Shin Wook was once the hero for the Sailors again to meet that ball from magician Shahdan's delivery. It was almost a free header, as Kim knew he should not waste such an easy chance that was given to him. 1-1 in the 23rd minute. The game was sealed with goals later coming in the second half from Sailor's Iqram and Diego.
Sailors head coach Kim Do-Hoon was completely impressed with his team's performance from start to finish last Sunday. He explained how his team approached every minute of the game with the right mentality and attitude.
"From Hassan Sunny at the back all the way up to our forwards, the boys gave more than 100 percent. By conceding the first goal, we made it difficult for ourselves and it clearly took more effort to come from behind against a quality team like Hougang. But what impressed me about my boys was that they stayed cool and continued to play our brand of football, instead of feeling nervous or rushing things because of the score line" as head coach Kim speaks his post-match thoughts in an interview with the Sailors.
The Eagles will be looking to start the season strong with a win against the Sailors. As head coach Noor Ali prepares his team to face a dozen of challenges that lies ahead of them for the upcoming season, he has awarded ex-Balestier goalkeeper Zaiful Nizam the captaincy role. He believes the new skipper is the right man for the job to lead the team into the tournament through the ups and downs that the Eagles will be facing.
"Such a pleasant surprise for me to be entrusted with the armband as I have only joined the club not too long ago. It's a massive honour to captain the eagles and I will perform my utmost best to repay the management's faith in me" mentioned Zaiful in a pre-season interview with the Eagles.
Geylang International vs Lion City Sailors Head-to-Head
The Eagles had shared the field with the Sailors for a total of seven times, with the Sailors winning all seven games. The Eagles have not won a single Singapore Premier League game against the Sailors, one for them to look forward to this Friday.
Geylang International Form Guide: L-L-L-W-D
Lion City Sailors Form Guide: W-W-W-W-W
Geylang International vs Lion City Sailors Team News
Geylang International
There are no reported injuries or suspensions.
Injured: None
Suspended: None
Doubtful: None
Other reasons: None
Lion City Sailors
There are no reported injuries or suspensions.
Injured: None
Suspended: None
Doubtful: None
Other Reasons: None
Geylang International vs Lion City Sailors Predicted Starting XI
Geylang International Predicted Starting XI (4-3-3): Zaiful Nizam (GK), Ahmad Syahir, Fadli Kamis, Rio Sakuma, Faizal Roslan, Khairul Hairie, Takahiro Tezuka, Umar Akhbar, Sime Zuzul, Fareez Farhan, Hazzuwan Halim.
Lion City Sailors Predicted Starting XI (4-3-3): Hassan Sunny (GK), Pedro Henrique, Tajeli Salamat, Anu, Song Ui-Young, Shahdan Sulaiman, Kim Shin-Wook, Iqram Rifqi, Hariss Harun, Hami Syahin, Saifullah Akbar.
Lion City Sailors will be looking to claim all three points comfortably as they are looking to remain unbeaten throughout this season. However, Geylang International would be looking to cause an upset against the Sailors as the Eagles have nothing to lose, considering they have not won a single game against the Sailors in their past seven encounters. The Sailors definitely look stronger on paper but the Eagles are not intimidated by that, as they have all to prove for in their next 90 minutes.
"We've got a new team with many fresh faces and the boys are really putting in effort to fit in coach Noor's football philosophy. All of us can't wait to get cracking and impress this season. We will have the first game at our home ground and we're counting on the fans to rally behind the team. We got nothing to lose and will be giving 150%" mentioned Geylang International's new captain, Zaiful Nizam.
Prediction: Geylang International 0-4 Lion City Sailors