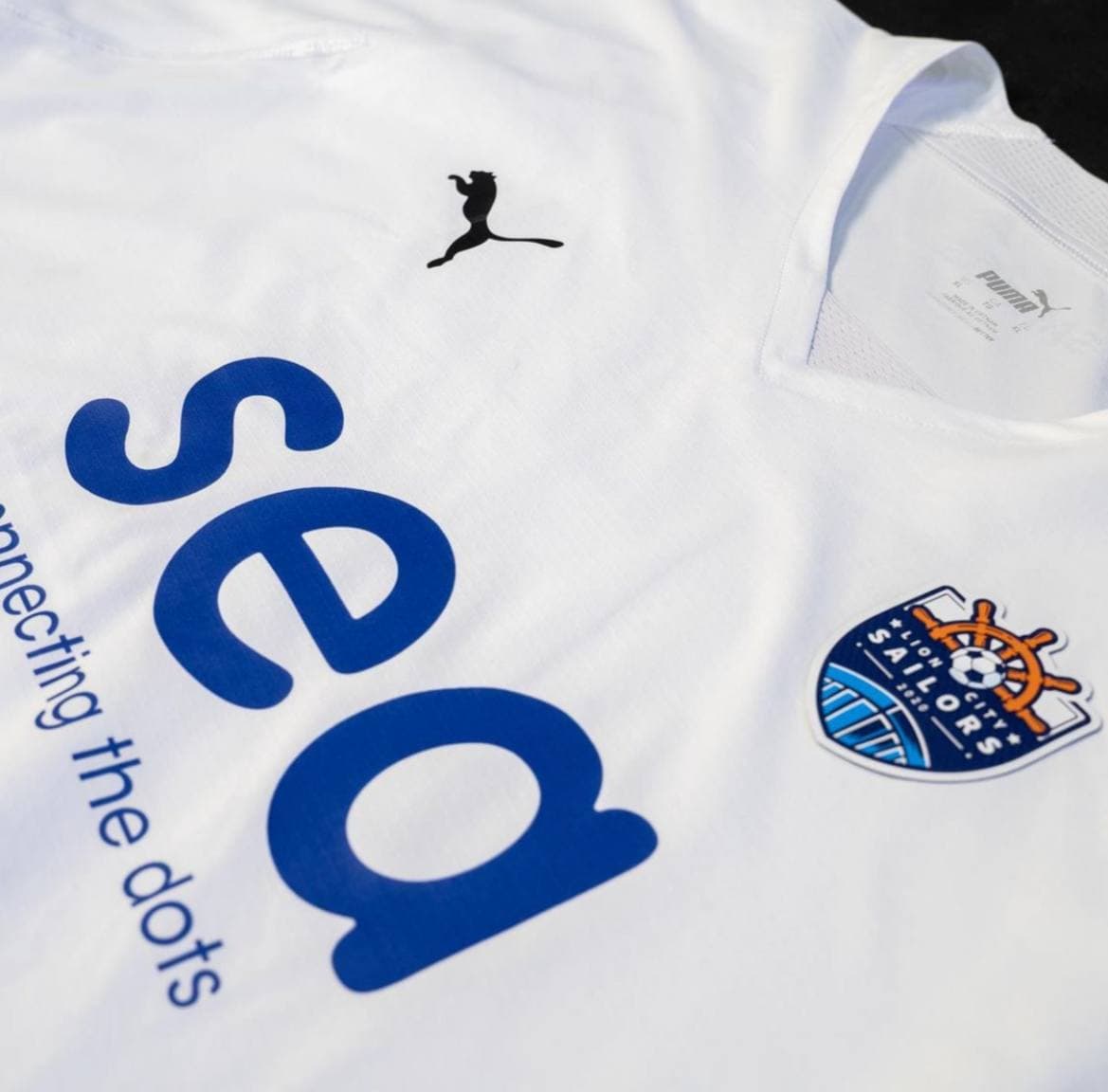 The Sailors, formerly known as Home United, were taken over in February 2020 by local tech firm Sea. LCS made the headlines for the signing of midfielder Diego Lopes for an estimated €1.8 million (S$2.9 million) from Portuguese side Rio Ave and for bringing in Coach Kim Do-hoon, who led South Korean side Ulsan Hyundai to victory in the Asian Football Confederation's AFC Champions League. Their free-flowing attack, rock-solid defence and a plethora of talented depth in all departments ensured that the richest club in the SPL made no mistake in sealing the domestic title in 2021.
During the 2021 Singapore Premier League campaign, the Sailors were neck and neck with Albirex Niigata, with the former ahead on goal difference. The Sailors attained the title with a 4-1 hammering of Balestier Khalsa courtesy of goals from Diego Lopes, Song Ui-young and a brace from Gabriel Quak at the Jalan Besar Stadium. Albirex could only draw 4-4 with Tanjong Pagar United and this meant that the Sailors finished on 48 points two points ahead of Albirex. This gave rise to the Sailors clinching the title right down to the wire on the final day of the season. They amassed a total of 14 wins,6 draws and just one loss out of the 21 games played.
This upcoming 2022 season promises much delight, with LCS to make the club's debut in the Asian Football Confederation Champion League (ACL). Drawn into Group F, they will face Chinese Super League (CSL) champions Shandong Taishan, Japanese Emperor's Cup holders Urawa Red Diamonds and the winner of the play-off between K League 1 second runners-up Daegu FC and Thai League 1 giants Buriram United. The club has made quality signings to enhance their squad depth and this will help them cope with the rigours of a crammed schedule, with the SPL league format changed to a quadruple round-robin format -one extra round than the previous season.
However, do not assume that it would be an easy road for the Sailors, as other clubs have recruited astutely to strengthen their squad. The aggressive yet conscientious Albirex would be raring to knock LCS off the perch to claim back the title. This is evident in their pre-season friendly where they won 7-0 against Balestier Khalsa . This scintillating form of Albirex might pose a menace to the Sailors' quest of winning back- to- back titles. Besides Albirex, other clubs such as Hougang United and Tampines Rovers are not to be underestimated as they would be yearning to give LCS a tough fight.
Sailors add European pedigree with signing of Belgian winger on a free transfer from top-tier Belgian club Standard Liege and the Sailors said in a media release that the 29-year -old Belgian will join the club on a two-year deal. "The Sailors' vision of building a strong football culture in a country like Singapore is a project that really excites me," said Lestienne. "I can't wait to get started with the Sailors, especially as the club competes for the first time in Asia's Champions League." Lestienne was part of Dutch giants PSV Eindhoven's 2015/16 squad that reached the round of 16 of the UEFA Champions League. PSV had notably qualified out of the group stage ahead of English Premier League giants Manchester United, with Lestienne providing the pin-point cross for PSV Eindhoven's winner in their 2-1 victory over Manchester United. He also has six goals in 29 appearances in the Europa League with Standard Liege and fellow Belgian side Club Brugge. In total, he has accumulated 379 games, 75 goals and 68 assists across Europe's top leagues, featuring for teams such as Spanish La Liga side Malaga and Italian Serie A side Genoa. All in all, one thing is for sure, it is that Maxime Lestienne would definitely add quality to the flanks.
Kim Shin-wook
The South Korean international, who has 16 goals in 56 caps, was confirmed as the Sailors' first transfer for the 2022 campaign and comes with striking credentials. He will replace Croatian Stipe Plazibat, who scored 23 goals in 25 games for the Sailors in two years. "The Sailors project is an ambitious one that is fast gaining momentum. I was presented with the vision that got the club to this point, as well as what's in the pipeline for the years ahead, and I immediately knew I wanted to be a part of it," he said. Sailors coach Kim Do-hoon added "Shin-wook brings with him characteristics that will help take our game to the next level, and I'm delighted that he found as much excitement in the Sailors project as I did when I joined." It would be an indisputable fact that Kim shin-wook would be the main man to spearhead the attack for LCS and his enthralling ability to score goals would definitely be a hazard to the other clubs.
Pedro Henrique
Looking to strengthen their defence, LCS have signed Brazilian centre-back Pedro Henrique, who played in the Europa League with Portuguese top-tier side Vitoria Guimaraes.
The 29-year-old, who has signed a three-year deal, was at Vitoria from 2015 to 2021, during which the club finished fourth in the league and second in the Portuguese Cup in 2017. He also played in the Europa League the following season and scored in the 1-1 draw with RB Salzburg. The 1.9-metre defender is expected to be an upgrade from compatriot Jorge Fellipe, a Player of the Year nominee in the 2021 season .
"I'm looking forward to working with Diego, and club head coach, Kim Do-hoon who won the ACL as recently as 2020," he said in a club statement. "With so many of the squad having international experience with the Singapore team, I'm confident we will grow to be a team to be reckoned with."
Head Coach Kim added: "Pedro comes with qualities that will help the team improve even further. We are very clear that we must work to become competitive at the Asian level, and I'm confident that Pedro will help us on our journey."
Henrique possesses aerial prowess, good composure, a strong capability to distribute the ball from the back and will be a welcome addition to the Sailors.
M Anumanthan and Izwan Mahbud
The players are both Singapore internationals, and were on duty with the Lions at the recently concluded Asean Football Federation (AFF) Suzuki Cup 2020, contributing to Singapore's first appearance at the knockout stages of the tournament since 2012. Izwan, 31, who has 54 caps, played between the sticks for Hougang United in the SPL last season and joins the Sailors on a two-year contract. The 31-year-old Izwan is still remembered as the Lions' hero in Singapore's well-known 0-0 draw with Asian giants, Japan, at the 2018 FIFA World Cup Qualifiers in Saitama. Izwan made 18 saves in that game!
Anumanthan, 27, who was with Kedah FC in the Malaysia Super League last season, has been given a three-year deal.
The robust midfielder came through the ranks at the National Football Academy before starting his professional career with the Young Lions in 2012. Anu said in a club statement: "I've played with several of the players here, either at club level or in the national team, and I'm certain we'll get comfortable quickly, and play attractive football to entertain fans and achieve results, like the club managed last year." Izwan added: "I'm relishing the challenge for the no.1 spot with Hassan, I'm certain we will drive each other as hard as we do when we're on duty with the national team."
Hami Syahin and Zulqarnaen Suzliman
Promising youngsters that would be willing to step up and give their best to help LCS win the domestic double. They would definitely learn useful traits from the senior players in the team, thus this would allow them to grow and adapt.
Jorge Fellipe
Fellipe, who played as a centre-back, added steel and experience to the Sailors backline. His quality proved that he was an important member of the Sailors squad as he made 5 goals and made 15 appearances for the club.
Stipe Plazibat
The Croatian striker played a huge part in the Sailors' title acquisition. He scored 14 goals and made 7 assists during the 2021 campaign for LCS. He has now moved to Romanian club Academica Clinceni.
Aqhari Abdullah
The versatile thirty-year old featured in nine games for the Sailors in the previous season, and clocked 486 minutes, which included an assist as well. He would be donning the Jaguars jersey for this season.
There is no doubt that Kim Shin-wook will play a preponderant role this season and his resume just speaks for himself. With 132 goals in 350 appearances, Kim is the current third all-time top scorer in the K League 1 and has won two Asian Football Confederation (AFC) Champions League (ACL) titles, in addition to two K League 1 titles. He was twice champion with Jeonbuk Hyundai Motors in 2017 and 2018, the league's Most Valuable Player in 2013 and top scorer in 2015. As an international striker, he already has 16 goals from 56 senior appearances. If LCS are going to win the AFC Champions League, they will need big performances from their new signing.
The 23-year-old midfielder to look out for in a Sailors jersey in the upcoming season is none other than Saifullah Akbar. The midfielder is one of Singapore's most exciting prospects and he's determined to make a name for himself both domestically and abroad. Saifullah bagged 4 goals under his name and amassed 20 appearances for LCS last season. With competition for places getting fiercer at LCS there will be no room for inconsistency, even if you are Sailors' bright young star. This means that Saifullah Akbar needs to give his best, day in and day out, to secure a place in the starting lineup.
Head coach Kim Do-hoon will be looking forward to claim a domestic double for him and his team. All eyes are immersed on his plans as he means serious business with the signings made, as he will be looking to go far in the AFC Champions League as well.
The Sailors have so much quality in their squad that failure to defend their Singapore Premier League title would be seen as a huge failure for the club and its owners. But with their title rivals getting stronger, LCS will have to be at the very best to repeat last season's domestic success and could surely do with a certain philosophy created by their brilliant coach to get them over the line.
Prediction: First