Portugal are about to embark on the upcoming European Championships in France and hopes are high across the country. An exciting squad spearheaded by Champions League winner Cristiano Ronaldo have been tipped by many to reach the latter stages of the tournament.
VAVEL spoke to Tom Kundert regarding the country's chances at this summer's European Championships. Tom Kundert is an established freelance journalist that specialises in Portuguese football having written for publications such as FourFourTwo, the Guardian, MailOnline, ESPN and many more.
Hello Tom and thank you for agreeing to answer our questions regarding Portugal! We have heard from managers and players say that they believe that Portugal can go all the way in France, where do you think this belief comes from?
"Portugal have a good mix of veterans who have vast experience at the very top of the game (Ronaldo, Ricardo Carvalho, Pepe) and exciting young players who are coming off excellent seasons (João Mário, Danilo, Raphael Guerreiro).
"Coach Fernando Santos has shown intelligence in gradually ushering in a brilliant new generation of players alongside proven performers. After taking the reins of the national team following the disappointing World Cup in Brazil and the shock defeat against Albania in Euro 2016 qualifying, he guided the team to seven victories in all seven of the remaining qualifiers."
Despite getting off to a poor start, Portugal navigated their qualifying group having just dropped three points! How vital will this momentum be going into the opening match with a confident Iceland side?
"It should give the team real confidence. It is actually a record run of consecutive victories (seven) for Portugal in competitive matches. In addition, under Santos the Seleção beat both Argentina and Italy for the first time in over 40 years."
The Portuguese have been training without talisman Cristiano Ronaldo due to his commitments with Real Madrid and played Norway without him on Sunday, do you think this experience will benefit the rest of the squad and give other players an opportunity to show what they can do? I notice that Éder and Quaresma have been impressing thus far.
"Ronaldo will naturally come straight into the team as soon as he links up with the squad. I think the biggest benefit of his enforced absence is linked to the perception of Portugal from outside and even within the squad. Portugal have a significant number of highly talented players emerging, meaning they can build a very strong team without the captain and not be as reliant on him as they have been in the past."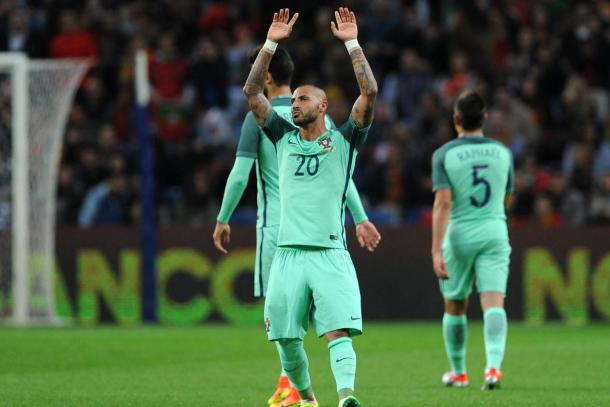 How will Santos utilise his team in these friendlies with his 23-man squad already chosen?
"There are plenty of question marks as regards the starting line-up he will use against Iceland. Who will occupy both full-back positions are uncertain, as is the make-up of midfield, where Santos has an array of high quality options. One or two stand-out performances in the pre-tournament friendlies may be enough for certain players to earn a place in the team."
Portugal are in a group they might be expected to win but face tough opposition in the form of Austria, Iceland and Hungary. Are the native's confident of advancing through the group, are the press hyping up their chances?
"Most expect Portugal to have a positive tournament, but few expect them to win it."
"There is a mood of cautious optimism rather than much hype surrounding the team. People are aware Portugal are going through a transitional phase, but results since Fernando Santos took over and the emergence of several top quality players – many coming off fabulous club seasons – have certainly raised expectations. Most expect Portugal to have a positive tournament, but few expect them to win it."
People often talk about the Portuguese forward's lack of goals to support Cristiano Ronaldo, will Santos' side still be heavily reliant on the Real Madrid man and is it a concern for you?
"Not so much as in previous tournaments. Opposition teams will obviously be focused on stopping Ronaldo, and Portugal now have several highly talented players who could benefit from the extra space afforded."
This could be Ronaldo's last European Championships, just how motivated do you think he will be for the finals having never won a major honour with his country? Does the lack of success at international level bother him?
"He's often said winning silverware with Portugal is the one thing that is lacking in his career, so yes, he is extremely motivated to do well in the tournament, quite apart from his well-known obsession to go down as one of football's all-time greats: something that would obviously gain greater unanimity if he helped Portugal win a tournament for the first time."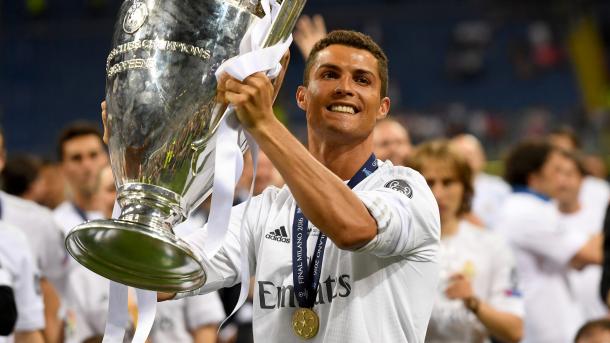 The squad seems to harbour the correct balance between youth and experience. Is this the most exciting squad you've seen in a while and how important will that experience be in France?
"It's the strongest squad since Euro 2004 and the 2006 World Cup."
"I'd say it's the strongest squad since Euro 2004 and the 2006 World Cup. Competition for places is fierce and as you say and as mentioned above, there is a healthy mix of ages among the 23-man squad. This is exemplified by the fact that this squad contains the oldest ever outfield player to represent Portugal in a major tournament, Ricardo Carvalho, and the youngest ever, Renato Sanches."
Most know the quality of Portugal's youth teams, with the U17 team recently winning their own European Championships, what measures have the FPF put in place to obtain a talented crop of youngsters and how much does Santos deserve credit for giving these players a chance?
"Santos deserves credit for doing exactly what he said he'd do when he took over, which was to give every player who was eligible to play for Portugal a chance. He called up over 50 players in his first year alone. This has led to healthy competition for places and viable options in every position on the pitch.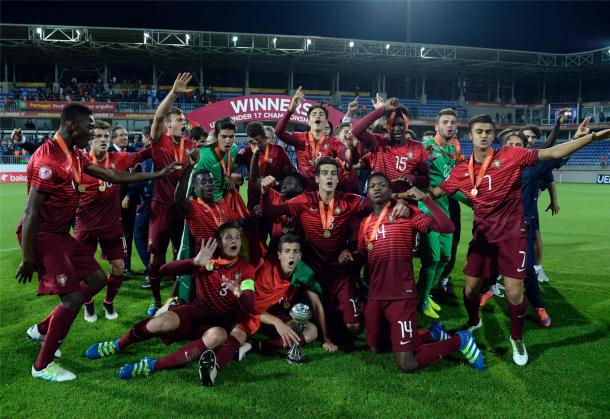 "One hugely beneficial change in terms of youth development which took place a few years ago was the creation of the B-teams for the biggest clubs, which play in Portugal's second tier. This has enabled young promising players to get regular playing time in a competitive environment and at a decent level."
Santos has plenty of talented players at his disposal so, with only Rui Patrício and Nani playing every minute in qualifying, are there any certainties when it comes to his starting XI?
"Barring injury, goalkeeper Rui Patrício, centre-backs Pepe and Ricardo Carvalho, midfielder João Moutinho and forwards Ronaldo and Nani are pretty much certainties."
The player that grabbed the headlines when the squad was announced was, of course, the highly-rated Renato Sanches! You have obviously seen him represent Benfica throughout the season, is his place in the squad justified and just how talented is the midfielder?
"His impact at Benfica was astonishing for an 18-year-old. He has incredible strength, stamina and maturity for such a young player, and for around three months he completely galvanised the team. It's very likely Benfica would not have been champions if he hadn't come into the side.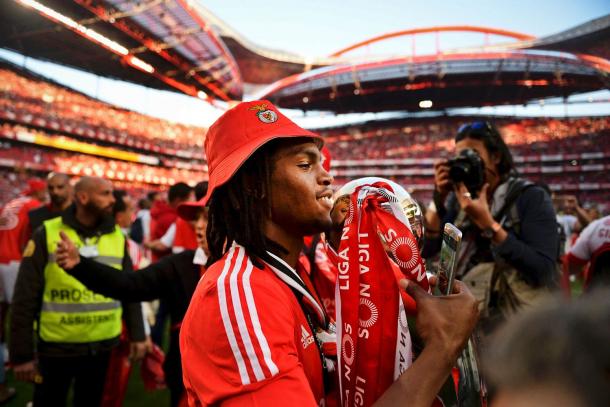 "Having said that, his form dropped off in the last couple of months of the season, and he probably wouldn't have made the squad if Bernardo Silva had not got injured. He doesn't have the same level of technique or creativity as Portugal's best midfielders (e.g. João Mário, André Gomes) but he has fantastic dynamism and if he makes an impact at Bayern Munich you would expect him to quickly become a regular for Portugal."
There have been a few injuries for Portugal prior to the start of the tournament, notably in the form of Bernardo Silva, Danny and Coentrão, how damaging will these absences be to the country's chances?
"Coentrão is the only one of the three who would have been a definite starter if fit, so you cannot deny that his absence is a blow. Bernardo Silva also has a unique skillset which could have been very useful to Portugal, so his injury, while not devastating, makes the squad as a whole less formidable in my opinion."
Coentrao could be replaced in the XI by an attacking Raphael Guerreiro, what role do full-backs play for this team?
"Embarrassment of riches in midfield."
"Portugal's traditional formation is 4-3-3 but Santos is imposing a 4-4-2 because of the embarrassment of riches in midfield and the lack of a quality centre-forward. None of the midfielders likely to be used play as a traditional winger, so both full-backs will be expected to play a prominent role in Portugal's attacking play to give the team width when going forward."
Can you please explain how can we expect Portugal to line-up this summer? What style of football to they play and what kind of tactics does Santos implement? What must they change/continue doing to get far in the tournament?
"I think Santos will opt for the following line-up: Patrício; Vieirinha, Pepe, Ricardo Carvalho, Eliseu; Danilo, João Moutinho, João Mário, André Gomes; Nani, Ronaldo.
"The coach has said Portugal will not play with a fixed striker, but rather a mobile front two. Sounds good in theory, but difficult to pull off in practice. Éder and Quaresma off the bench may have important roles to play if Portugal are to go far."
One final question on Portugal, can they win it?!
"It's football, and if Greece (much to Portugal's dismay!) and Denmark can win it, Portugal can too. That said, a run to the semi-finals will be considered a success. Look out for this Portugal team in Russia. It's packed with exciting young players who are yet to hit their peak."
How did you get into journalism and how important do you think it is to have a niche in this industry?
"I'd say it's vital to have a niche and make yourself an expert in that particular area so you can offer something unique and a certain amount of authority. That's how I got into journalism at least, by focusing 100% on Portuguese football, with one thing leading to another."
Thank you for your time, Tom.
You can read Tom Kundert's work on PortuGoal.net and follow him on Twitter at @PortuGoal1.