If you take out their successive 1964 win of the European Championships, the Spanish national team has always been considered the bridesmaid but never the bride of international tournaments including the FIFA World Cup for 44 years. Near misses, early exits and failing at the final hurdle has always deemed Spain as quadrennial underachievers at a major tournament.
However, everything changed when managers Luis Aragonés and Vicente del Bosque implemented a style known as ''Tiki-Taka'', which demonstrated the quintessence of short passing and movement, working the ball through various channels, and maintaining possession throughout the pitch. With that idea, Spain won their first major international title since 1964 in the form of Euro 2008 in Austria and Switzerland. Two years later under del Bosque, they became world champions for the first time winning the FIFA World Cup in South Africa and then in 2012, in the Euros in Poland and Ukraine, Spain became the first team ever to successfully defend the Henri Delaunay Trophy. Now, they are looking to keep the trophy for another four years.
At ease to France, but not perfectly
La Roja qualified with minimal problems to the competition in France with a side that was primarily a young side mixed with experienced players from La Liga and the Premier League. In a qualification group that featured the likes of them, Slovakia, Ukraine, Belarus, Luxembourg, and Macedonia, they were able to top the group with nine wins and only one loss. That one loss came on the 9th of October of 2014 when they went away to Žilina and lost 2-1 to Slovakia in what was considered a shock win for the Central European nation.
In that span of 10 games, they were able to pick up 27 points and score 23 goals in the process, only conceding three. Paco Alcácer of Valencia CF became the top goalscorer in the qualification process with five goals, alongside Slovakia's Marek Hamšík. Sadly, the Valencia man will not be a part of the squad heading to France.
With those matches including friendlies from the World Cup, the record of Spain consists of 13 wins, four losses, and two draws in 19 matches since the tournament in Brazil and before Euro 2016.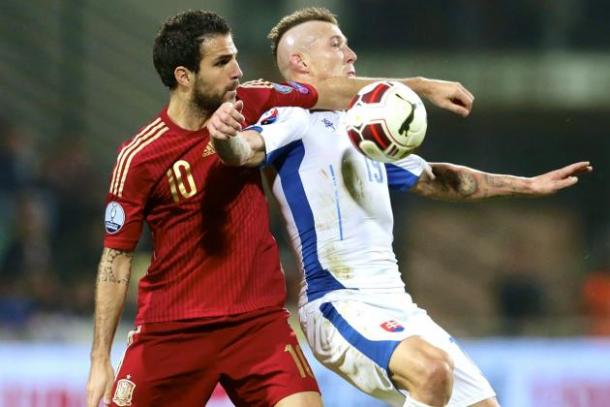 So noble as a prince
The subheading refers to the hereditary title given in Spanish nobility by King Juan Carlos I of upon Vicente del Bosque in recognition of his "great dedication to Spanish sport and the contribution of him to the promotion of sporting values". This, of course, demonstrates the idea of what del Bosque has been able to do with Spain for the last eight years capturing them to back to back European Champions and the coveted FIFA World Cup title.
The 65-year-old was an idol at Real Madrid both as a player and a manager, where he led to two UEFA Champions Leagues in 2000 and 2002, he has also won various titles at the domestic level and it's fair to say that he is widely regarded as one of the greatest and most successful managers of all time both on the club level and on the national team level.
Fueled by a side that had dominance playing for their respective clubs at FC Barcelona and Real Madrid, Spain reached cloud nine under Del Bosque, with tiki-taka becoming the lynchpin on the idea of players making their way to the back of the net through short passing and movement.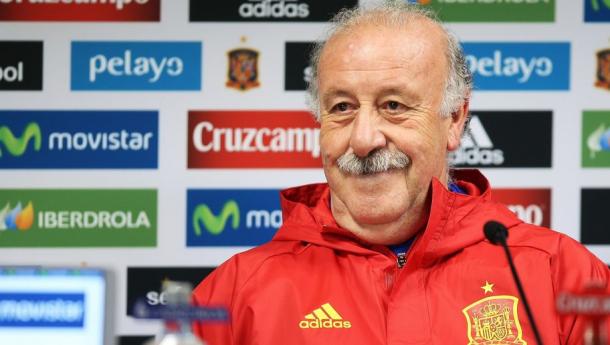 Strengths and Weaknesses
It is without any shadow of a doubt that the success of Spain in the last eight years has always been down to the midfield. With players such as Xavi Hernandez, Andres Iniesta, Cesc Fabregas, Xabi Alonso, David Silva and Sergio Busquets among others, the embodiment of tiki-taka came from the middle with the idea of emphasis on passing, maintaining possession and with high pressing. That being said, two of those players mentioned are not on the side anymore and it is good meaning that all the thinking will come from Busquets and Iniesta with their intelligence of the game on full display.
However, the side isn't as perfect as it used to be. It lacks goals and the four strikers, Pedro, Nolito, Artiz Aduriz and Alvaro Morata on that side have a combined 21 goals. Should del Bosque play with a 4-3-3, you should expect one of those strikers to become starters, if you don't see Cesc Fabregas a false nine. Given the moment that both these players are in, it'll be a test between the striker from Bilbao and Juventus to see who becomes the number nine of La Roja.
Key Players and Wildcard
Andres Iniesta: The most decorated Spanish footballer of all time, the FC Barcelona captain is destined to be the main key player of the national team heading into the tournament. With the intelligence, leadership, boldness and interplay with various players, he is someone who knows exactly when to go forward and when to drop back, while picking the right moment even under pressure.
Alvaro Morata: The Juventus striker has been key under Massimiliano Allegri in Turin. A striker with the incredibly keening ability to be deadly onto goal, his clinical finishing ability, and speed might be enough to see Spain notch up goals against their opponents in their matches in France.
Hector Bellerin: The replacement for right-back Dani Carvajal, the Arsenal fullback could be considered a young talent and a wildcard for this star-studded side. Blessed with incredible pace, the young defender could be key into tracking much more forward into the attack and help out onto goal.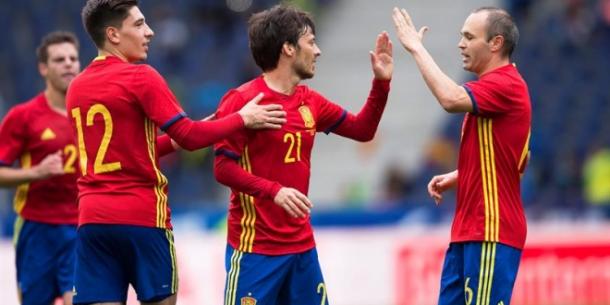 Group D opponents and how they'll fare
When the draw was announced back in December, Spain would have to feel pretty confident to see themselves qualify as first in their group with the likes of the Czech Republic, Turkey, and Croatia in their group. However, it will not be that simple and a stroll in the park.
The first match in Toulouse against the Czech Republic will be hard given the amazing goalkeeping skills of Petr Čech, the midfield intelligence of Tomáš Rosický and the striker Tomáš Necid are clearly the three players that Spain has to stop in order to pick up the three points. Four days later, they take on Turkey in Nice in what will be a battle and maybe their most important match in the group stage. Pitted against players such as midfielder and deadly free kick taker Hakan Çalhanoğlu as well as captain and star player Arda Turan, The Crescent-Stars will definitely make it tough for their Spanish counterparts.
Finally, in their final match against their toughest opponents, Croatia in Bordeaux, Spain will definitely need to get a win in this one against a side that is talent as well as trying to stop their three best-known players, all of which play in La Liga: Ivan Rakitic, Luka Modric, and Mateo Kovacic.
At best, you should see them get nine points and qualify with easy, but it would not be surprising at the least to see them with only five points without picking a draw against either Turkey or Croatia.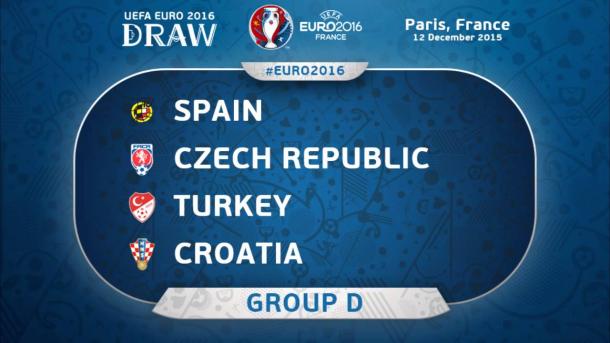 Fernando is the editor of the Spain national team and Real Madrid at VAVEL Spain and we were able to get his take on how he thinks Spain will fare in the tournament in France.
Q: There is much anticipation about the Spanish national team to win the European Championship for the third consecutive time, but what do you think is the big difference between those successful sides in 2008 and 2012?
F: ''The 2008 side came to the European Champions without any possibility of being the favorites. Luis Aragones held a revolution of the team, leaving out great players such as Raul. They basically started out from scratch to compete at the highest level, but nobody knew how they would do and ended up winning the whole thing.
In 2012, there were huge expectations compared to four years before given that the same side was the majority of players who ended up winning the FIFA World Cup in South Africa.''
Q: What do you think of the current crop of the national team following the failure of the 2014 FIFA World Cup and the side that qualified for Euro 2016?
F: ''After the failure of the World Cup, Del Bosque had tried to carry out a ''soft transition''. That led to various young players with a lot of promise to get called up to the matches following the tournament in Brazil. However, I feel that it was not handled correctly given that the players do not have enough experience on the national team.
Del Bosque had prepared for two years with these group of players that they brought into the final squad of 23, leaving out players such as Paco Alacaer and Javi Martinez as well as players of great potential such as Isco and Saul, which clearly was not the right choice and a huge error.
On the other hand, the side has a lot of potential but not at the level that it had about four to six years ago. We had a great generation of players, one of the best in our history: Xavi, Iniesta, Iker Casillas, Carles Puyol, Xabi Alonso, David Villa and others at the highest level. I think that you can't compare that to the current team. Now, we have a bright future of forwards and midfielders with potentials such as Lucas Vazquez, Morata, Bellerin, and others.''
Q: Who are the players who you feel will be the stars of the tournament and players who not a lot of people know but could serve well for Spain and why?
F: ''I think there will be less regular players that can excel with the national team. As said before, there is a lot of ambitious youth. But for me: these four players will stand out.
Nolito: The Celta Vigo player has become a star on the national team with the performances he has been able to pick up. His versatility in all positions of attack will be presented with a lot of playing time, maybe even to start. He clearly has that spark and eye for goal, something that is very demanded in "La Roja".
Lucas Vazquez: The Real Madrid youth product does not stop at opening doors. After a successful campaign with the current Champions League winners as a starter and substitute, I feel that he is the perfect ''number 12'' of Spain. There aren't any players of his stature on the national team and offer a lot of options in the attack, especially on the right wing, where he can be deadly. This call-up could see him being compared as the next Jesus Navas of the national team.
Bruno Soriano: The Villarreal player has had a very praiseworthy season following his injury. You can compare him to Busquets but I think you can use him hypothetically in a double pivot. I think del Bosque will use that system just like he did with Busquets and Alonso.
Morata: Finally, I would like to mention another youth product of Real Madrid. He is coming off a good season at Juventus, which demonstrated his unique quality. While he doesn't score a lot of goals, he provides a lot in the attacking aspect of the team. He is the number nine of the future, just like Karim Benzema. He's not a goalscorer but he generates a lot of an offensive style of football up front. I think he will be main reference player following the snub of Alcacer.''
Q: Finally, If Euro 2016 ends with or without the trophy, is it the end of the great generation of La Roja of 2008-2016 or is there a chance that could be extended for the 2018 FIFA World Cup in Russia?
F: ''This generation should have ended with the failure at the last World Cup. Although there are players who have been greats on the team such as Fabregas, Casillas, and Pedro, they are not at the level of the current national team. Del Bosque wanted to manage a ''soft transition'' and to not rely on former players.
I'm convinced that this start of the new generation will be at Euro 2016, which had started after the 2014 FIFA World Cup. The 2008-2014 years had demonstrated the very best in the history of our national team but the manager has to give way to a new breed of young players and hopefully those young players become very good in the future.''
Fixtures
June 13 versus the Czech Republic at the Stadium Municipal in Toulouse. Kickoff: 15:00 CEST
June 17 versus Turkey at the Allianz Riviera in Nice. Kickoff: 21:00 CEST
June 21 versus Croatia at the Nouveau Stade de Bordeaux in Bordeaux. Kickoff: 2:00 CEST