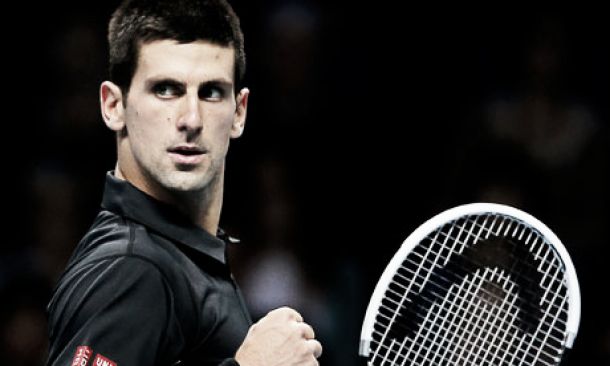 One of the newest additions to the series of Masters events in the calendar, the Shanghai Masters is set to begin its seventh edition, with Roger Federer the defending champion. Novak Djokovic and Andy Murray are both two-time champions here - the only Shanghai winner not in the draw this time round is retired Russian Nikolay Davydenko. Here's a look at the main contenders for 2015.
Djokovic looking strong in China
Djokovic has picked up where he left off in China this week, raising his record to 28-0 in Beijing and reaching his sixth final in the Chinese capital. The Serbian has a habit of finishing the year particularly strongly, and on the evidence so far, he looks to be ready to do so again. Losing just 12 games on the way to the Beijing final this week looks to set him up well for a strong run in Shanghai.
It's tricky to see who might give him trouble in his draw, his first test potentially not until a possible meeting with Murray in the semifinal - David Ferrer being the highest seed in his quarter of the draw.
Murray a contender
Murray, despite another disappointing US Open, still deserves to be spoken of as a contender after what has overall been a very consistent year. Shanghai will be his first tournament since that fourth round loss to Kevin Anderson in New York, and the Scot will have an opening match against either Steve Johnson or Andreas Seppi to look forward to as he attempts to bounce back from his American disappointment. The dangerous David Goffin and John Isner are both lurking nearby in Murray's draw, however, and he will need to shake off any rustiness quickly to avoid being caught out. Tomas Berdych looks to be a likely quarter final opponent.
Stan Wawrinka has been as unpredictable as ever in 2015, but reaching the final in Tokyo this week seems to indicate that the Swiss is in good form. He'll need to be, as the French Open champion has a potentially tough draw, with Troicki and Cilic close by, as well as potential quarterfinal opponents Rafael Nadal, Milos Raonic and Ivo Karlovic. As ever with Wawrinka, he seems about as likely to win the tournament as to lose his first match - it's anyone's guess which Wawrinka will show up.
Federer looking to regain number two ranking
Federer, as the number two seed, sits at the bottom of the draw, and has the ever dangerous Kei Nishikori in his quarter. He'll drop down to world number three on the first day of the tournament, and will need to outperform Murray if he is to rise back up to second in the world. He's been on excellent form over the summer, and will need to continue to play well if he is to overtake Murray once more - Anderson, Nick Kyrgios and Jo-Wilfried Tsonga all reside in his quarter.
As ever in 2015, it's hard to look beyond world number one Novak Djokovic for the title in Shanghai. The Serbian has a good record in China, and still hasn't failed to reach a tournament final since the his first event of the year in January. He has been consistently excellent in 2015, and there is no reason to think that this week will be any different. He has the advantage over his biggest rivals, Federer and Murray, of having a successful week this week to get himself match practise, and will not suffer from any rustiness which may have crept into his rivals' games during their long break after the US Open. Novak Djokovic, then, to win his eighth title of the year, and third in Shanghai.