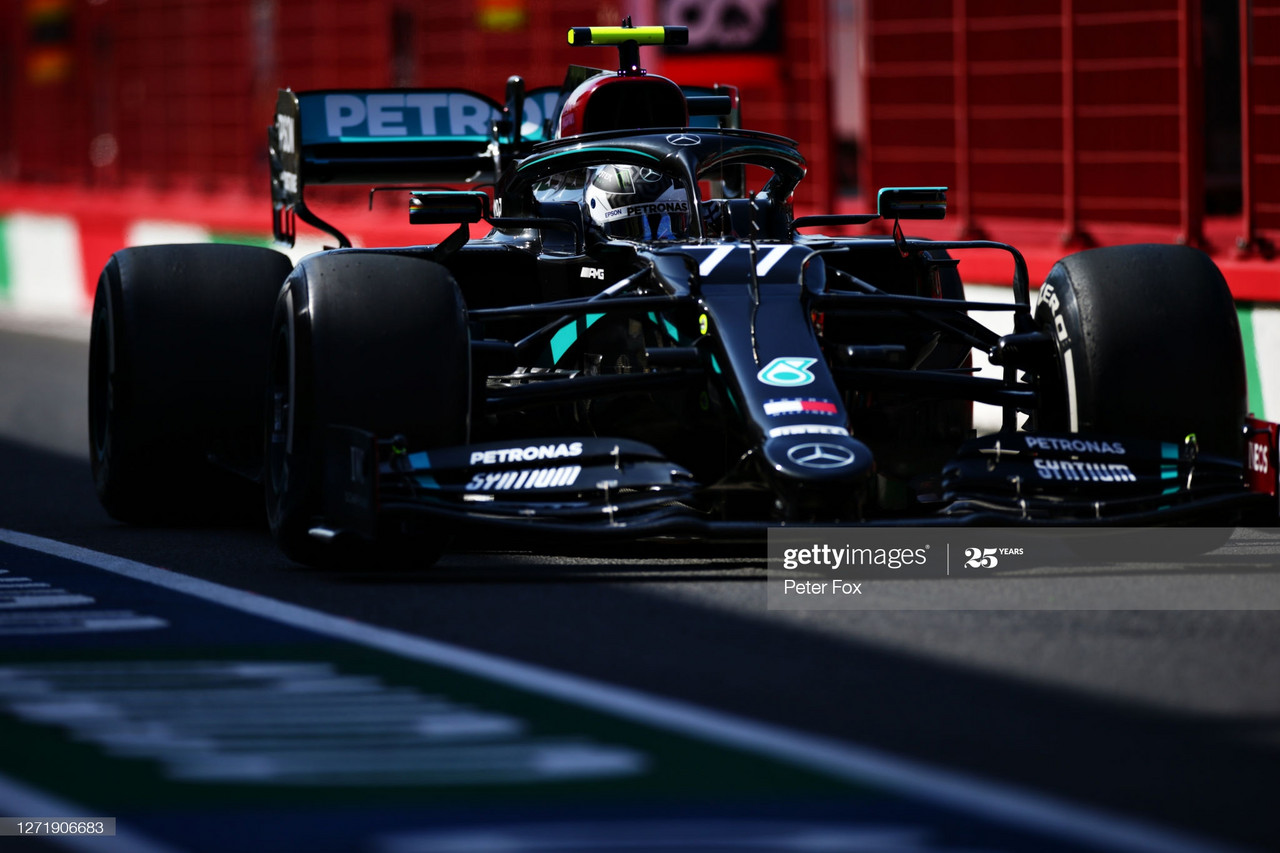 The start of a Bottas fightback?
For the fifth race week in a row, Valtteri Bottas has topped the timesheet in FP1 again bringing optimism to a race weekend. Despite all the previous times going wrong for the Finn, the gap is more promising than recent weeks.
Second was not Mercedes teammate Lewis Hamilton but Red Bull's Max Verstappen. Verstappen only being 0.048 seconds behind Bottas at the top.
Third was the real shock, Charles Leclerc putting his Ferrari in P3 is the best performance Ferrari have had in any session throughout the season. A performance no one was expecting to see at any point over the weekend putting renewed optimism for the big occasion.
Midfield gap unnoticeable
Behind the top three Hamilton put in a time that left him 0.530 seconds his teammate leaving the biggest gap between the pair that we have seen this season, needing to make big changes through the following two practice sessions.
Both Alpha Tauri's put another good show in FP1 with last weeks race winner Pierre Gasly putting his car in P5 with teammate Daniil Kvyat in P7 both within half a second of the 6-time world champion.
Renault power also had another good showing with Esteban Ocon in P6, Lando Norris in P8 and Daniel Ricciardo in P10. Leaving one car outside the top 10 is a great promising start to the weekend.
The Ferrari powered cars were again lagging towards the back despite the obvious anomaly of Leclerc. Interestingly again, Sebastian Vettel, P13 finished behind a Haas in Romain Grosjean and an Alfa Romeo in Kimi Raikkonen.
Racing Point were the surprising performer of the session ending the session in P18 and P19 and even finishing behind a Williams with Nicholas Latifi being the only person to finish behind the pair in the first session of the weekend.
Carlos Sainz put in a slower than expected performance down in P15 but did put in a lot of mileage completing the joint second-most laps of the session.
An interesting session at a track that is ultimately new to almost everybody in the paddock that could potentially see a few upsets as the weekend progresses.