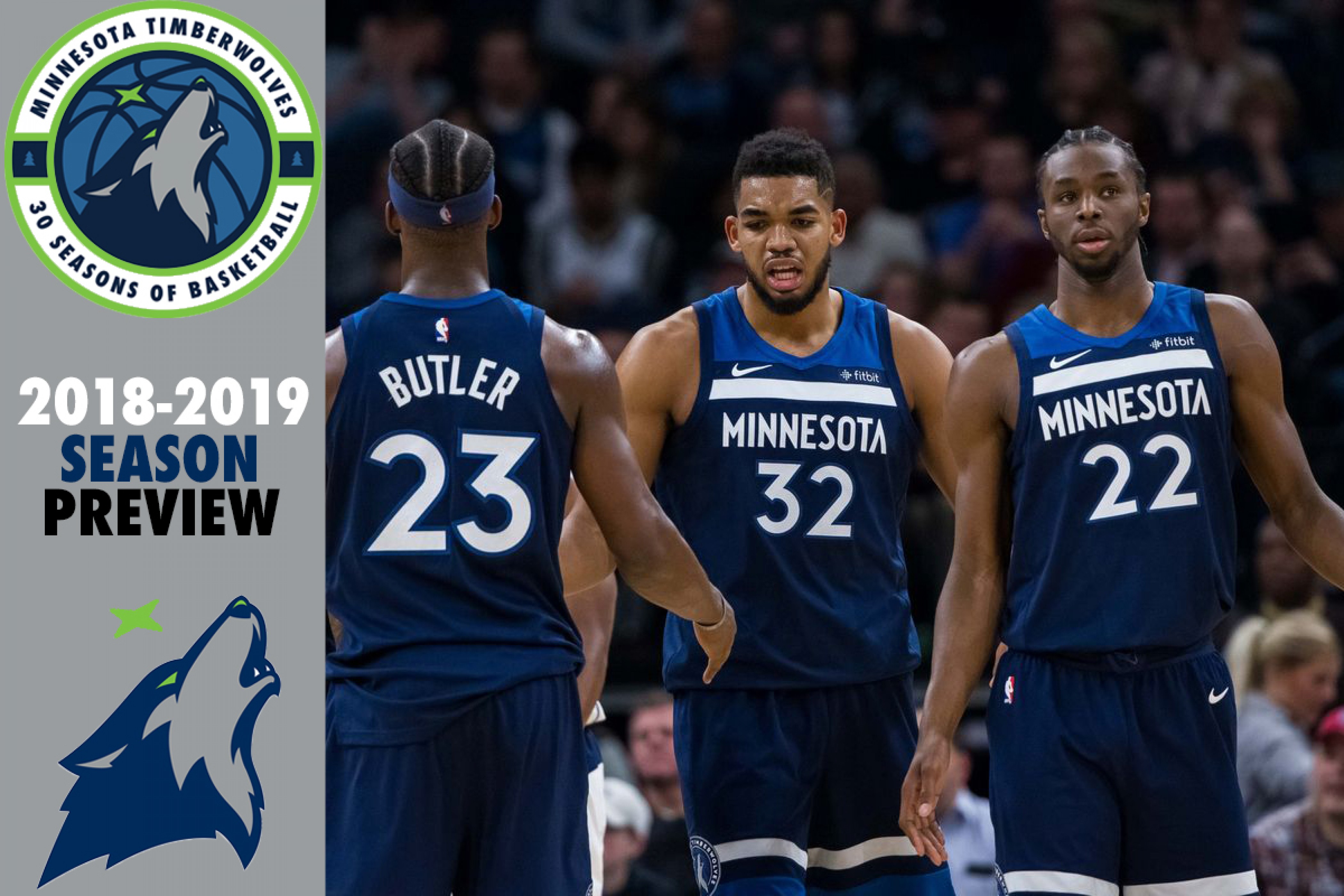 The 2017-2018 season was a season of triumph for the Minnesota Timberwolves. They clinched their first winning season for the first time since 2005 and clinched their first playoff birth since 2004, ending the longest playoff drought over the past 13 seasons.
They finished the regular season with 47–35, which clinched the 8th seed. Their playoff run would end in the First Round, losing to the No. 1 seed Houston Rockets in five games.
With general manager Scott Layden and head coach Tom Thibodeau entering their third season, they have a lot of good things going for them. Andrew Wiggins is signed long term with Minnesota working on Karl-Anthony Towns next. They are still one of the best teams in the Western Conference and could repeat their success in the upcoming season.
Here is a preview of the 2018-2019 Minnesota Timberwolves.
Draft
The T-Wolves made two selections in the 2018 NBA Draft.
With the 20th pick, Minnesota selected Georgia Tech shooting guard Josh Okogie. Okogie started in both his freshman and sophomore seasons, totaling 20.5 points, 7 rebounds and 2.4 steals per 40 minutes for his career. During his sophomore season, Okogie averaged 18.2 points, 6.3 rebounds and 2.5 assets per game.
Listed at 6-foot-5, 211 pounds, Okogie is one of the most physically imposing shooting guards to come out of the draft. With a 7'0" wingspan and (33-inch standing vertical leap, there is plenty to like in Okogie. He will make his presence know on the defensive end as he will be very disruptive. He possesses some offensive upside, shooting 45 percent from the field and 77 percent from the free throw line.
In four games at the Las Vegas Summer League, Okogie averaged 11 points, 5.3 rebounds, 2.3 assists, 2.3 steals and two blocks per game.
Minnesota selected Ohio State forward Keita Bates-Diop in the second round with the 48th selection.
Bates-Diop started his career as a bench player with Ohio State. in 33 games, he averaged 3.8 points and 2.1 rebounds per game. His role would be expanded his sophomore year, averaging 14.9 points, 8.1 rebounds and 1.4 assists per 40 minutes. His missed all of his junior season after having surgery to repair a stress fracture in his left leg. However, he was granted a medical redshirt, coming back for another season at OSU. Starting all 34 games his senior year, Bates-Diop average 19.8 points, 5.7 rebounds, 1.6 assists and blocks per game.
Voted the biggest steal in the NBA Draft, Bates-Diop will definitely bring a lot to the T-Wolves rotation. The 6-foot-8.5 forward sports an impressive 7-foot-3.25 wingspan. Bates-Diop made set shots from the perimeter and face up jump shots from the midrange at a strong rate while doing a little bit of everything offensively, often very efficiently thanks to his ability to convert inside with touch. On the defensive end, he will both shooters with his length, while crashing the defensive boards effectively.
During the Las Vegas Summer League, Bates-Diop averaged 14.8 points, 7.4 rebounds, 1.2 assists, 1.6 steals and 1.2 blocks per game.
Free Agency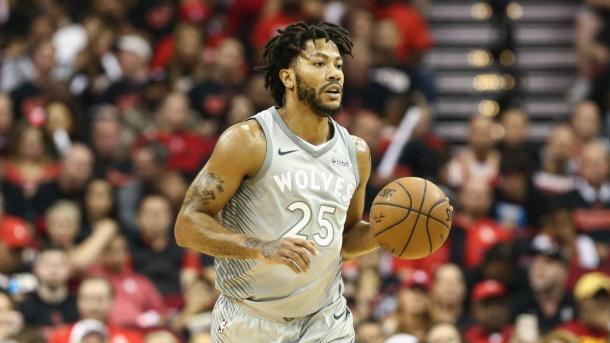 To start off the offseason, the T-wolves resigned Derrick Rose to a one-year, $2.39 million contract. In 9 games with the Timberwolves, Rose averaged 5.8 points and 1.2 assists per game.
Following the signing of Rose, it was announced days later that Minnesota had reached an agreement with veteran power forward Anthony Tolliver. Tolliver signed a one-year, $5.75 million contract.
Luol Deng was the last signing of a player worth note for Minnesota, signing a one-year, $2.4 million contract to reunite him with former Chicago Bulls head coach Tom Thibodeau and former teammates Taj Gibson, Jimmy Butler, and Derrick Rose.
Their offseason loses include Cole Aldrich, Nemanja Bjelica, Amile Jefferson and Anthony Brown.
Potential Lineup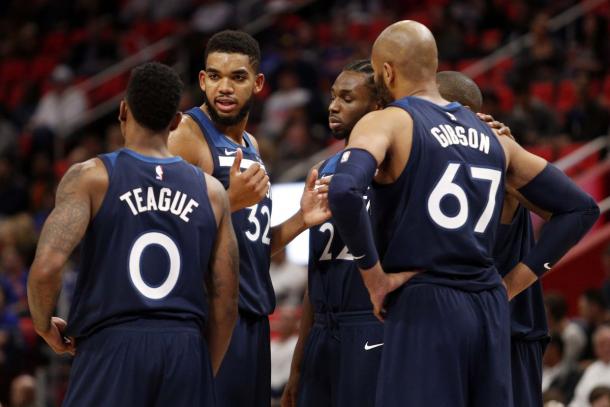 PG: Jeff Teague
SG: Jimmy Butler
SF: Andrew Wiggins
PF: Taj Gibson
C: Karl-Anthony Towns
---
Guards: Tyrus Jones, Derrick Rose, Josh Okogie
Forwards/Centers: Luol Deng, Keita Bates-Diop, Gorgui Dieng, Justin Patton
Season Outlook
Heading into training camp, there is still so much unsolved for the Timberwolves. Most of it surrounds star guard Jimmy Butler. On September 18th, Butler had a meeting with Minnesota's upper management to discuss his future. It remains to be unseen if he wants to be traded now or if he will wait until next season to leave the T-Wovles. Because of this, Karl-Anthony Towns will not sign his extension until it is made clear what Jimmy Butler is going to do.
The tension between the two has been brewing for some time, but became public on July 3rd, as Joe Cowley of the Chicago Sun-Times reported "all but fed up with the nonchalant attitude of his younger teammates," specifically center Karl-Anthony Towns.
What that being said, if Butler decides to stay, can he and Towns coexist? Much of the seasons' success will hinge on their ability to do so. How well will the former Chicago Bulls' big four do? How often will they be floor together? Does Luol Deng have enough in the tank? If this moves does not payoff, Tom Thibodeau could lose his job over it.
With plans of a playoff run brewing, will need to add more depth to the roster. Corey Brewer, Nick Young, Jamal Crawford or Ty Lawson could be intriguing options down the road.
Karl-Anthony Towns could possibly return to the All-NBA team once again, with Jimmy Butler and Andrew Wiggins vying for their own spot. These three could also represent the Timberwolves at the All-Star game. Depending on rookie play, Josh Okogie or Keita Bates-Diop could find themselves on the All-NBA Rookie Team.
The Westgate Las Vegas SuperBook has Minnesota's over-and-under of wins at 44.5 wins.
Other Previews