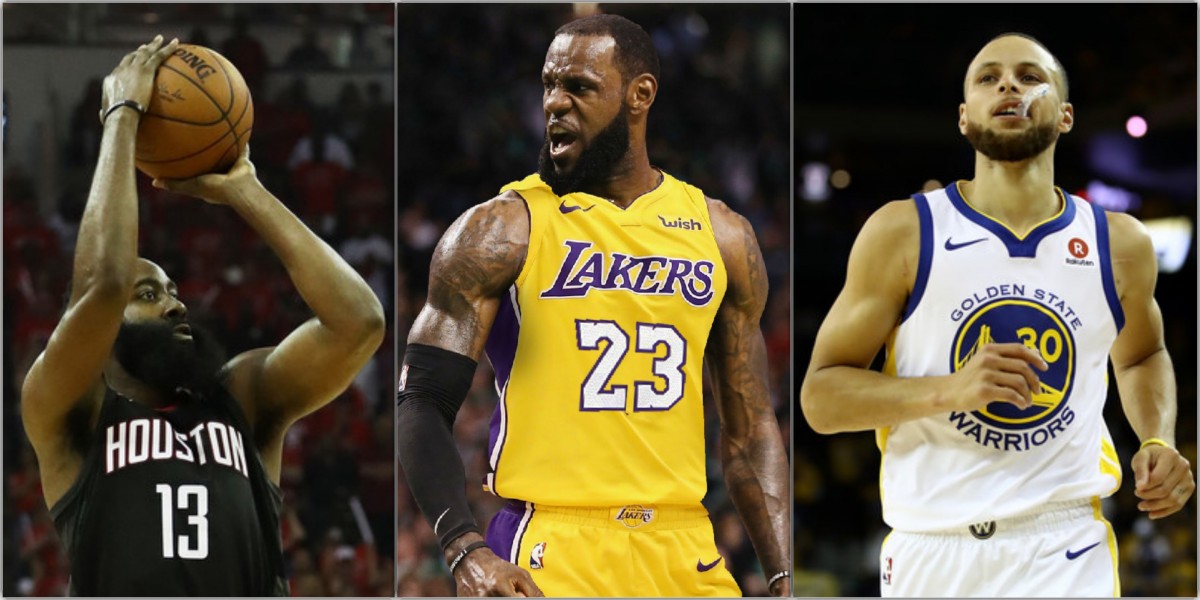 The NBA has as much star power as it's ever had. Across the league, each team possesses a player that is the face of the franchise while others have guys that are budding superstars.
At the end of each season, the NBA elects 15 players to their All-NBA teams. These guys are considered to be the best of the best throughout the season, separating themselves form everyone else.
Here are my predictions for the 2018-2019 All-NBA teams.
First Team All-NBA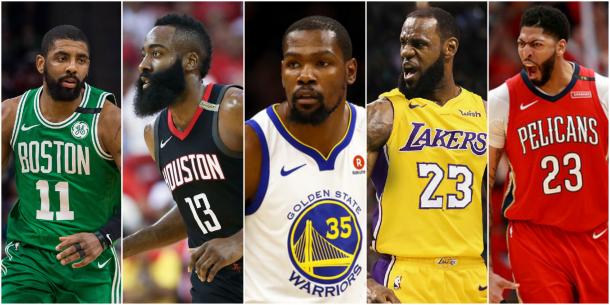 Four of the five from last year's team will appear again this season. The only change is Kyrie Irving cracking the first team. Irving has made the All-NBA team just once, making the third team in 2015. With Boston predicted to be a contender in the east, it will be difficult to ignore the contributions of a returning Irving.
Last season LeBron James set a record for making the first team for a 12th straight season. In his first season in LA, he will continue the streak. At 33-years-old, LeBron is still considered the best basketball player on the planet. James could add 10 to 15 wins to the Lakers record this season, making them a playoff contender.
James Harden has made back-to-back appearances on the first team. He will likely make it a third consecutive year this season. Harden led the NBA in scoring average (30.4 ppg) and three-pointers made (265) for the league-best Houston Rockets last season, on his way to winning an MVP award. That may be hard to replicate but his numbers could look similar at seasons end.
Six-time All-NBA first team Kevin Durant will also crack the first team. While many consider him to be the villain of the NBA, his talent and skill cannot be overlooked. Durant is possibly the most talented scorer in the league. His is a matchup nightmare for the league and is featured on a team that has won back-to-back Finals. Durant averaged 26.4 points, 6.8 rebounds and 5.4 assists per game while shooting 51 percent from the field.
Lastly is New Orleans Pelicans center Anthony Davis. Davis averaged 28.1 points and 11.1 rebounds last season and was a finalist for league MVP. He made a huge statement by not only guiding the Pelicans to the playoffs after All-Star teammate Demarcus Cousins went down with an Achilles injury, but he won his first playoff game and series by sweeping the third-seeded Portland Trail Blazers. He did a little bit of everything last season and continue to keep up that pace.
Second Team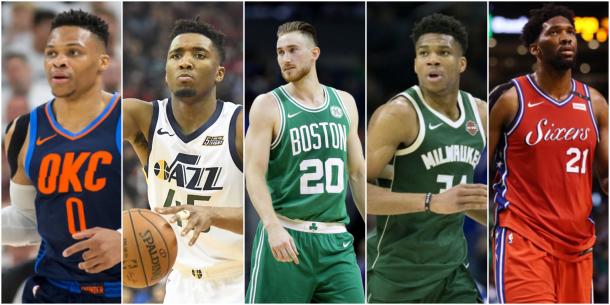 Three players from from last seasons team will appear on the list again this season. For the second season in a row, Russell Westbrook averaged a triple-double in 80 games for the Oklahoma City Thunder. With Westbrook, the Thunder won 48 games and finished fourth in a tough Western Conference.
Joel Embiid has emerged as one of the best centers in the NBA. In just two seasons, he has helped finish The Process with the Philadelphia 76ers and have made them a perennial playoff contender. The seven footer can do it all, scoring from anywhere on the court to being a defensive anchor on the other end. It will be hard for voters not to give him a nod at the second team for a consecutive season.
Two time All-Star Giannis Antetokounmpo has also made the All-NBA team in back-to-back seasons as well. He finished fourth in field goals and free throws while finishing in the top-10 in rebounds and top-15 in blocks. The Greek Freak has helped transform the Milwaukee Bucks from one of the worst teams in the east to playoff contenders. What makes Antetokounmpo so valuable is he can play both forward positions and some center. If he improves his game defensively, he will make a case for first team honors. With James and Durant in front of him though, second team honors doesn't seem so bad.
Utah Jazz guard Donovan Mitchell really the basketball world on fire last season. His performance in the slam dunk content introduced him to NBA fans across the globe. Mitchell finished in the top-15 in field goals, field goal attempts and steals while finishing in the top-20 in total points and steals per game. At the end of the season, he found himself on the first team All-Rookie team, announced as a Rookie of the Year finalist and won an ESPY award for Best Breakthrough Athlete. His 20.5 points, 3.7 assists and 1.5 steals per game may have just been a sample size. If he follows up his freshman season with a great shore season, he could find himself with All-NBA honors.
If Kyrie Irving and Gordon Hayward played the entire season, who knows what could have happened. The Boston Celtics had enough fire power to take down the Cleveland Cavaliers and could have went toe-to-toe with the Golden State Warriors. Although he has never made the All-Team, this could be the year he finally earns his recognition. With a lineup that features Irving, Jaylen Brown, Jayson Tatum and Al Horford, Hayward will be under a bigger spotlight. He will play well enough for an All-NBA nod when it is all said and done.
Third Team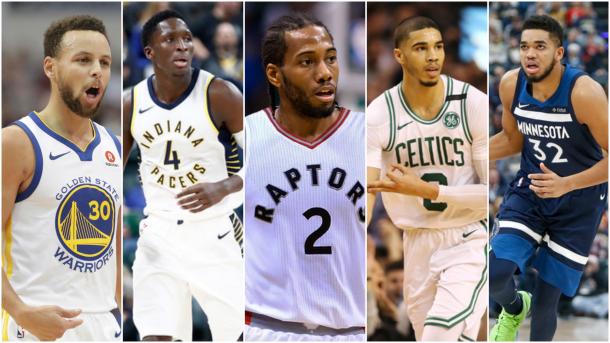 Karl-Anthony Towns, Stephen Curry and Victor Oladipo will return for another third team All-NBA selection. Of the three, Oladipo emerged into the spotlight last season. With many writing him off as a member of the Orlando Magic and Oklahoma City Thunder, he solidified himself with the Indiana Pacers. Oladipo won the 2017-18 most improved player this season and made an appearance in his first All-Star game. If Oladipo delivers another season like he had like last season, he will receive another third team selection.
If it's one thing that Danny Ainge likes, it's a player that is psychical and that can play defense. That is what he and the Boston Celtics got just that when they drafted Jayson Tatum with the third pick in the 2017 draft. As the season went on, Tatum proved that he is effective on the offensive side of the ball too. His real welcome to the league moment came when he dunked on LeBron James in game seven of the Eastern Conference Finals. In his first season, averaged 13.9 points, 5 rebounds, 1.6 assists, 1 steal and .7 blocks per game. Tatum did things that won't appear on the stat line, signs of good up-and-coming young leader. If he boosts his stat line just a little, he could find himself on the third team All-NBA.
Last but not least is Toronto Raptor's forward Kawhi Leonard. Just imagine all season long, he is playing to sound of Jay Z's "Public Service Announcement." He will have plenty to prove in his first (and maybe only) season in Toronto. If he comes back like the Kawhi of old, the league maybe in trouble. Known as The Claw, Leonard accumulated 279 steals the last three seasons, averaging 2.1 steals per 36 minutes. Having a reputation of being one for the best two-way players, he has become all-around star is a pick-and-roll monster capable of carrying an entire offense by himself. If Kawhi emerges as one of the best in the league, earns a trip to the All-Star game, and makes a deep playoff run, Leonard could return to the All-NBA team in his first season returning from injury. Leonard won first team honors in 2016 and 2017.
Players that could make the list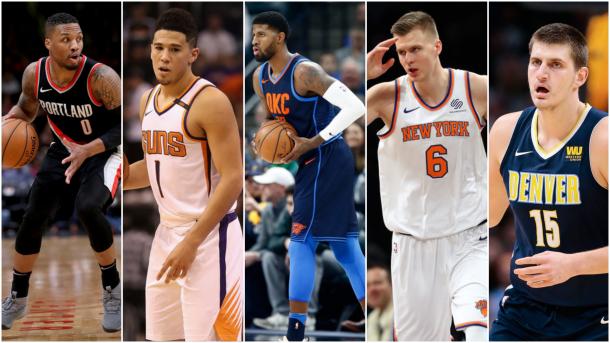 Devin Booker has had quite the illustrious career. In just three seasons, he has edged his name in the record books and has a 70 point game on his resume. Like the 76ers, the Phoenix Suns are just about ready to put an end to their Timeline. Booker recorded four double-doubles, leading all shooting guards in points per game (24.9) and finished the season shooting 43 percent from the field. With Booker and the rest of their assets set in place, the Phoenix Suns will be one of the young, fun teams to watch. Booker is a good scorer but will have to improve his both his offensive and defensive ability to earn All-NBA honors. If Booker improves his numbers and earns his first All-Star appearance, there is no reason he shouldn't obtain All-NBA votes.
Nikola Jokic that has been a really solid player in the league. The Denver Nugget big man was a member of the 2015-16 All-Rookie team and won Player of the Week honors twice last season. Jokic faired pretty well against others centers, finishing third in both points and free throw percentage, fourth in three point percentage and tied for seventh in double-doubles, leading all centers in triple-doubles with 10. Averaging 18.5 points and 10.7 rebounds, Jokic could possibly be an All-Star this season. Combine that with the Denver Nuggets potentially making the playoffs this season, Jokic could find himself receiving All-NBA honors next summer.
Kristaps Porzingis has been on of the best young big men in the league. Standing at 7-foot-3, 240 pounds, Porzingis averaged 22.7 points, 6.6 rebounds and 2.4 blocks last season with the New York Knicks, earning his first All-Star nomination. However, Porzingis was limited to 48 hames due to an ACL tear. Current reports have Porzingis returning in time to play on Christmas Day. If he comes back an plays like an All-Star, he could get some looks from voters. He would have to average more than 6.6 rebounds if he wants to add this honor to his resume. Porzingis might want to bulk up a little bit. He will need that extra strength to out rebound guys like Andre Drummond, Karl-Anthony Towns, Anthony Davis, Joel Embiid and teammate Enes Kanter.
With a clear path to join the Lakers, many were surprised when Paul George elected to stay put and re-sign with the Thunder. George has been one of the best forwards in the league for the past couple of years. The 28-year-old has made the third team four times in his career. It is hard when young guys like Andrew Wiggins and Ben Simmons (also players that could make the list) make a case for All-NBA honors, but you have the more established players like LeBron James, Kevin Durant, Giannis Antetokounmpo and Kawhi Leonard all in front of him. George will likely make another case to join the All-NBA team once more again this season.
The same could be said for Damian Lillard. With Irving, Curry, and Westbrook in front of him on this list, Chris Paul, John Wall and Kyle Lowry can all overshadow the Portland Trail Blazers point guard. The announcement of his first team All-NBA from last year was all deserved, scoring 26.9 points per game and shooting 44 percent from the field. The Trail Blazers also earned the third seed in a competitive western conference. With Lillard playing good basketball right now, he will be a player to watch for another All-NBA nomination.