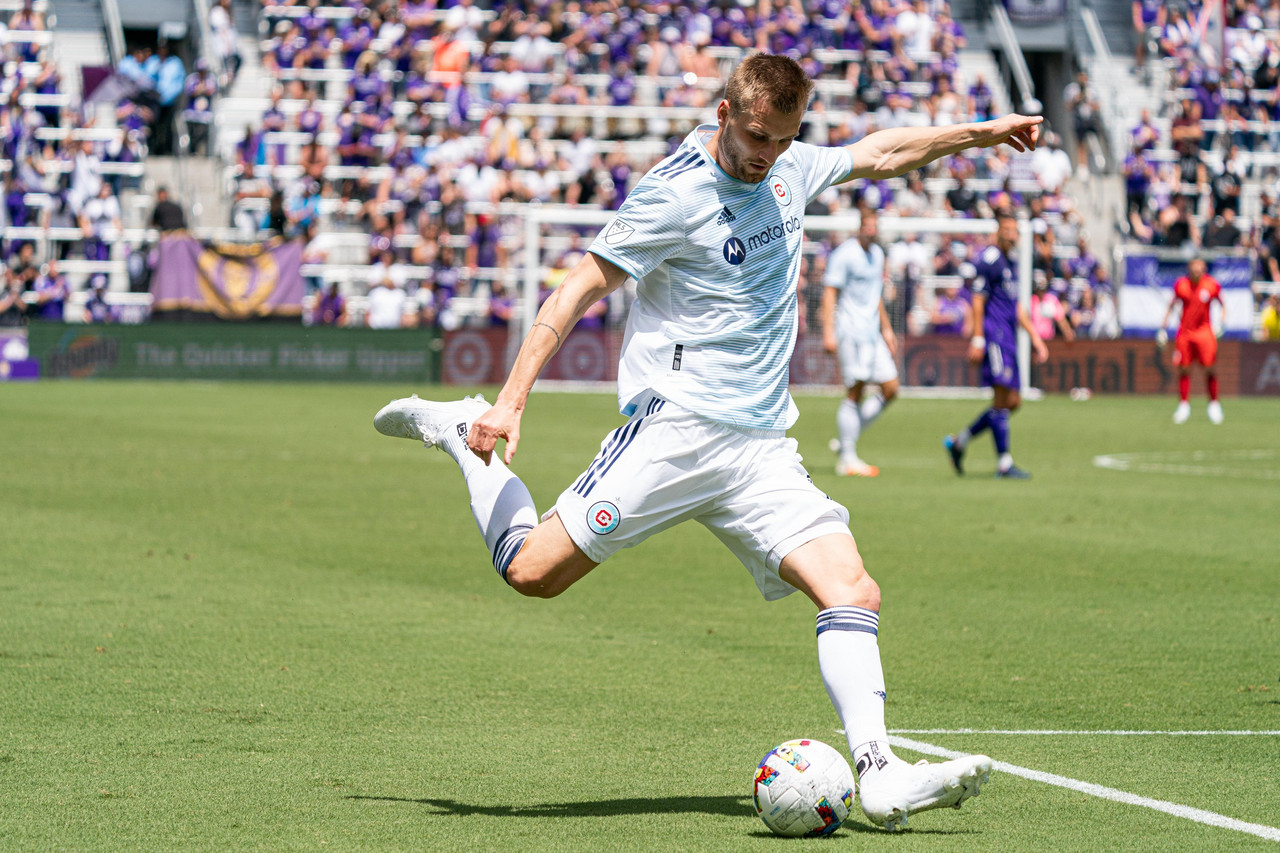 The Chicago Fire's unbeaten start to the season was spoiled on Saturday afternoon as they were beaten by Orlando City 1-0 at Exploria Stadium.
Chicago came into the contest undermanned, missing a number of key players, most notably Rafael Czichos and Xherdan Shaqiri. Things went from bad to worse for them when Brian Gutiérrez was sent off near the end of the first half, and Orlando eventually made the most of their advantage when Ercan Kara headed a set-piece play home from close range.
Story of the match
The first opportunity came after just five minutes, as Ercan Kara was seemingly slipped through in behind. The angle just kept getting tighter and tighter, though, and his resulting shot was saved pretty easily.
Another five minute period saw Orlando carve out another opening. Alexandre Pato found space on the right-hand side and decided to go for goal, but he dragged his effort a bit wide.
The chances kept coming, and Chicago would get one of their own following some nice build-up play. Kacper Przybyłko's low cross picked out Brian Gutiérrez, and he made solid contact on a strike. However, Pedro Gallese was up to the challenge, getting across quickly to make the save.
The pace of play simply did not let up. Both sides had forwards miss potentially dangerous chances, as Pato skied a shot from the top of the box before Przybyłko saw a curler barely miss the frame.
Things looked like they had died off for the rest of the half, but there were still some notable moments left to go. It started when the Fire were reduced to ten men after Gutiérrez was sent off. He had picked up a stupid yellow earlier in the match after blocking a free-kick from distance, and he was then shown a second for an admittedly weak foul in midfield. It may have somewhat stopped a counter, but the call seemed harsh.
Orlando then nearly made the most of the fortunate break before the half-time whistle. Kara's smart run in behind was found with a lovely chipped ball, but he couldn't convert from close range, as his dinked effort went over the crossbar.
The hosts dominated proceedings early on in the second, and they eventually opened the scoring near the hour mark. It was an incredibly worked set-piece play, as a cross towards the back post was headed back across the box by Pato. His set-up picked out Kara, who simply could not miss from a few yards out.
It really should have been 2-0 later on. Pato's initial shot was saved, but the rebound popped right up to Kara, who was wide open from close range. However, he somehow made a mess of the situation, heading the ball wide of goal.
Orlando stayed in control, but Chicago did have a chance fall their way in the latter stages. A set-piece wasn't defended properly, and the ball ended up falling to Chinonso Offor. He couldn't make the most of the situation, though, hitting a volley well off target.
Orlando came inches away from officially putting the contest to bed when Pato broke free on the counter. His shot did get past Gabriel Slonina, but it was denied by the crossbar instead before the ball flew out of danger.
Those misses didn't prove to be costly, though, as the Lions were ultimately able to secure all three points.
Takeaways
Seeing a Fire player wearing a red kit was nice to see, even if it was goalkeeper Gabriel Slonina. Just make that the home jersey for the rest of the season, please.
This game was already a bit of a wash for Chicago going into things. On the road without their two best players, Rafael Czichos and Xherdan Shaqiri, they would've been thrilled to just get a point from proceedings. Their already tough challenge was made even harder when Brian Gutiérrez was sent off before the end of the first half, and the Fire just couldn't hold on to another clean sheet. No one should be worried about how today went considering the circumstances, though. They go again next week.
Orlando, meanwhile, shouldn't really celebrate this win. They simply had to pick up all three points with everything in mind, and they barely did that. Their goal came via a set-piece routine that was probably from the training ground, and they failed to find the back of the net a second time before the day was done. The Lions did create chances, but a finishing disasterclass meant that several opportunities went begging. Sure, they got the three points, but it wasn't really because of the work they did.
Man of the match - Ercan Kara
It wasn't a great performance, but Ercan Kara just about did enough to get his side a W.
The matchwinner on the afternoon, his header from just a few feet away proved to be the difference between the two teams when all was said and done. His impact somewhat went beyond that lone goal, to be fair, as he was on the end of a few decent opportunities. However, he didn't have his shooting boots on apparently, as he missed almost all of them.
Kara does need to improve if he wants to justify his Designated Player tag, but for now, Orlando will just be happy that he got the goal that gave them three points.