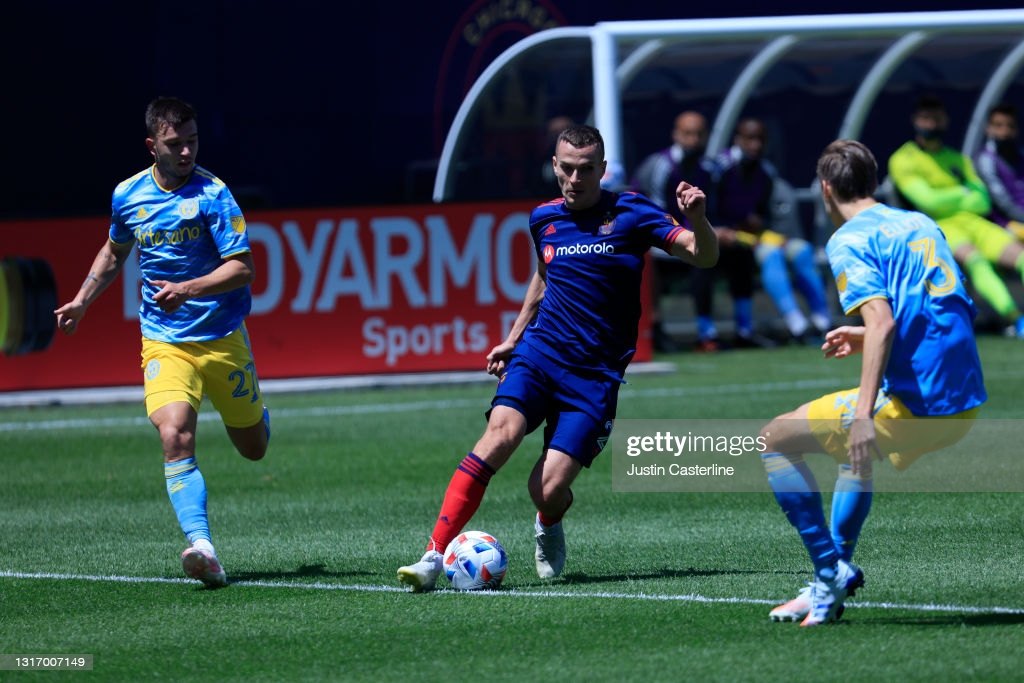 Two inconsistent Eastern Conferenceteams face off on Sunday afternoon as the Philadelphia Union hosts the Chicago Fire at Subaru Park.
Philadelphia didn't have a strong showing last weekend, and they dropped points as a result, drawing 1-1 to last-place Inter Miami. They even went behind in the contest, but a late goal from Kacper Przybyłko meant that they at least got something from the game. The Union haven't been dreadful this season, but they have looked much worse than they did last campaign when they won the Supporters' Shield.
Things were even worse for Chicago, as they lost 2-1 to Toronto FC at home despite being the better team throughout. Defensive mistakes and poor finishing in front of goal cost them on the night, and the result meant that they had gone winless from their last three. It's been another bad year for the Fire, and they'll need to turn it all around soon if they want to have any chance of making the playoffs.
Team news
Neither team will be missing too many players for this contest.
Philadelphia's only absentees will be Jack de Vries and Anthony Fontana, who are both still recovering from concussions.
Chicago, meanwhile, are only without Kenneth Kronholm and Carlos Terán, who are dealing with knee and shin injuries respectively.
Predicted lineups
Philadelphia Union: Blake, Mbaizo, Glesnes, Elliot, Wagner, Bedoya, Martínez, Flach, Gazdag, Przybyłko, Burke
Chicago Fire: Shuttleworth, Kappelhof, Pineda, Calvo, Sekulić, Frankowski, Medrán, Giménez, Navarro, Aliseda, Offor
Ones to watch
Cory Burke
Cory Burke just loves playing against Chicago.
No matter the competition, or the venue, the forward just always seems to score whenever he comes up against them. He's got eight goals in six appearances, which is a remarkable tally. It's not like he scored a bunch in one meeting either, as he's never had more than two in a single game versus the Fire. He's spread out the scoring, which makes him a threat whenever these two sides face off.
What makes this personal rivalry so interesting is that Burke isn't even that special of a player. He's had a respectable MLS career, of course, but he's only hit 10 goals in a season once. Something just happens when he takes on Chicago, though, and it'd be foolish to think that he won't get onto the scoresheet once again this weekend.
The Jamaican has missed Philadelphia's last four games since he was with his country at the Gold Cup, but he should be back following their defeat to the United States in the quarterfinals. It's a very timely return, even if it's a scary one for the Fire.
Can they finally stop him, or will Burke continue his scoring streak? Only time will tell, but it'll probably be the latter.
Chinonso Offor
It's time to give Chinonso Offor another chance in the starting lineup.
Designated Player Robert Berić, who has started all but one game this season, has been beyond disappointing. He's only scored twice, and he's only got one assist to his name as well. He's just not playing well, and he hasn't been for a while now.
Chicago have stuck by their main man, but that loyalty has cost them. A change needs to happen soon, and it should happen on Saturday.
Offor has started once, but he wasn't really given a fair shot in that contest. Away to the Columbus Crew, he didn't get any support, and he was hooked off at half time with his side down 2-0.
The 21-year-old deserves another go. He's not been that great, to be fair, but the Fire do seem a bit more dangerous when he's on the field. A physical presence due to his 6'4" frame, he's also deceptively quick, which makes him a bit of a nuisance for opposing defenders. He brings a new dynamic to the team, and that seems like something they desperately need at the moment.
Who knows, maybe Offor can make the striker spot his own with a strong showing here.
Last time out
Remarkably enough, these two sides have already faced off twice this campaign, with both meetings taking place at Soldier Field in Chicago.
The first game went to Philadelphia, who were the better team throughout. They finally opened the scoring in the 50th minute, as a one-two between Cory Burke and Jamiro Monteiro set the former up in the area, and he was able to volley the ball into the back of the net from close range. The Union then put the contest to bed near the hour mark after Jakob Glesnes headed home a volley from Kai Wagner, sealing three very deserved points for his side in the process.
The second game was much more exciting, even if it ultimately ended in a draw. An early own goal from Glesnes gave Chicago the lead, but Philadelphia would go into the half time break in front thanks to goals from Quinn Sullivan and Burke. The Fire restored their advantage after Boris Sekulić and Mauricio Pineda both scored from set-pieces in the span of about 10 minutes, but the Union were able to tie things up via another own-goal, this time from the aforementioned Sekulić. The away side nearly grabbed a late winner, but Bobby Shuttleworth stepped up when it mattered most to make a save and keep the scoreline at 3-3, which is how the match would end.
How to watch
The match kicks off at 6:00 p.m. EST, and it will air on TUDN USA, UniMás, and Twitter.