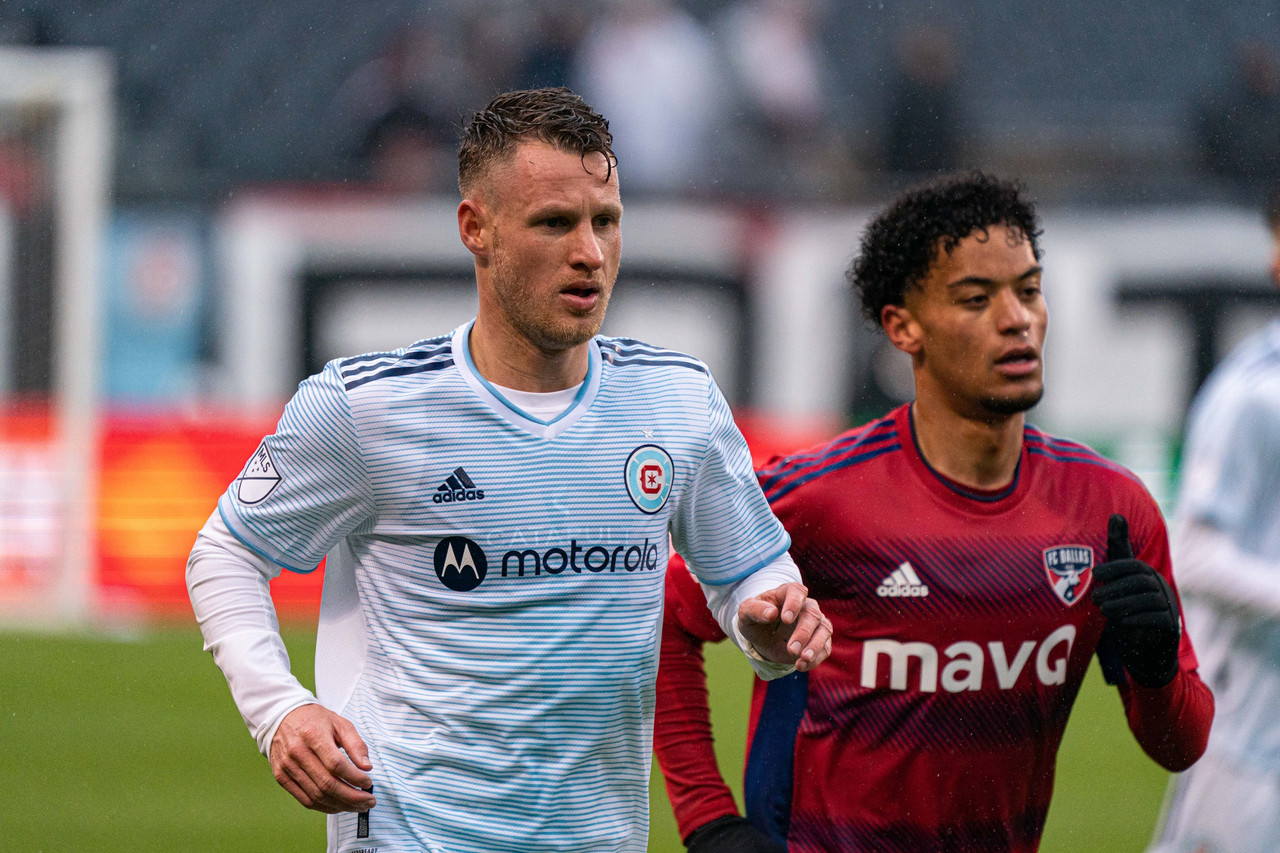 The Chicago Fire continued their unbeaten start to the 2022 season on Saturday afternoon as they drew 0-0 at home to FC Dallas at Soldier Field.
A tame affair throughout, neither side created many chances. The few that came around weren't capitalized on, so the scores stayed at 0-0 until the full-time whistle.
Story of the match
Chicago took an early hit during the contest when Xherdan Shaqiri was forced off with an injury. The tackle didn't look too bad, but there's a good chance that the time he spent on the field during the international break played a part in him having to leave the pitch early.
The deadlock was nearly broken in peculiar fashion at the half-hour mark. Some woeful defending from Dallas meant that a loose ball was allowed to bounce around the area, and it eventually made its way to Kacper Przybyłko. He went for an instinctive strike that did come close, but it ultimately failed to find the target.
The rest of the first half, like the weather at the stadium, was dreadful. Neither team did much of anything, and fortunately there was only one minute of stoppage time, which went by with little incident.
Boris Sekulić nearly brought the game to life on his own when he went on a bursting run down the wing before cutting inside and going for goal. Unfortunately he didn't make great contact on the strike, and the ball ended up rolling wide of the frame.
The second half was more of the same, but Dallas did carve out a decent opening in the 70th minute. A lovely cross towards the back post picked out Alan Velasco, but he made a mess of the finish, scuffing a shot badly from close range.
Another opportunity went begging when Nanu was played into space down the right-hand side. His effort was as wasteful as everyone else's, though, as he could only hit a very weak shot that went straight to the goalkeeper.
That proved to be the final highlight of a contest that didn't have many.
Takeaways
I know the weather was absolutely woeful, but today's attendance just isn't good enough for Chicago. Things have just continued to plummet since opening day, and the stadium looked borderline empty as a result of the small crowd. The club has a long way to go until they have an atmosphere that rivals the best in MLS.
Gastón Giménez should not be wearing the captain's armband for the Fire. They were down to their 3rd-choice option since Rafael Czichos and Xherdan Shaqiri were out injured, but they could've turned to other players instead of Giménez. He's shown in the past how lazy he can be at times, and he's not much of a leader either. It seems like he just got the nod because he was the biggest name left on the pitch.
This game was not a fun one for the neutrals to say the very least. There have been plenty of ugly games this season, but this somehow seemed even worse than the others. Fans of the respective teams shouldn't mind too much since each did get a point at the end of the day, but it was still a waste of nearly two hours for almost everyone involved. We go against next week, I guess.
On a more positive note, Brian Gutiérrez looked good on the afternoon. The circumstances that set up his arrival weren't ideal since he suddenly had to replace an injured Xherdan Shaqiri, but he was still able to put in a solid shift. Showcasing his quality on the ball, the midfielder had a few highlights, including one wonderful pass in behind the opposing backline. If Shaqiri has to miss any more games, at least Chicago knows they can rely on Gutiérrez. Just have him put on some muscle, please.
Man of the match - Absolutely no one
"Mr. Madison, what you've just said is one of the most insanely idiotic things I have ever heard. At no point in your rambling, incoherent response were you even close to anything that could be considered a rational thought. Everyone in this room is now dumber for having listened to it. I award you no points, and may God have mercy on your soul."
That's how I feel about this game. It was a woeful watch, and any neutral that did watch it almost certainly regrets their decision to do so. It's not a bad result for either, of course, but man was this match rough on the eyes.