 Whenever a male tennis player is in the midst of a great season, they are immediately compared to John McEnroe's 1984 season. Why? Because the feisty American's 1984 was the single most statistically dominant season by a man in the Open Era. Let's take a look back at the apex of Johnny Mac's career.
By the Numbers
McEnroe was an astounding 82-3 in 1984. His winning percentage was 96.5%, which remains the highest single-season winning percentage by a man in the Open Era. He won 13 titles, the fourth highest single-season total in the Open Era and a number that has not been matched since that time. He reached the finals of all three majors he played in that season, winning two. Not surprisingly, he finished the season ranked number one in the world
Highlights
Peak Play at Grand Slams

McEnroe After Winning The U.S. Open in 1984/Photo: Dan Ferrell-Getty Images
John McEnroe was a set away from going 21-0 in Grand Slam action in 1984. At the time, it was not uncommon for tennis players to skip the Australian Open, so McEnroe only played the other three. For the second time in his career, he won Wimbledon and the U.S. Open in the same season. However, he was even better than he was in 1981 as he won both finals in straight sets. He also reached his lone French Open final, winning the first two sets before Ivan Lendl stormed back to win in five. It is his best result at the French Open and the closest he would ever come to winning a major other than Wimbledon and the U.S. Open.
Dominance in Major Finals
By the time 1984 rolled around, McEnroe had already won multiple Wimbledon and U.S. Open titles. However, his title runs in 1984 were his most impressive yet. At Wimbledon, he dropped the third set of his first round match and did not drop another set the entire tournament. The dominant run ended with one of the biggest beat downs in a major final. McEnroe crushed rival Jimmy Connors 6-1, 6-1, 6-2. It was the third shortest slam final ever and would not be matched until 2008 when Rafael Nadal beat Roger Federer 6-1, 6-3, 6-0 at Roland Garros.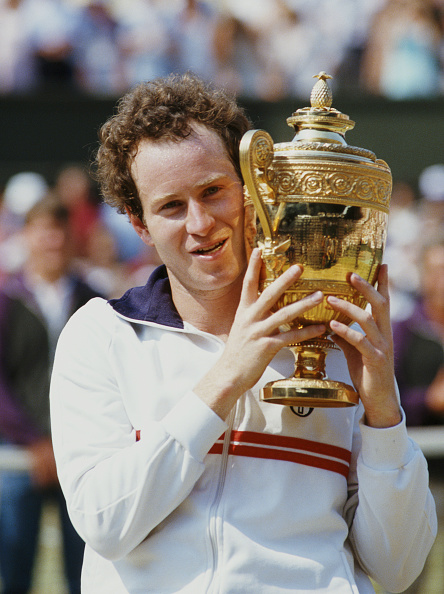 McEnroe after winning Wimbledon/Photo: Allsport UK-Getty Images
He was equally dominant at the U.S. Open, this time only dropping two sets. Both of those came in the semifinals against Jimmy Connors. He was untouchable in the early rounds, dropping just 20 games in the first four rounds, including a 6-1, 6-0, 6-2 win over future two-time U.S. Open champion Stefan Edberg, who would win his first major the following year. In the final, he would beat down rival Ivan Lendl 6-3, 6-4, 6-1. It was revenge for McEnroe's heartbreaking five-set loss to Lendl at the French Open.
Winning Streak
McEnroe's 1984 season could not have started much better. He kicked off the season by winning his first 42 matches, the longest winning streak to start a season in the Open Era. That record still stands to this day. Novak Djokovic came within one match of tying the record in 2011, but was beaten in the semifinals of the French Open. Overall, McEnroe's 42 match winning streak is the sixth longest by a man in the Open Era, fourth if you do not count Bjorn Borg's two unofficial streaks. During his six month unbeaten run, McEnroe won six titles overall. His streak is the longest by an American man in the Open Era.
Almost Unbeatable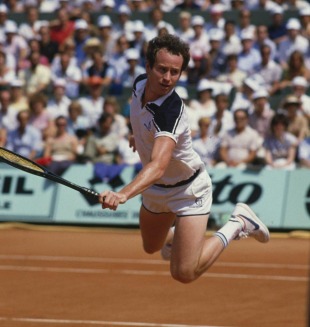 McEnroe takes flight in the French Open final/Photo: Getty Images
McEnroe only lost three times in 1984, the lowest total in a single season by a man since 1925 when Bill Tilden went 78-1. On top of his overall record, he dominated his biggest rivals. McEnroe won six of seven matches against Ivan Lendl and all six matches against Jimmy Connors, including three meetings in Grand Slams. He was untouchable, even on clay which was by far his worst surface. It took an inspired effort from Ivan Lendl at the French Open to fight back to claim the last three sets and end McEnroe's 42 match winning streak. It also handed the American his first loss of the season. McEnroe would not lose again until he was stunned in the opening round in Cincinnati by Vijay Armritraj. He would not lose on the ATP Tour for the remainder of the season. McEnroe would lose one more time the entire year and that came in the final at the Davis Cup. He lost in straight sets to Henrik Sundstrom after dropping the first set 13-11.
What Makes This Season So Great?
Nearly Perfect
John McEnroe's 1984 season was the closest thing to perfection by a men's player that there has been in the Open Era. He lost a grand total of three times in 1984. His three losses are the fewest by a man in a season in the Open Era and the second fewest ever in the history of the sport. No one has matched that season since and his winning percentage remains the highest in the Open Era. The closest anyone has come since then was Roger Federer in 2005. Federer fell one set short of matching McEnroe's record, by blowing a two-sets-to-love lead in the Tennis Masters Cup final against David Nalbandian. The Swiss would lose the match and fall to 81-4.
McEnroe at the top of his game
John McEnroe is widely considered to be one of the greatest tennis players of all time and 1984 saw the American at his absolute peak. He was playing the best tennis of his career and was indisputably the king of tennis. His start to the season was also the greatest that the ATP Tour has ever seen. He was in such good form, that he even was dominating on clay courts as he charged through to his lone French Open final. McEnroe would never reach that level again. His 1984 U.S. Open title was his last Grand Slam singles title. McEnroe's 1984 season was so good that he actually burnt himself out, and needed a break from tennis in 1986.
His 1984 season remains the gold standard for a tennis season. What he accomplished in 1984 has yet to be matched. Players have come close, but no one has bested it yet. It is one of, if not the best season a man has ever had on the ATP World Tour. It is going to take something special for anyone to match what McEnroe accomplished in that one, spectacular season.