 In 1988, Steffi Graf had one of the greatest seasons of all-time. She was completely dominant and completed the Grand Slam. After such an amazing season, there was surely no way that she could match it in 1989, right?
Apart from the Grand Slam, Graf's 1989 was, remarkably, better than her 1988 season. She won more and was even more dominant than the year before. She came scarily close to a perfect season in 1989 and played at a level that the tennis world has not seen since.
By the Numbers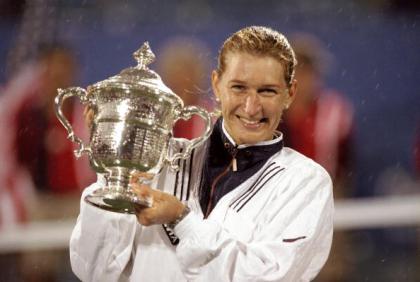 Photo: Shaun Botterill/AllSport
In 1988, Graf only lost three matches. A year later, she went one better. Only this time, she added fourteen wins, going 86-2. Her winning percentage was 97.7, the second highest by a woman ever and third highest all time. She reached the final of every tournament she played for the second time in her career, only this time it was sixteen tournaments and she won fourteen of them. Those fourteen titles included three Grand Slams. She finished the year on a high note, reclaiming the year-end championships, which she had first won in 1987. For the third year in a row, Graf finished the year ranked number one.
Highlights
Tour Domination
In the late 1980s, there was essentially no one else on the WTA. Graf was always the favorite in every match and every tournament and she made the rest of the tour look second rate. And there were some very good players on the tour at the time. Martina Navratilova still had a Slam in her. Monica Seles was a future champion. There were a handful of women who would go on to win majors. And all of them were contenders in 1989. But none of them could touch Graf.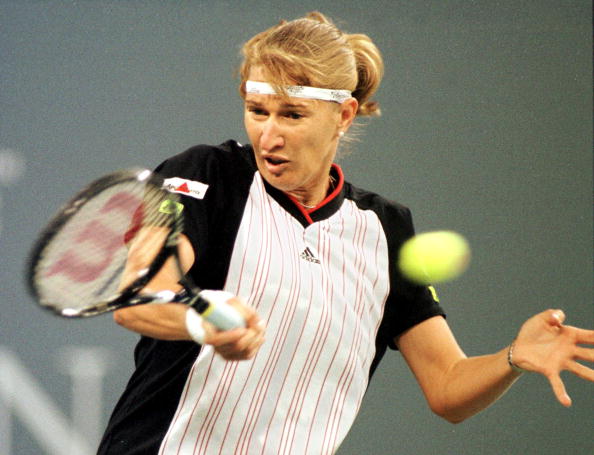 Photo: Matt Campbell/AFP/Getty Images
Graf was perfect on grass and, more impressively, hard courts in 1989. Both of her losses came on clay courts. More amazingly, both of Graf's losses in 1989 were 7-5 in the third set. She was literally four games away from going undefeated in 1989. The only people ever to come closer were Martina Navratilova in 1983 and Bill Tilden in 1925, both of whom lost only one match. It was entirely within the realm of possibility that she could have won every single match in 1989.
On top of only losing two matches, Graf only lost twelve sets in the entire year. Four of those sets were in her two losses. She was only pushed to three sets seven times, and was pushed to four sets in her final match of the year at the WTA Finals (the final of the year-end championship was best-of-five from 1984 to 1998). Not only could most of the tour not beat Graf, they could barely challenge her. Graf was playing a different sport from the rest of the WTA tour in 1989.
The Winning Streak
Graf was only mortal during the first five months of the season, losing twice. Her first defeat came at the hands of her nemesis, Gabriella Sabatini, who beat Graf at Amelia Island for the second year in a row, this time in the final 3-6, 6-3, 7-5. Graf would extend her winning streak in Grand Slams to forty matches before a stunning defeat at the French Open, losing in the final to Arantxa Sanchez Vicario despite having served for the match at 5-3. She went on to lose 7-6(6), 3-6, 7-5.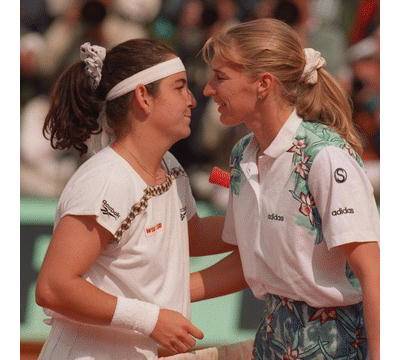 Arantxa Sanchez Vicario and Steffi Graf. Photo: Essentially Sports
Graf would not lose again for almost a year. After her shocking upset loss at the French Open, Graf would win her sixty-six consecutive matches, including all of her remaining matches in 1989. The run included all seven of her remaining tournaments. Going into 1990, Graf would extend her run to ten consecutive tournaments victories. Her run would finally end, unfortunately, on home soil in Berlin at the hands on Monica Seles. Her sixty-six consecutive match wins is the second longest winning streak in the Open Era. No one has even come close t matching that streak since.
Career Best Year
Statistically speaking, 1989 was the best year of Graf's career year. Her fourteen titles were the most she would win in a single season. Her sixteen finals were also a career high. Not only were her eighty-six match wins her career high, it was also the only time in her career that she would win more than eighty matches.
Why is it So Great?
Raising her Level
Steffi Graf's 1988 season was one of the best the world had ever seen. While much was expected of the young German for years to come, it seemed unlikely that she would be able to improve upon her 1989. And yet that's exactly what she did. With the exception of completing the Grand Slam, Graf's 1989 season was actually better in almost every way. Had Graf won the French Open and lost any other non-Grand Slam event, there would be no debate as to which season was better. Despite how great 1988 was, there was no hangover for Graf in 1989. She actually managed to follow up one of the greatest seasons ever with an even better season.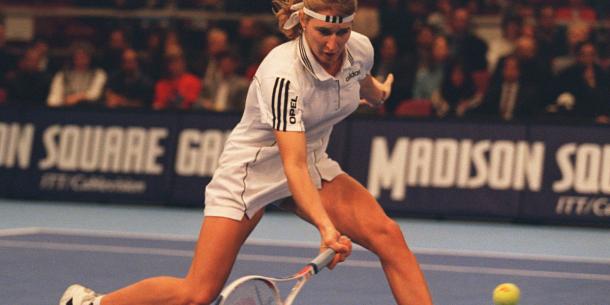 Photo: WTA/Getty Images
Near-Perfect
While Martina Navratilova only lost one match in 1983, it could be argued that Steffi Graf was closer to a perfect season 1989. Navratilova's loss came in the fourth round of the French Open, meaning that she would have needed to win three more matches after surviving what ended up being her lone loss, meaning she was four matches short of a perfect season. Both of Graf's losses were in finals, meaning that Graf played the maximum number of matches she could have in a single season, so she was only two wins away from a perfect season, while Navratilova was technically four matches away.
Moreover, both of Graf's losses were 7-5 in the third. She was literally four games away from a perfect season. She had a great chance to win both and go undefeated in 1989. She was also four points away from a second consecutive Grand Slam. She led Sanchez Vicario 5-3 in the third set of the French Open and served for the match, but could not convert and went on to lose. Had she served out the match, she would have become the first and only tennis player in history to complete back-to-back Grand Slams. She also would have been 87-1, giving her the highest winning percent in a single season in history. She was actually closer than anyone to going undefeated in a season. She actually made a perfect season look possible.
Building Momentum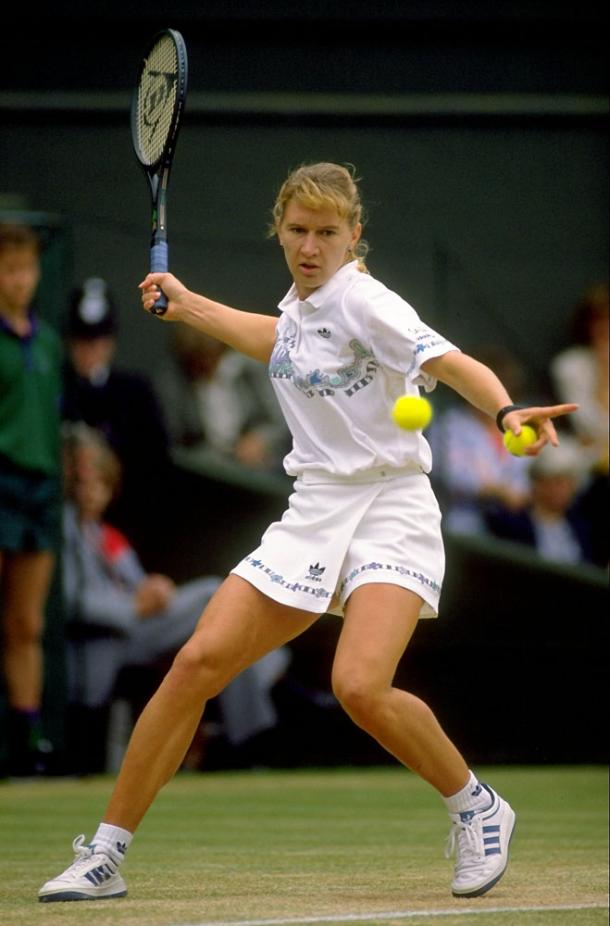 Photo: NBC
After that French Open loss, Graf would be untouchable until May 1990. Starting at Wimbledon, she would win sixty-six consecutive matches and ten consecutive titles Both runs were ended by her emerging rival Monica Seles in the final of Berlin in May 1990. Starting with the Australian Open at the beginning of 1989, Graf would reach twenty-two consecutive finals, winning eighteen of them. The run would finally be ended at Wimbledon, when Graf fell in the semifinals of Wimbledon to Zina Garrison, the first time Graf failed to reach a Grand Slam final since the 1986 US Open.
Best of the Best
Steffi Graf is one of, if not the greatest singles players of all time, and 1989 was Graf at the absolute height of her powers. She was completely dominant and the rest of the tour just could not match her. Both of her losses are considered to be massive upsets, and were very close matches to begin with, and Graf cruised through most the season. She was not even challenged most of the time, winning seventy-eight of her eighty-six wins in straight sets.
1989 was statistically the best season by one of the best ever. Her winning percentage was the second highest in the open era and the third highest of all time. Her fourteen titles are tied for the ninth most by a woman in a single season. Her run in majors is also one of the most impressive ever. By winning seven of eight Grand Slam titles, she became only the third woman to do so. She also remains the closest tennis player ever to winning back-to-back Grand Slams, as Margaret Court lost in the Wimbledon semifinals in 1969, while Maureen Connolly did not play the 1954 Australian Open. 1989 was Graf, one of the best ever, at her absolute peak.
Unmatched Since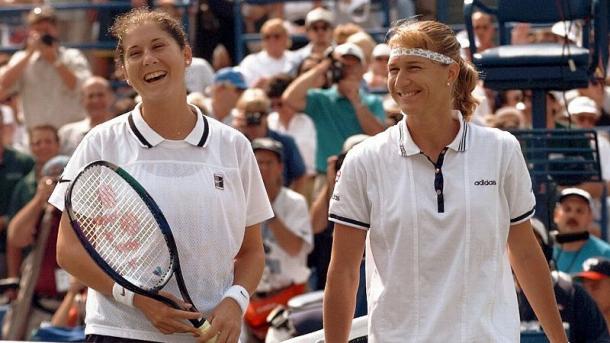 Photo: Kathy Willens/ESPN
There has not been a season in the last twenty-six years that has been as good as Graf's 1989. No one has won fourteen titles in a single season since. More impressively, no one has reached the final of every event on their schedule since. That goes for both the men's and women's tours. Only Roger Federer in 2006 has won more matches in a single season than Graf did in 1989. Considering the current state of the game, it seems unlikely that Graf's 1989 season will be matched any time soon.
Steffi Graf's two-year run in 1988-1989 remains one of the most impressive and dominant that the world has ever seen. In 1989, despite losing the French Open, Graf raised her already high level to heights unimagined. She put on a display that will live on in tennis lore for decades to come. In the years to come, the tour would start to catch up to Graf, led by Monica Seles, who would challenge and even replace Graf as the tour's top player. Graf would remain one of the top players and would return to dominance in the mid-1990s. However, nothing any player, even Graf, has managed in the period between now and 1989 has been quite as dominant as what the teenager from West Germany managed at the end of the decade.