 The 13th seed Victoria Azarenka will play 15th seed Svetlana Kuznetsova for the Premier Mandatory level Miami Open title, held on hard courts in Florida, USA.
Recent Results
Azarenka has had a practically perfect start to the season, winning 21 of the 22 matches she's contested. The Belarusian won the titles in Brisbane and Indian Wells, beating the world number one Serena Williams in the final of the latter and has only lost to Angelique Kerber in the quarterfinals of the Australian Open. If she were to win the title, Azarenka would become only the third woman and the first in over a decade to win Indian Wells and Miami in succession, after Steffi Graf (1996) and Kim Clijsters (2005).
Here in Miami, the world number eight is yet to drop a set despite a fearsome draw. In the fourth round, Azarenka held her nerve to edge the world number four Garbine Muguruza 7-6(6), 7-6(4) before grinding down the Australian Open semifinalist Johanna Konta 6-4, 6-2 in the quarterfinals. With revenge in mind, the 26-year-old took down the current world number three Angelique Kerber 6-2, 7-5 in the semifinals in a match featuring plenty of hair-raising rallies.
Coming into this event, Kuznetsova hadn't won back to back matches since January and lost in the second round of Indian Wells. Aside from a title winning run in Sydney, where she defeated the then ranked number two Simona Halep en route, the Russian had proved vulnerable in losing five times to players ranked outside of the top 80.
Despite her terrible form, the world number 19 has found her feet in Miami, even if she was pushed to three sets in her first four matches. After surviving Caroline Garcia in a third set tiebreaker, Kuznetsova pulled off the unthinkable to defeat the world number one Serena Williams 6-7(3), 6-1, 6-2 in the fourth round. It ended Williams' 20 match winning streak in Miami which stretched back to 2012 and was Kuznetsova's first win over the American since the French Open in 2009 and marked the joint earliest exit Williams had ever suffered in Miami alongside her loss in 2000. The 30-year-old then battled fatigue to edge Ekaterina Makarova 6-7(3), 6-4, 6-3 and giant-killer Timea Bacsinszky 7-5, 6-3, her first straight sets win of the week to reach her biggest final since Madrid last spring.
Past Experience
Azarenka boasts a marginal winning record in finals, winning 19 to the 16 she's lost. The former two-time Australian Open champion has won eight Premier Mandatory/Premier 5 Level titles, including two times in Miami where she defeated Serena Williams in 2009 and Maria Sharapova in 2011 to remain unbeaten in finals at this event. Now injury free, the former world number one has vastly improved on last year's demoralising third round defeat to Flavia Pennetta and by virtue of her incredible month, will re-enter the top five as of next week's rankings.
Unlike her opponent, Kuznetsova has lost more finals than she's won, winning 16 compared to the 21 she's lost. Also a two time Grand Slam champion (US Open 2004 and French Open 2009), the former world number two has long since been accused of never achieving her full potential and hasn't won a title this big since Beijing 2009. However, Kuznetsova was the first Russian Miami champion, defeating Maria Sharapova a decade ago (who incidentally was looking to complete the Indian Wells-Miami double at the time). Since then, Kuznetsova reached the semifinals at best in 2008 and 2009, losing in the fourth round last year to Serena Williams ironically enough.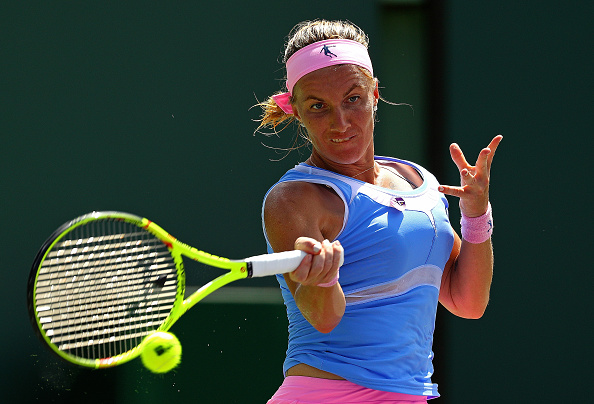 Head-to-Head
The pair are tied at 4-4 in their head-to-head, though Azarenka has won four of the last five, including their last three. As the Belarusian herself has alluded to, they haven't played each other in quite some time, going back to Azarenka's 7-5, 6-1 win in the quarterfinals of the Australian Open 2013. Quite rightly, both women are at different stages in their career's now, though it's hard to look beyond the fact that Kuznetsova hasn't beaten her upcoming opponent since Rome 2009.
Azarenka plays a suffocating baseline game, bludgeoning her opponent into submission with her relentless returns and at times abrasive character. With her serve and movement now improved, the 26-year-old looks practically unbeatable on hard courts, winning 18 of her 19 titles on this surface. However, her Achilles heel has always been double faulting, something which has a nasty habit of re-surfacing when she's trying to close out a match, as it did in the semifinals.
Kuznetsova similarly competes from the baseline but relies much more on working the point with heavy topspin, particularly with her huge forehand. The 30-year-old moves really well and demonstrates great versatility with slices and volleys, though at times makes poor decisions and can be too reliant on her kick serve.
With this in mind, Azarenka is the favourite for this match. The fresher of the two both mentally and physically, she'll look to get on top of the rallies early and negate the effect of her opponent's spin. For Kuznetsova, it will be an uphill climb. Even before Azarenka was at her best, she struggled against the Belarusian in Miami, saving match points to win 1-6, 7-5, 6-0 back in the third round of 2008 before losing 6-3, 2-6, 7-5 in 2009. The 30-year-old must utilise her heavy topspin to get Azarenka moving side to side and exploit the openings if she's to have a chance of winning. In the heat and humidity of the day, she can't afford to let it last long and whether she's physically prepared for the fight remains to be seen.
Prediction: Victoria Azarenka in two sets