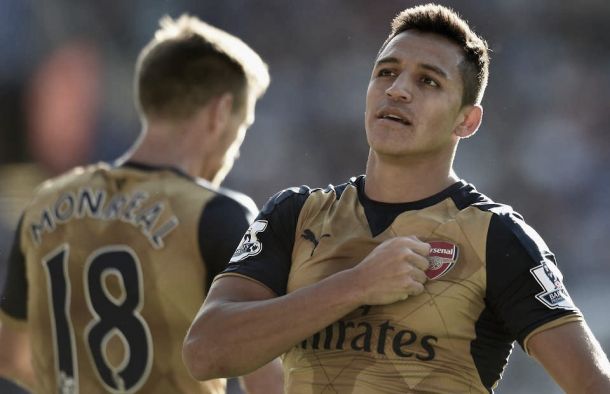 Alexis Sanchez's hat trick against Leicester City was the first of his Arsenal career, and he became the first man to score hat tricks in the Italian Serie A, Spain's La Liga and the English Premier League in the process. The Chilean's treble was also a milestone for manager Arsene Wenger, with it being the 30th League hat trick of his Arsenal managerial career, only Liverpool have managed more Premier League hat tricks in that time. The treble was also a fourth for Wenger's Arsenal against Leicister, they've become the opponent that Arsenal have scored hat tricks against most often since 1996.
Nicklas Bendtner
"Lord Bendtner" was the first person to score an Arsenal hat trick after the dawn of the new decade. He scored his first treble in March 2010 in a Champions League round of 16 match against Porto and then, nearly a year to the day later, he scored a hat trick in a FA Cup match against Leyton Orient. The Danish striker gained a cult following in England, mainly for a string of quotes which saw him rate his abilities a lot higher than they actually were. He was released by Arsenal in 2014 and he joined German side Wolfsburg.
Theo Walcott
Theo Walcott was the second Arsenal player to score a hat trick post 2010, after he scored 3 in a 6-0 win over Blackpool early in the 2010-11 season. He's since scored 2 more Premier League hat tricks, a memorable one in Arsenal's 7-3 victory over Newcastle in 2012 and his third coming against West Brom on the final day of last season. His momentum after that treble saw him go on to score in the FA Cup final win over Aston Villa as well.
Walcott has also scored one League Cup hat trick, it came in Arsenal's 7-5 comeback win against Reading where Arsenal were 4-0 down at a time. Walcott is currently in scoring form now, he has 11 goals in his last 12 Premier League games, including Arsenal's equaliser against Leicester on Saturday. He finally seems to be adapting to his central role and he's becoming more of a complete striker.
Robin Van Persie
Robin Van Persie scored 3 Arsenal hat tricks in just over a year in 2011 and 2012. His first came in January 2011 against Wigan Athletic, with his second coming 9 months later in a historic 5-3 away win at Stamford Bridge over Chelsea. His third and final Arsenal hat trick came in February 2012, where he scored 3 in a 7-1 over Blackburn.
The Dutchman announced his intention to leave Arsenal 5 months later, and left to Manchester United. He scored a hat trick in his second game for the Red Devils against Southampton and his treble against Aston Villa later that season would secure them the League title, the only one he would ever win in England. After the departure of Sir Alex Ferguson and some lengthy spells on the sidelines, he left United this summer, moving to Turkish Giants Fenerbache.
Santi Cazorla
Arsenal's next trip to Reading after Walcott's famous League Cup exploits yielded another Arsenal hat trick, this time for the Spaniard Santi Cazorla. He'd only been at the club a few months before he scored 3 in a League match, that ended with Arsenal winning 5-2. This, to date, is the only hat trick that he's scored, the best he's managed since are braces. His hat trick did go some way to affirming him as a fan favourite though.
Danny Welbeck
Cazorla isn't the only Arsenal player to score a hat trick in his debut season, Danny Welbeck did it last year. The ex Manchester United man scored 3 against Galatasaray in the Champions League group stage, just a month after joining Arsenal. The hat trick was the first of his career as a whole.
Alexis Sanchez
Alexis Sanchez comes last, but definitely not least, in this list of Arsenal's recent hat trick scorers. He, of course, scored his against Leicester on Saturday, with the final being a long range drive. His hat trick made milestones for him, it was his first Premier League hat trick for Arsenal and he become the first man to score hat tricks in Spain, Italy and England, and for the club, a 30th Premier League hat trick in 19 years a remarkable achievement with hopefully many more hat tricks to come.