 A recent loan move of Uruguayan right-back Guillermo Varela to German side Eintracht Frankfurt could just indicate that Manchester United are not done yet in the transfer window. However, Jose Mourinho, during his unveiling, has stated that when his main targets arrive in the club, other players might as well leave until the transfer market actually shuts; the reason why the club could sign more players until transfer deadline day.
Last season, under Dutch manager Louis van Gaal, Manchester United lacked creativity in the full back positions. They rarely created or made a huge impact from the right and left back positions. And with recent rumors linking the Brazilian right back Fabinho with a move the club, we could see the AS Monaco player at Old Trafford, making the right back position a place to fight for among the likes of Antonio Valencia, Matteo Darmian and youngster Timothy Fosu-Mensah.
Why Fabinho?
Stats don't lie. Last season, United's main right back option, Matteo Darmian, did not make a huge impact and did not play up to the expected levels.
Let's take a look at the defensive, offensive, and creativity factors of United's right back options of last season and compare them to the ones provided by the Monaco man.
Defensively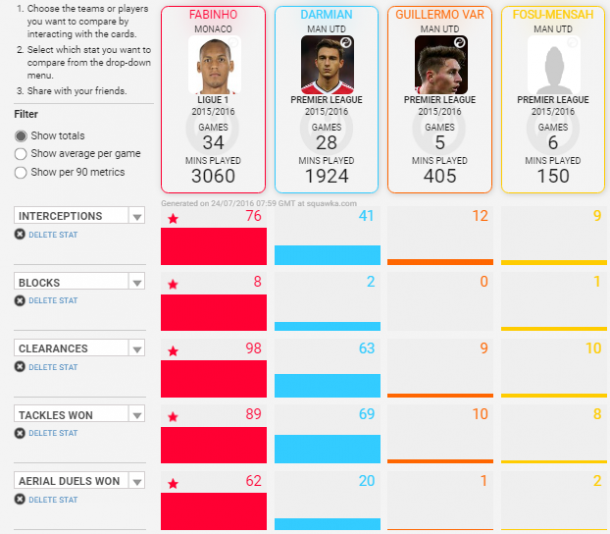 Fabinho made 34 appearances in the French league last season and he was able to make 76 interceptions, more than Darmian, Varela and Mensah combined (62).
The Brazilian had also won more aerial duels (62) than the Italian, Uruguayan, and Dutchman combined (23).
It's no surprise that Mourinho prefers physically strong defenders and the Monaco right back seems to be a good fit in Jose's rebuilding process.
Creativity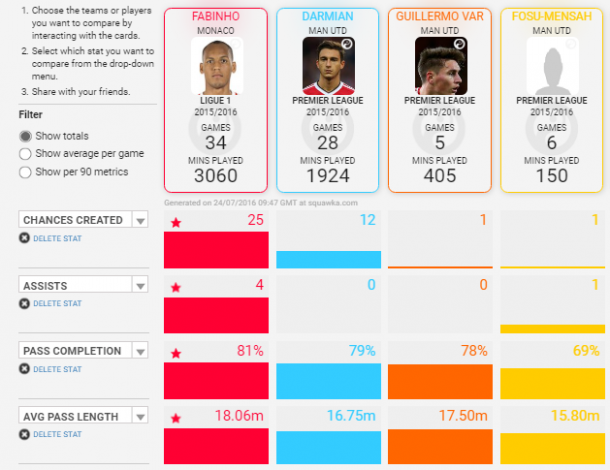 United's right full-back position faced serious creativity issues last season as the team's right back options created less chances combined (14) than Fabinho alone (25).
The Brazilian had also made a better impact in the goal assist department as he provided four, comparing to the only one assist provided by United's three right back options.
Offensively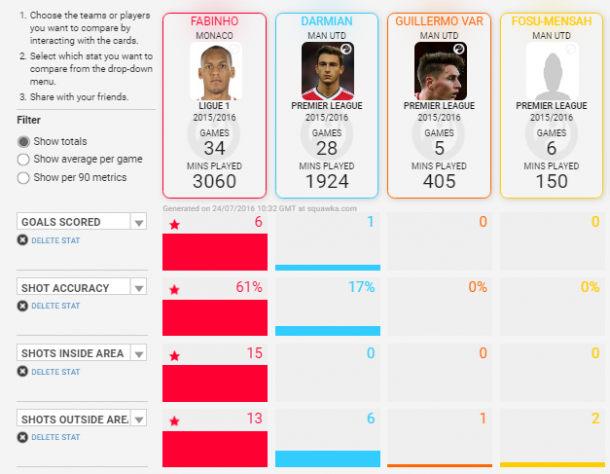 It's not a bad idea if your full back can help the forwards in setting goals or even by scoring some goals himself. Fabinho scored six goals last season and also attempted 15 shots inside the area, more than United's right back options combined who had zero shots inside the penalty area.
His shot accuracy was quite good as well (61%), more than Darmian who only registered 17% accuracy.
Versatility
Every manager likes to have versatile players and Mourinho is no exception.
With United's long season to come in the Premier League, UEFA Europa League and the domestic cups, players like Fabinho are considered as a great addition. The Brazilian full back played 19 games in the right back position and 15 games in the defensive midfield position last season, a reason that could see the player joining the Theatre of Dreams and work with the Portuguese manager again after their short spell together at Real Madrid.
Note: Positional and statistical data sourced from Squawka.com and TransferMarkt.co.uk