Manchester United midfielder Marouane Fellaini is hoping to continue repaying manager Jose Mourinho's faith in him when the Red Devils come up against rivals Manchester City on Saturday.
Fellaini has impressed in midfield thus far this season, playing every minute of the campaign in his preferred deeper midfield role under Mourinho.
This derby is special, says Fellaini
Now the Belgian midfielder is hoping to retain his place in the side ahead of the clash with Pep Guardiola's side at Old Trafford, and Fellaini told Sky Sports that "everyone wants to play these games."
He added that "everyone in the world will watch this game", meaning that "it is an important game for both teams." Fellaini was also excited by the prospect of the Old Trafford atmosphere and said that "the crowd will be behind us so it will be a good game."
The derby clash has been so hotly anticipated partly because of the renewal of the rivalry between managers Mourinho and Guardiola, who didn't see eye to eye during their times as manager at Real Madrid and Barcelona respectively.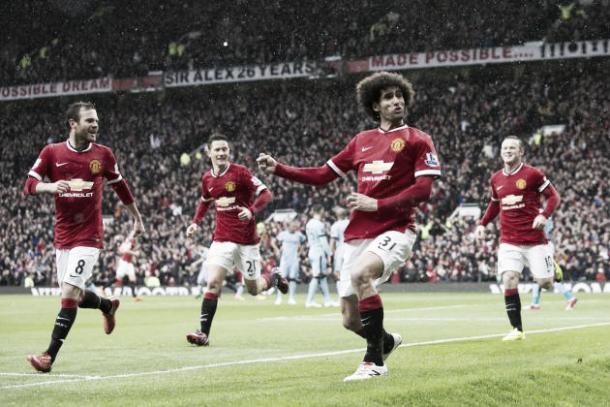 Their presence in the Premier League was also acknowledged by Fellaini, who said that "a lot of players have come to this country this season, as too have a lot of great managers so this season it's special." He added that "the tension is there" during all derby matches against City and fellow fierce, local rivals Liverpool.
Fellaini wants to repay Mourinho's faith
Despite his positive start to the season, even Fellaini isn't guaranteed to start against City. However, the Belgian is hoping to be involved so he can continue to repay Mourinho's trust in him.
The midfielder explained that "when someone (Mourinho) trusts you 200 per cent you have to repay that", adding that his new manager "has given me confidence and I will give everything."
Fellaini also explained that Mourinho had spoken to him after returning from EURO 2016 duties with Belgium earlier this summer. The United boss also spoke to the midfielder soon after being appointed as the club's new manager in May, and it appears that that constant communication between the two has improved Fellaini's confidence quite significantly.
The Belgian added that "I'm playing in my position and I feel the trust of the manager."