Manchester United manager Jose Mourinho has insisted that Bastian Schweinsteiger could stay at the club beyond January. The former German captain has been out of favour at the club after Mourinho's arrival. However, he has turned a corner in last one month as he was allowed to train with the first team squad.
Schweinsteiger also got an opportunity on to play for United when he came off the bench in United's 4-1 win over West Ham in EFL cup quarterfinal. The German had initially admitted that United will be his last club in Europe, hinting a move to the United States in future.
Mourinho likes Schweinsteiger's determination
Schweinsteiger joined United last summer after spending 11 years at Bayern Munich. The dynamic midfielder started brightly but then injuries disrupted his season. Mourinho sidelined Schweinsteiger in summer after being packed in midfield option. The World cup winner opted to stay at the club and fight for his chance.
Mourinho admitted on Friday that Schweinsteiger "was so happy and proud with his efforts," on Wednesday and he "likes players with determination." The former Chelsea manager also believes that the midfielder is "another one who can help us." Schweinsteiger was also included in the squad against West Ham in Premier League last Sunday.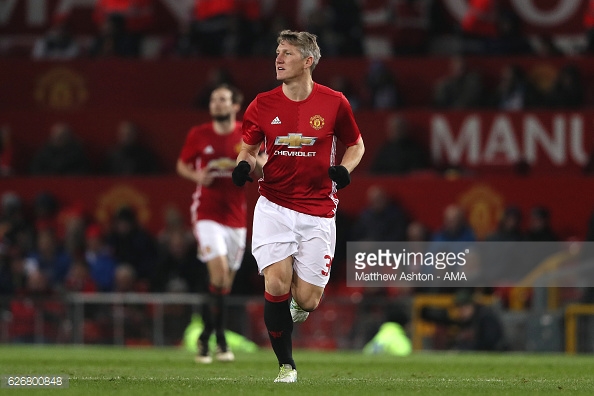 The decision lies in Schweinsteiger's hand
Mourinho revealed that United tried to find a team for Schweinsteiger in the summer but the player refused to leave. The Portuguese believes that "in January again he will be the powerful one but probably with better feelings than before because he's working with the team." He further added that Schweinsteiger "understands team's dynamic and philosophy."
It is unlikely Schweinsteiger will get a chance in Premier League this weekend as Paul Pogba and Maraoune Fellaini will be back from their suspensions. The German has been working hard and got a deserved chance in the EFL cup. It will be a major turnaround if he forces himself into first team contention when the whole midfield is available for selection.