 Manchester United midfielder Michael Carrick has hailed his young teammate Marcus Rashford, claiming the forward has an "extra spring in his step" of late.
The 35-year-old was keen not to add to the hype surrounding his fellow England international but still provided plenty of positive comments about his in-form teammate.
Carrick encouraged by Rashford's attitude
Before his recent good form, Rashford had endured a difficult season. His strike against Sunderland earlier this month was his first in the Premier League since September.
Perhaps befittingly, then, Carrick was most praiseworthy of the 19-year-old's "great" attitude as he pointed out the pressures of playing for the Red Devils week in, week out.
The midfielder added that Rashford also has "the right attitude," explaining that "he's a good lad, he's down to earth and he's giving himself the best chance."
Carrick also praised the youngster's listening and learning qualities, saying "he gives everything he had." United's number 16 praised Rashford's contribution in last week's Europa League triumph against Anderlecht as well, in which the striker scored an extra-time winner to set up a semi-final clash against Spanish outfit Celta Vigo.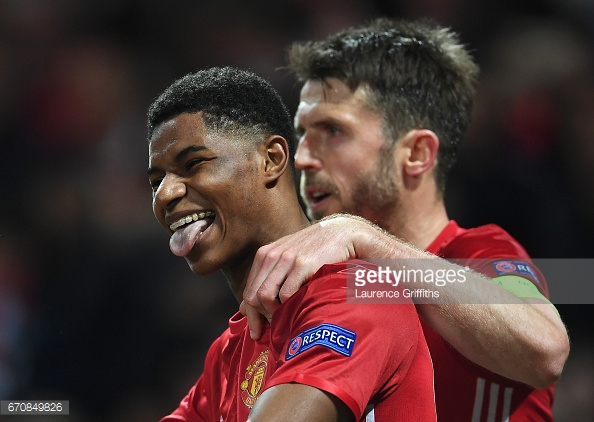 Striker still developing
The recent media appraisal surrounding Rashford comes after his run of three goals in his last four matches, taking his season tally into double figures at ten.
Carrick suggested it was normal for his compatriot to undergo a dry patch, suggesting that players "are going to have times when things might not go quite the way you want," adding "that's especially the case at his age."
The England international added that because Rashford "has come on so fast and all of a sudden" expectations have risen accordingly, but also claimed his teammate's recent form demonstrates that "he's taken his game on a bit."
And according to United's second longest serving player, behind only Wayne Rooney, Rashford is "in the right place to develop" and "the future looks bright for him."