 When Louis van Gaal took over at Manchester United, he immediately started with a new system, playing three at the back. This was rather unconventional for United.
Sir Alex Ferguson experimented with three at the back way back in 1991, when he played Paul Parker centrally with Steve Bruce and Gary Pallister. It lasted about 30 minutes, before he went to a conventional back four and to 4-4-2.
Sir Alex, of course, did finally move away from that traditional formation and at the end of his tenure his team were playing a 4-5-1 or 4-3-3, but until van Gaal arrived a back four was pretty much a permanent fixture for United.
The start United had under van Gaal was inauspicious to say the least, and his system came in for a lot of criticism. The formation was blamed for poor results, and van Gaal possibly bowed to pressure and went to a back four.
He would have been better off sticking to his guns.
Inflexibility van Gaal's downfall
Though United managed to qualify for the Champions League in fourth position, they weren't particularly inspiring. They hit a purple patch in March and April beating Spurs, Liverpool and Manchester City, but they stumbled over the line and were miles off champions Chelsea.
Part of the problem was van Gaal's inflexibility. Although he is seen as an innovative manager, and the 3-5-2 experiment backs that up, he is authoritative and didn't want players to think for themselves, meaning they had to hold their positions.
In a 4-2-3-1 system, this meant that United would rarely have more than four players in attack at any one time. The lone striker was very often isolated, and the emphasis on the three behind the striker to create was too much, especially when van Gaal's possession based approach was so slow. United never really had support for the forward players, and in the second season it became a real problem. The better United got at keeping the ball, the less effective they became.
Had he kept faith with the 3-5-2, then it would have undoubtedly provided more options in the forward areas without losing the domination of the ball he craved so much.
Three at the back is the latest trend
Three at the back is now in vogue. Chelsea's resurgence last year after ditching a back four was such a revelation that by the end of the season even Arsene Wenger was tinkering with it at Arsenal. Ironically, it helped topple Chelsea in the FA Cup final.
Though Chelsea use 3-4-3, as opposed to 3-5-2, the basis of a back three allows a team to involve more creative players further up the field. This has not been lost on Jose Mourinho. He did use a back three occasionally himself last year. It could be that he uses it a lot more this year,
United's pre-season got under way in the US and Mourinho went 3-5-2 as United thrashed LA Galaxy 5-2. Although Galaxy were poor and there will be concerns at the two goals conceded, the system looks like it will suit an awful lot of players. It may even prolong some careers.
When Victor Lindelof was signed, then the future of Chris Smalling and Phil Jones was thought to be up in the air. Possibly even Daley Blind's. With Eric Bailly, Marcus Rojo and the exciting Axel Tuanzebe, United look to be over stocked at centre half.
Yet if a back three is deployed it will mean United need cover, but should also mean that there is going to be more opportunity.
The players will take time to get used to the system, but they should be able to adapt, and it could be beneficial. The odd mistake in the wrong area, something that Smalling in particular is guilty of, may not have dire consequences having two partners to cover.
Lingard can benefit from position change
In van Gaal's first league game, United had a certain Jesse Lingard occupying one of the wing back positions. His debut was cut short by injury, and when he was fit the wing backs were a thing of the past.
Yet his performance in the first half against Galaxy suggests that it could be his position. He has been a source of frustration when he has occupied one of the positions behind the lone striker, but he looked a constant threat as a wing back.
He has scored brilliant and important goals for United, but they stand out not only for their spectacular nature, but for their rarity too. He is a work horse, but in the 4-2-3-1 system, running for 90 minutes is not enough. Yet as a wing back, it is actually a large part of the role.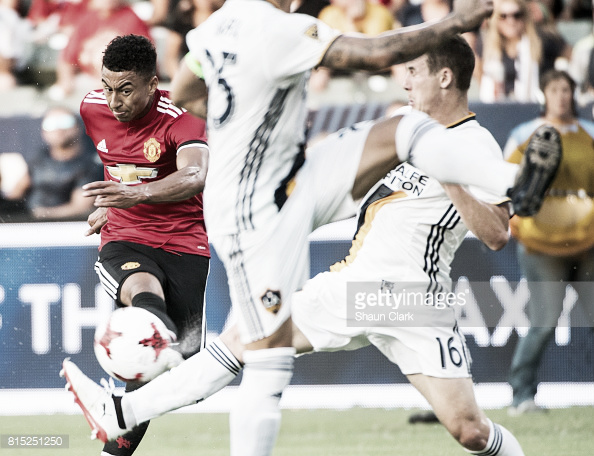 The wing back position is the key to 3-4-3 or 3-5-2. You have to have the players who are able to get up and down, to know when to attack and know when to 'sit in'. They have to have an engine, and have to be able to do the job at both ends.
There are two types of wing back. One is an offensive full back. Defensive orientated, but can get forward. The other is a winger, who is used to putting in a shift and tracking back. Lingard falls in the latter bracket.
Victor Moses was an average winger, yet he was a brilliant wing back for Chelsea. Lingard could be United's Moses, and it could be the making of him.
Although Galaxy were poor, Lingard was superb. He was always available, and he drifted in behind the Galaxy defence time and time again, setting up United's third goal. He looked more threatening and much more at home.
Two forwards can create mayhem
Another player who had question marks about his future, in the media anyway, was Anthony Martial. He was used as a forward alongside new boy Romelu Lukaku. That could also be a position that will enable him to cause havoc.
Martial had an indifferent second season after a sensational beginning. Yet, he showed glimpses of form, most notably when he was up front against Burnley. The lack of defensive responsibility can only help him, and to have a partner like Lukaku alongside him could see United plunder defences.
That is if Martial can get the nod ahead of Marcus Rashford. Rashford started in attack alongside Juan Mata. An interesting combination, but both flourished. Rashford bagged a brace and should have scored a hat-trick, while Mata was outstanding pulling the strings.
Last year, it was pretty much a case of stop Zlatan Ibrahimovic and stop United, him being the focal point. Lukaku with Rashford, Martial or Mata buzzing around him may take an awful lot of stopping.
Having three central midfielders should allow United to dominate the engine room, and Marouane Fellaini, Ander Herrera, Paul Pogba and Henrikh Mkhitaryan all put in great performances. Andreas Pereira also acquitted himself well in a more withdrawn role.
System may take time to perfect
The back three of Smalling, Blind and Jones looked a lot more comfortable than Bailly, Lindelof and Tuanzebe, although Galaxy were stronger in the second half. When Galaxy pressed late on, United buckled under pressure, which is slightly worrying.
There will be much tougher assignments ahead, and the system will be exposed to much harder tests. Yet it makes a lot of sense to persevere with. Rome wasn't built in a day.
The reason why van Gaal's experiment didn't really work at first may not have been to do with the system, but as a consequence of all of the changes that had occurred. New management, new players and a new system. It was always going to have teething problems.
Mourinho will not bow to pressure, and if he does continue the experiment then it may not just be beneficial to a number of players, but more importantly to United as a whole.