Group 1 features England and Wales and they faced each other for the first time this campaign in front of a huge home crowd as well as Russia looks to put pressure on both of them.
Thursday 5th April
Bosnia & Herzegovina 1-6 Russia
The first fixture of this match day in qualifying saw Russia take on Bosnia & Herzegovina. Russia looked to go one further after drawing with Wales last time out. Bosnia are usually a tough opponent keeping their latter opponents England to slim wins against them in previous qualification campaigns. Russia found it fairly easy this time as they thrashed the Bosnians. Bosnia actually took the lead through an Elvira Todua own goal early on but Elena Danilova levelled the score.
Maria Galay gave them the crucial lead before half time. The second half saw four more goals all from Russia. Elena Morozova scored from the spot to make it 3-1 before Nadezhda Smirnova scored a brace and Danilova completed hers.
Friday 6th April
England 0-0 Wales
The next day saw England take on Wales in an International derby. There was talks a few days before the match that 15,000 tickets had been sold and then 25,000 were expected in Southampton. In the end, 25,603 people attended the match and what an atmosphere it was.
Also, it was a match that really lived up to the hype. Wales almost shocked England when Natasha Harding thought she scored after Lucy Bronze cleared off the line but she thought it had crossed the line. Goal line technology was clearly not in use for this match and luckily for the Lionesses, the goal wasn't given. Wales sat back quite defensively with an obvious game plan in mind. Whilst England dominated possession and spent the most time in their opposition's half, they couldn't convert their chances. Two chances that England came close to scoring was Jordan Nobbs and Fran Kirby both trying their luck from distance. However, Laura O'Sullivan, who plays for Cyncoed in Wales, had one of the best games of her career and helped Wales claim a massive point in their quest for World Cup Qualification.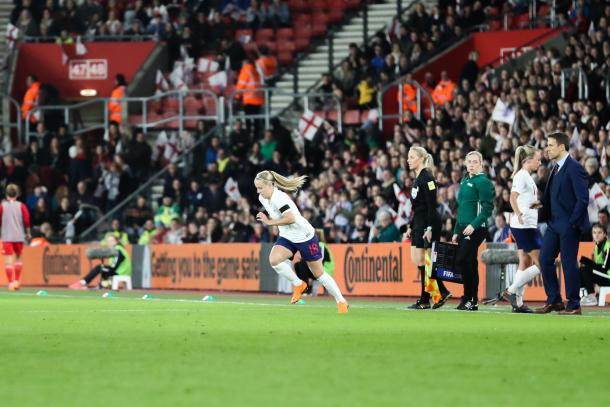 Monday 9th April
Kazakhstan 0-3 Russia
Russia faced the last placed side Kazakhstan in this match looking to pick up points yet again and they did exactly that. It took a while for them to break the deadlock as Kazakhstan appeared to keep themselves in it for a while. Danilova scored yet again in this match to make it three goals in two matches for her. Smirnova added yet another brace in 20 minutes to add to her previous one.
Tuesday 10th April
Bosnia & Herzegovina 0-2 England
Bosnia always present themselves as a tough test for the Lionesses with single goal victories against them in Euro 2017 qualifying. They were yet again a stern test for them. Whilst teams in the SheBelieves Cup went for it, both Wales and Bosnia have tested England with their defensive play. It was another frustrating first half for England with no goals scored and chances just not being finished. That left them with 45 minutes to try and get that crucial win that would send them top of the group.
Toni Duggan finally opened the scoring when she just managed to get round the defender to poke home. This lifted a weight off the team's shoulder and the win was pretty much sealed when Jodie Taylor scored from the spot. The win was however marred by some bizzare decisions and generosity with cards. Both Bosnia and England had a player sent off after double yellows. For Bosnia, Amira Spahic picked up her first yellow for time wasting when trying to take a throw in and got her second yellow after fouling an England player. Alex Greenwood was sent off for England after a yellow for dissent when trying to take a quick free kick then a supposed dive which actually looked like she was fouled.
Decisions aside, England now return to the top of the group after Wales had briefly occupied it and Bosnia's World Cup qualification dreams looks to be over.
What next?
England will have all away games having completed the home ties. Their next away game is against Russia in June who they thrashed 6-0 in their first qualifier when the previous manager was still in his job. They then play against Welsh on 31st August and this looks to be a more open tie and perhaps a well attended game yet again.
A win for either could decide the top spot and automatic qualification for the World Cup. The World Cup qualification campaign will close up with a game against Kazakhstan and they will look for yet another good win against them.
Wales will, in contrast, play home games with their first one against Bosnia and Herzegovina. These two teams met back in November with Wales narrowly winning. Their next opponent is Russia with whom they drew and with England occupying the top spot, another draw would pretty much mean that England would qualify top spot with wins in their games. They finish their campaign against England.