Brighton & Hove Albion have once again proved to the world that beating Manchester United is not an impossible task after they defeated the Red Devils 3-2 to earn their first win of the season.
Following the Premier League match on Sunday afternoon at the Amex Stadium, Man United manager Jose Mourinho claimed that the players' accumulation of mistakes were the reason for their shocking loss.
Eric Bailly stupidly brought down Glenn Murray to gift Brighton a third goal just before half-time, as United had been making their way back into the game after a Romelu Lukaku header made it 2-1.
Murray was running away from goal and Bailly needn't have made their tackle, while the chance only presented itself because of the huge space between the two defenders. Meanwhile, passes throughout the game were sloppy, players were not on their toes, allowing Brighton to snap up loose balls and capitalise, as they did three times.
"There were too many mistakes and we were punished for the mistakes," Mourinho said. "Sometimes teams make mistakes and you are not punished,"
"We were always punished for every mistake we made."
"From a mental point of view, the accumulation of the mistakes and the punishment of these mistakes with goals was, step-by-step, giving happiness and confidence to a team like Brighton, and they took that confidence from us." he said.
Mourinho said the mistakes played a role in the confidence of the two sides during the game, too. United's decreased with every little error, while that of Brighton and their supporters was exaggerated constantly because of the constant mishaps.
"You lose your confidence, there is a tendency to lose the direction of the game plan," Mourinho said. "We came here with an intention and then suddenly you are losing 2-0.
"You score the first goal and you think let's go to the second half at 2-1, on a high, and then suddenly you make that mistake and concede that goal. You go to half-time in a situation where the players are really, really, really down."
Jose Mourinho was clearly unhappy and was referring to the likes of Victor Lindelöf and Eric Bailly but he refused to go into details of the mistakes he was talking about and denied to single out individuals when asked to.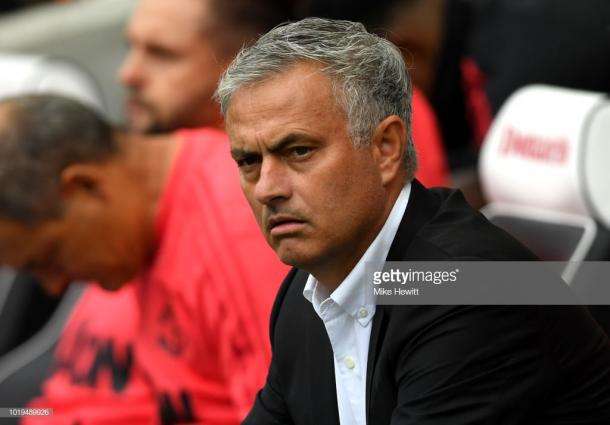 What now?
Manchester United fans have been recently divided based on their opinions; whether they are #JoseIn or #JoseOut and #WoodwardIn or #WoodwardOut.
Should United repay the fans with a comfortable win against Tottenham Hotspur next week, it's likely everything will return back to normal. But even then, it'll only be temporary, and every loss or negative performance this season will be scrutinised even more heavily, and the blame will be attributed to not only Mourinho, but United's board, too.