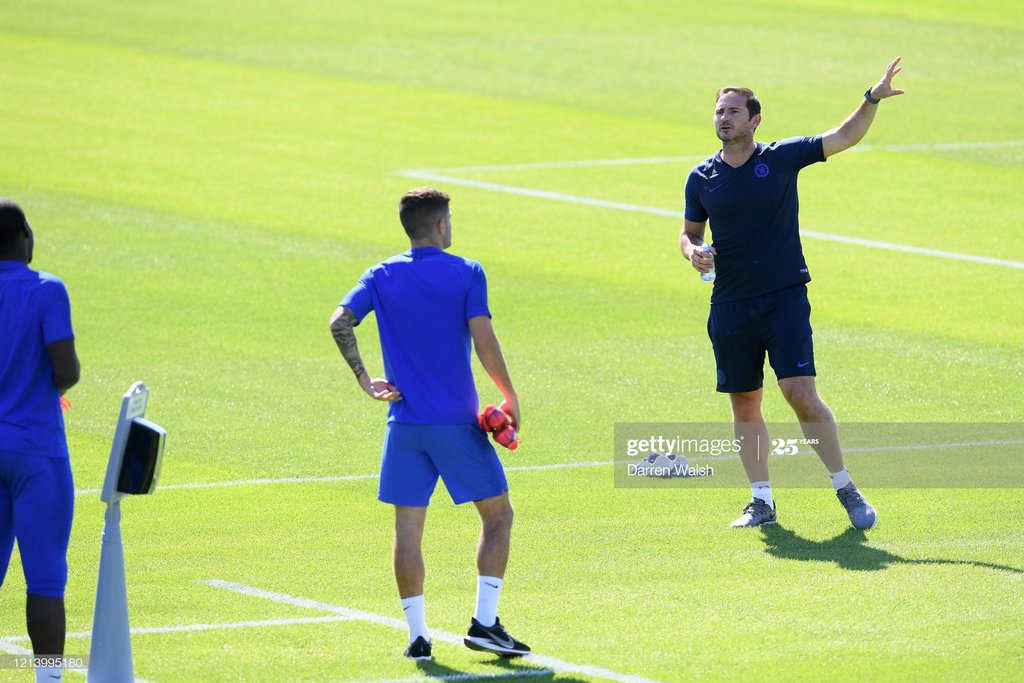 'Some of those haircuts are out of control!' seemed to the main focus on social media as Chelsea finally returned to the training field after two laborious months in lockdown.
A whole range of wacky hairdos descended upon Cobham on Tuesday for their first taste of socially distanced action, as part of the Premier Leagues 'Project Restart', joining a host of clubs as developments towards competitive action slowly edge closer.
Watching over the session, and with a much more suitable trim, was Frank Lampard, allowed to watch over his team in the flesh rather than through a computer screen.
Can't teach an old dog new tricks
Before everyone's lockdown locks got out of control, Chelsea were enjoying a fresh cut as they faded out Everton 4-0 at Stamford Bridge, spoiling the homecoming of their former title winning barber, Carlo Ancelotti.
That glorious Sunday afternoon has been shadowed by the recent unprecedented events across the globe as life, and football, came to a standstill.
However, Lampard himself has managed to keep moving and staying active where he can, helped out by his pet pooch, Minnie.
"At the moment I'm living at home in Chelsea," he told the Chelsea website. "I wake up and generally take my dog out to get some exercise. I spend some time with the family, learning a few new things! Now I can cook some more dishes at home and all of those sorts of things.
"I like to exercise regularly, so I tend to try and get out and go for a run, or get on the bike and do things, which is always good for me mentally."
Alongside his new found culinary skills, Chelsea's all-time leading goal scorer has been cooking up a tasty remedy with his new squad, tasting defeat just twice in eight fixtures prior to tearing apart the Toffees. This run has led them to fourth place, a fifth-round tie in the FA Cup and the reverse leg of their Champions League round of 16 away to Bayern Munich; we all know where that story goes...
Never too far from the action
Away from the kitchen, Lampard has ensured his managerial mind is focused on his sides progress that has been extremely pleasing since his arrival to the side-lines last summer.
"At the moment I spend quite a lot of time on the computer at home contacting people, whether it be the players, or staff at Chelsea, planning training sessions for the future," the Blues boss continued. "I'm always trying to keep my mind engaged. I'm certainly occupying my time well."
And those sessions got under away during phase one of the 'Return to Training Protocol', allowing the players to train in line with the strict government medical rules, limiting the training to 75 minutes and a further 15 minutes for gym work.
Majority of the squad took part in the light exercises laid on by Lampard and his staff, however N'Golo Kante has been excused from participating for the foreseeable future due to concerns over his wellbeing.
Get those games on
Included in Lampard's preparation is re watching games from the season, explaining this by saying, "I have watched a lot of games back from this season, focusing on particular parts of the team that I always want to improve.
"Sometimes when you have game after game you can't reflect, you're always looking forward, but I've had time to do that."
The gaffer has plenty of material to choose from throughout the campaign, noticeable results being: the stunning 4-4 draw with Ajax in the group stage of the Champions League; knocking five past Wolverhampton Wanderers at Molineux; engineering two terrific wins over Tottenham Hotspurs and Jose Mourinho, plus an epic comeback against London rivals Arsenal.
Scoring against their opposition has rarely been an issue for the Blues, in great part to Tammy Abraham's 15 goals across all competitions, however the major concern has been keeping them out of their own net.
Chelsea have shipped the second highest amount of goals for any team inside the top ten and have kept just nine clean sheets all year, two of which achieved in the final fixtures before the lockdown began.
But Lampard now has this period to iron out the mistakes and deficiencies, helped largely by his back-room staff for whom he heaped praise upon.
"We have got a really good analyst team and we can put together some videos and ideas for the future. That helps me with my planning, how we are going to train, how it's going to look, and use the time as well as I can to make us better when we come back to where we're playing."