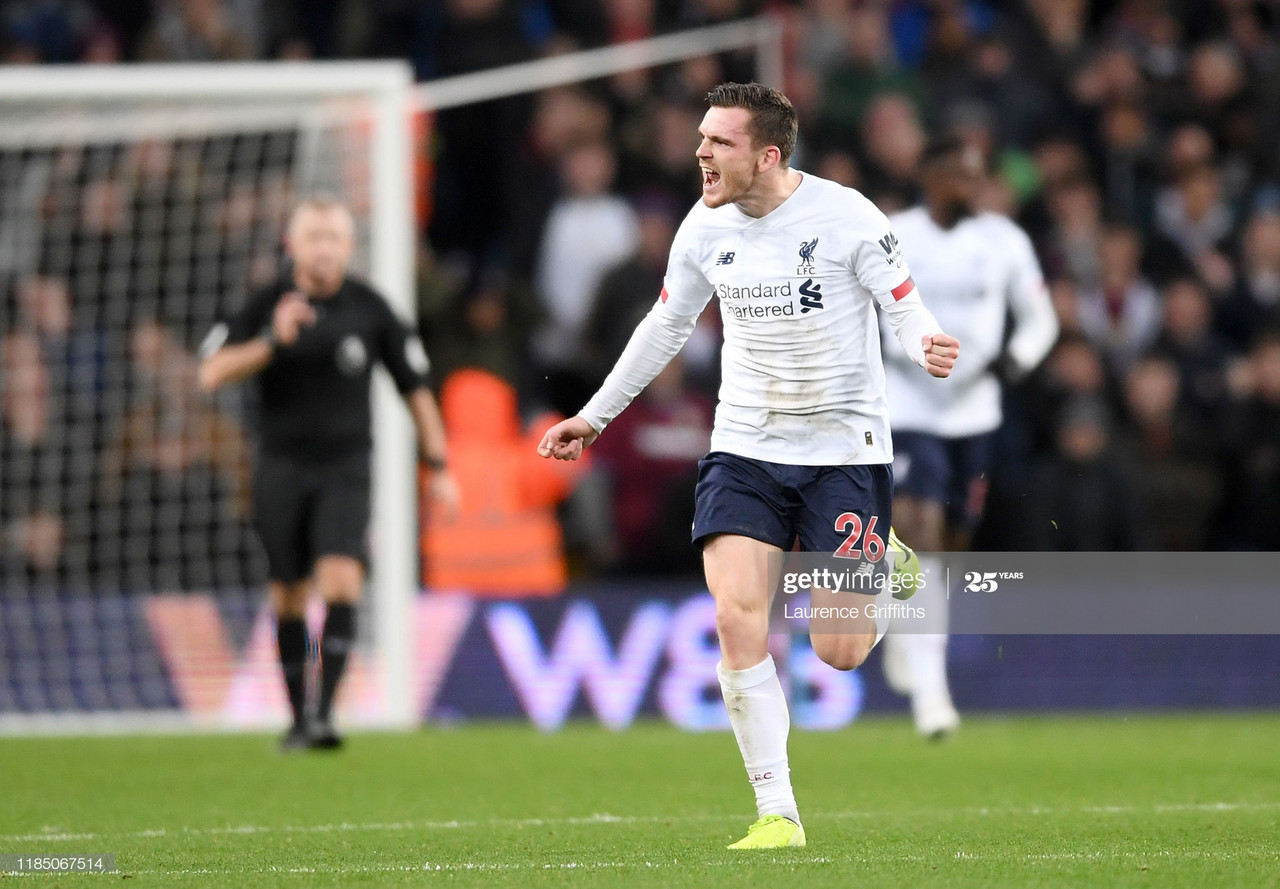 Having just won their first Premier League title and to have done so with seven games still remaining is quite remarkable. The Reds also have a chance to break the record for the most points in a Premier League campaign.
However there is still one fault in this team that could be exploited and become their Achilles heel.
Liverpool's options at left back aren't great and should Andy Robertson get injured, they could be seriously exposed in that position.
Robertson vital to Reds success
The meteoric rise of Robertson's career has seen his go from Dundee United to the Champions of England, Europe and the World.
The flying Scotsman is pivotal to Jurgen Klopp's game plan. His overlapping runs and crossing ability allow Liverpool to stretch the field and keep the opposition hemmed into their own half.
His has registered eight assists this season for Liverpool and has played 30/32 Premier League games for the Reds.
With how intense he and Liverpool play, the lack of cover for him has caused some concern for Klopp.
If Liverpool are to continue to compete for the Premier League, having suitable cover for Robertson will be needed to allow him to rest from time to time.
Though it is clear that Robertson is able to play the large majority of games, adding competition and cover to the left back position could massively improve his performances.
The Scotsman generally plays very well, but could find another level to his game if he had the odd week of rest within a reason.
Current number two left back, James Milner has enjoyed a number of seasons covering for both the left back and midfield positions.
However this season has struggled with a couple of injuries that have kept his out of the team.
Aged 34 now, could this season be an indication that his body is beginning to struggle with the pace of the Premier League? Milner missed five weeks from January to February due to a hamstring injury.
Milner also had to be subbed against Everton in the first game back after lockdown.
Due to Robertson being injured, Joe Gomez ended up playing the remainder of the match at left back. Although Gomez made a very good account of himself in that position, he would rather play at centre back or at right back should he need to.
If Milner's injuries continue and Robertson becomes unavailable to play for whatever reason, Liverpool would be stretched in that position and may be forced to play either Gomez or Yasser Larouci.
Could Wijnaldum be the answer?
It looks as though Liverpool's transfer business will be very low in the summer, which may even see them sign nobody.
With that in mind Klopp may look for cover by converting someone already from the team to play at left back.
Before Milner was converted to left back, he was a right-winger, before becoming a central midfielder.
Georginio Wijnaldum has played a similar role both within the Liverpool team and prior to his Anfield move.
At Newcastle, he played as an attacking and left-sided midfielder. Once Klopp signed him he became a more defensive midfielder.
With Naby Keita beginning to make more of an impact for Liverpool, Wijanldum's position in the team could be at stake.
However, if like Milner, he was converted to play at left back, the Dutchman could continue to be an important part of the Liverpool team.