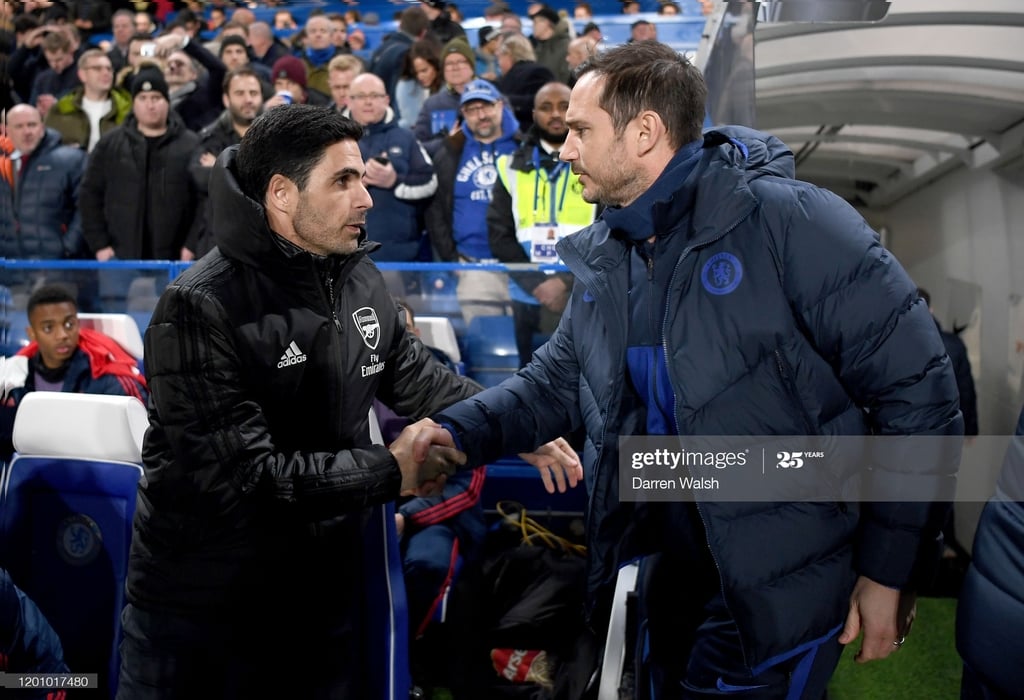 In these uncertain of times, one thing remains a constant: Chelsea and Arsenal in an FA Cup final. 21 one trophy lifts between them, and a further 12 runners up-medals to boot, London has certainly loomed large over the countries most treasured domestic prize.
Saturday will pit the pair against another at Wembley for the third time since the start of the millennium, led by two managers who have their own loving relationship with the coveted cup.
Frank Lampard - winner on four occasions. Mikel Arteta - successive victories in 2014 and 2015. Now the pair pit their minds against one another from the sidelines in opposing dugouts, putting to practise the philosophies they have discovered during their short shelf live in the hot seat.
Three at the back, no looking back
It seems befitting that the finale of such historic heritage is to be headed by a pair of ex-pros who only hung up their boots four years ago.
Lampard dove straight in at Derby County, driving them to the national stadium in the play-off final, before completing a seemingly inevitably cycle by taking the Chelsea job last summer as the Blues bid farewell to Maurizio Sarri.
Arteta arguably had the greatest teacher to ever grace the game, acting assistant coach to Pep Guardiola at Manchester City, just three months after announcing his retirement at Arsenal. He too came full circle, leaving the City nest to take over the Gunners last December as he aimed to steady the barrel left smoking by Unai Emery.
The similarities in their respective trajectories can also be found in their formation preferences. Lampard has largely used a 4-3-3, whilst Arteta has trialed a 4-2-3-1, both receiving varying degrees of success.

Yet, their finest achievements have been owed to a 3-4-3 shape. Chelsea completely controlled the semi-final against Manchester United and Lampard managed to score one over his former mentor, Jose Mourinho, defeating Tottenham Hotspurs 2-1 in the Premier League.
Arteta also acted in the role of disciple becoming the master, engineering an impressive victory of City and Guardiola in the other penultimate fixture before the final. Wins over Liverpool and Wolves were achieved in an equally efficient fashion because of the 3-4-3 on display.
Neither backline has particularly struck fear into opposing strikers this season, however, with a three instead of a four in front of the goalkeeper, they have become less brittle and harder to breakthrough. Center-backs now have the benefit of extra cover, whereas the wingbacks can focus more on going forward, aware that another defender is behind them to cover the space if necessary.
This has especially benefitted David Luiz, who appears far more comfortable with two either side of him and with less defensive responsibility. This will come as no surprise to Blues fans, having watched the Brazilian shine as a back-three during triumphant league campaign under Antonio Conte.
Cesar Azpilicueta was also apart of that trio that dominated Chelsea's title pursuit, Lampard utilising his prior experience on the right side of the three as he can martial not only those beside of him, but those in front of him as well.
One of these being Reece James, the young defender now stationed as a wing-back, licensed by Lampard to roam down the right and deliver dangerous crosses into the area. On the opposite side is Marcos Alonso, his Chelsa career momentarily revitalized thanks to this shift in formation, a position he knows inside out thanks to his role in the Conte crusade.
Like Alonso, Arteta has rediscovered the best in Kieran Tierney, not through loss of form but through lack of game time. Had the Scotsman been fit throughout his maiden spell in England, Arsenal's tender spot in the table may have been anointed. His delivery is on par, if not slightly superior, to that of James', and has the versatility of Azpilicueta in that he can drop in at left-back or even centre-back if required.
High press vs risky possession
Within these tested formulas are the tactics that typify the thinking of Lampard and Arteta. Chelsea are all about a high press, hounding defenders with great energy and speed, whereas Arsenal have started to rediscover the passing game that made them so attractive as a product of Arsene Wenger.
Lampard has been apart of teams who have sat deep and invited pressure, for example during the Mourinho eras at Stamford Bridge, and has clearly attempted to steer clear of a method that has been criticised by many.
Instead, with younger, arguably fitter bodies at his disposal, the Blues boss demands his players pressurise from the front, forcing their opponents into a mistake or to relinquish the ball. This is generally led by Mason Mount, the 21-year-old managing to offload his youthful energy into useful movements.
Mount is often supported by the equally exuberant Christian Pulisic, or the wiley Willian, who despite recently turning the wrong side of 30, still has a terrific burst of pace and stamina. In between this whirlwind of attackers, is the calming sea breeze of Olivier Giroud. Although he is not lightning quick, he closes down in close proximity, using clever movement or positioning to trap the defender.
Arsenal's main aim is to build from the back, beginning inside their own box and gradually make their way up the field. This is of course not without its risks; in the face of City's ferocious forwards, the ShkodranMustafi attempted to play around far too near to Emiliano Martínez's goal, eventually caught out by Raheem Sterling and only just surviving a near scare thanks to a covering midfielder.
However, when it does pay off, it throws shades to the swashbuckling Arsenal of old. Luiz is more than capable of playing in confined areas, and with the likes of Dani Ceballos and Granit Xhaka open to receive a pass, the Gunners have more than enough in their armory to get away with tight-rope walking football.
This battle of pressing and possession could very easily win or lose the game in either court. Chelsea could pounce at any moment and already be within touching distance of the Arsenal net, although if they manage to avoid the attentions of the Blues, it will be the Arteta's men who can take advantage of the space now afforded to them by a lack of numbers deeper infield.
Inside and outside
On the offensive, Lampard prefers his front men to come inside off their flanks, allowing freedom for the wing-backs to run into and execute a crossing opportunity.
Pulisic, in particular, has made a habit of arriving in the box late from either the left or right, or picking up the ball from deep and driving at defenders in an appreciation to the industry of Eden Hazard.
Mount is much more affective in between the lines, drifting into uncertain areas for opposing defenders and midfielders. He is as much a sharpshooter as he is a precision passer, typically the link in Chelsea's positive movements further afield.
On the other hand, Arteta relies on his forwards to stretch the pitch, knowing they have the pace to get in behind or the skill to go past their marker. Serial goalscorer Pierre Emerick Aubameyang tends to hang on the left, whereas club-record signing Nicolas Pepe cuts in from the right, with speed and trickery tucked in their locker.
In the centre of the pitch, Ceballos and Xhaka will likely face the duo of Mateo Kovacic and Jorginho, a matchup of maestro midfielders. Whilst Ceballos and Kovacic enjoy engaging attacks with fluent dribbling and attracting the tackle, Xhaka and Jorginho are the dictators from deep. The entire pendulum of the afternoon could swing on which partnership can outperform their opposite numbers in a defensive and offensive sense.
Back to basics
Both Lampard and Arteta have in some way transformed the face of their formers clubs that were on a downward spiral.
Sarri favoured progressive, often ponderous possession, which aggrieved fans and pundits, although he did ensure defensive stability. Lampard has whipped the slate clean, insisting his players go full throttle, rarely leaving the Blues scoresheet blank, yet they have certainly gone backward in the defending department.
Under Emery, Arsenal just simply didn't seem to have a plan B, let alone a plan A. There was confusion over his style and tactics, which certainly translated into their results and ultimately caused his sacking. Arteta, fresh from conquering all with City, has a clear mindmap of where he wants the Londoners to be, giving them an identity that had somewhat been smudged towards the end of the Wenger reign.
The FA Cup truly will be a chess match between two of the newest and brightest players in the country, and could be the building block for the future of Chelsea or Arsenal.