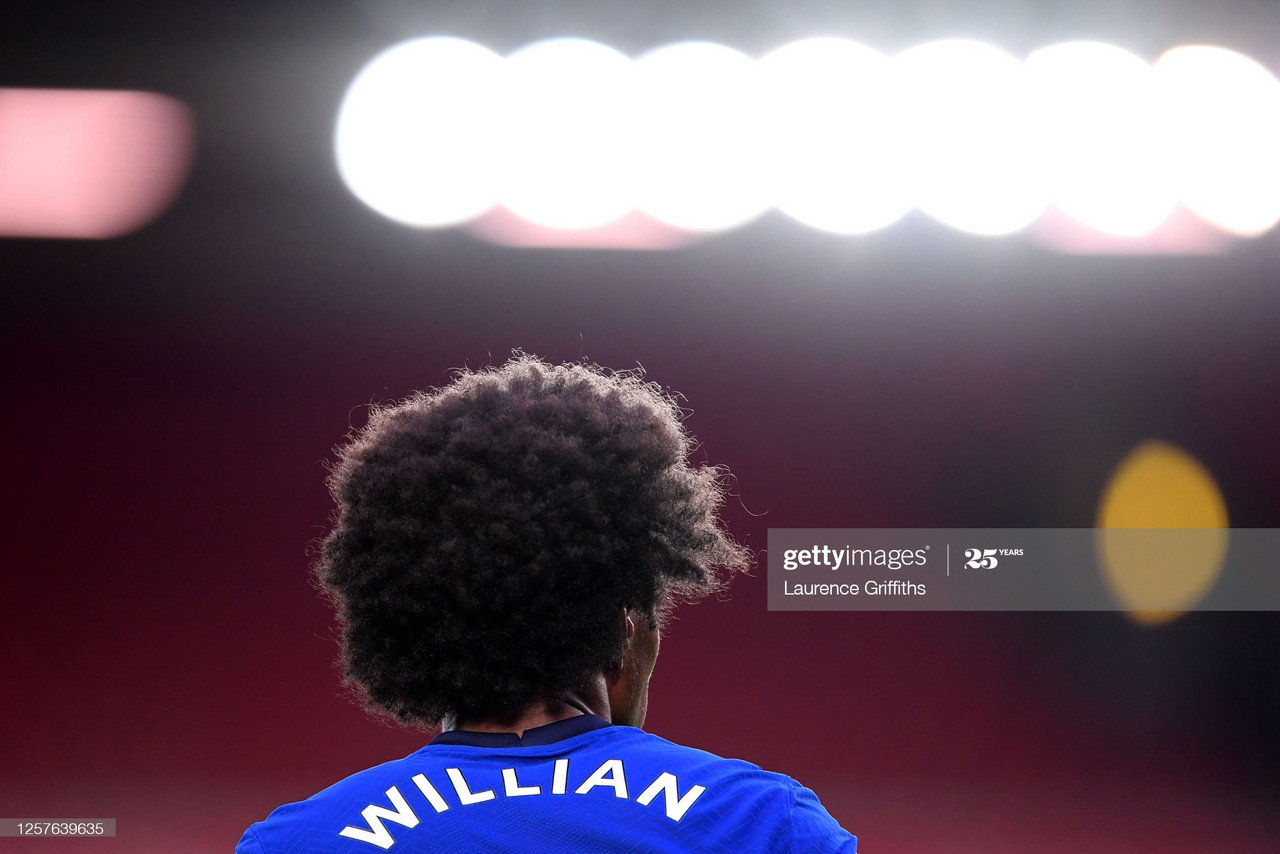 Chelsea play Arsenal in the F.A. Cup final on Saturday afternoon in what could be an end of an era for one of their current longest serving players.
After 339 games, 125 goal contributions and five trophies in seven years, are we due to see Willian's final appearance in Chelsea blue?
The contract situation for the Brazilian has been rumbling on for a while. Does he stay? Or does he go? Frank Lampard has added Hakim Ziyech and Timo Werner to the ranks next season, does this all but push Willian out the door?
The rumoured three-year deal is what Chelsea are stalling on. The hierarchy do not want to hand Willian a large deal, the winger will not be settled with a smaller, one-year contract.
Dividing Opinion
He has divided opinion for a large part of his career in West London. His return of goals each season is where the debate lies, averaging only five goals per season. There is an argument for both sides, but can Chelsea really afford to lose his presence behind the scenes? His experience and professionalism could be very useful for the new, younger players.
This current season has been Willian's best return at Stamford Bridge. He has contributed 16 goals and assists, beating his previous best of 14. Becoming one of the most senior players in the squad could benefit the forward. At times he has even been handed captaincy this season.
This current side has a flurry of youngsters, mixed with new signings from across seas. Lampard will know from experience that successful sides need a mixture of youth and mature professionals.
Letting Willian go will mean the experience of the squad will decrease. The current age of the squad is 25 years old. It may not be the best thing to do to let a decorative trophy winner leave when the club is trying to reach the heights of winning major honours.
Furthermore, could it come back to haunt Chelsea if his next rumoured destination, Arsenal, a direct rival is his next club? Will Lampard and the board sign him up on a deal to prevent the North London outfit adding a two-time Premier League winner to their side?
How can this situation be compared to previous years?
Didier Drogba re-signed for Chelsea in 2014. The 36-year-old Ivorian, at the time, left the Blues in 2012 after eight magnificent years. Jose Mourinho, the manager at the time, did not re-sign the striker to play him week in week out.
Diego Costa was ahead of Drogba in the pecking order at Stamford Bridge. Drogba knew his place and his role in the side. His experience in the dressing room would have been priceless. This could be similar for Chelsea's number ten. He may not play every game, but he can still be relied on.
The iconic number 11 concluded the season with 28 appearances, 20 from the bench. The campaign ended with the club winning their fourth Premier League title. Can Lampard use inspiration from this?
The signing of Ziyech, the potential of Callum Hudson-Odoi and Christian Pulisic could mean Willian's place in the starting 11 decreases if he stays, like Drogba's did on his return to the Bridge.
At this point it is all ifs and buts. What we do know is that Willian is likely to play a part in the F.A. Cup final on Saturday. If this is going to be the farewell, it could be the perfect send off for the seven-year servant in West London.