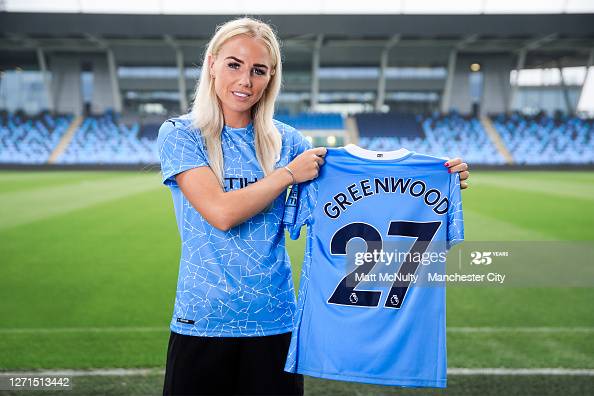 After winning the FA Women's Championship with Manchester United in their first season as a professional club, Alex Greenwood signed for Olympique Lyonnais with bigger ambitions. During her year in France she won every trophy available to the club including a Champions League, and now she's back in Manchester to do the same, but with a different Manchester side.
"I've been in for the last week now and it's been everything I expected. I'm ambitious and the club meets my ambitions as well so it was a no brainer really when it came to to joining Man City," said Greenwood.
"Just one year, but it was probably the best year of my football career in terms of on the pitch and off the pitch, the way I think I developed as a person as well as a player. I was lucky enough to play with the best players every single day in training and that can only improve you as a player."
Bringing a winning mentality to City
City have every domestic trophy available to them, two FA Cups, three Continental Cups and a FA WSL title, but haven't made it past the Champions League semi-finals.
"That winning mentality that you get when you're over there is unbelievable. I think even, day to day in training, it's about winning and being the best.
"There's no hiding when it comes to training. Even when we didn't perform to our best at times in games and I think that was for everyone to see, the team finds a way to win and it always happens because of their mentality towards the game."
"I think it's an addictive feeling [winning]. The feeling I had when we won the Champions League last week was something I can't really put into words."
"It's something that sticks with you and you just want to do it again and again and again. That's exactly why I've come to this football club. It's so ambitious, it wants to win trophies and titles and that's the same for me. If we can do that, then it will be an unbelievable achievement for the club."
Playing for Manchester rivals
Greenwood captained Manchester United to WSL promotion during her one year at the club playing under Casey Stoney. When it was announced that she was playing for city rivals, Manchester City, it wasn't a warm welcome from all of the city's residents.
"I'm completely aware of the situation. I'm not stupid, I think, yesterday when it came out, and I see it, I understand why people are frustrated, disappointed and absolutely entitled to their opinions, of course.
"That's absolutely fine, it's just football, but for me, it's about my ambitions as a footballer and what I want to achieve. Like I've said in this interview a few times, my ambition met this club's, and that's to be successful.
"I think when I got a taste of winning in Lyon, it's something I just wanted to continue. To be truly honest with you, did it play a part [having played for United]? No, I wouldn't say I questioned my decision, but I'm also aware of where I was previously.
"I gave 100% for that football club and no one can ever take that away from me. But now my focus is Manchester City and being successful here."
The Manchester Derby just got that much more exciting for fans. United announced Tobin Heath and Christen Press as their latest signings to go up against a well stacked City team which include Lucy Bronze, Rose Lavelle, Chloe Kelly and Sam Mewis. Now having Greenwood on the pitch just fires the rivalry hype.
"When you wake up on a Derby Day it's about the pride of the club that you play for. It's no different in the women's game, I think the fans will take that for the league and show that's what it's about. it out. I think it's brilliant. I think the rivalry is important.
"I grew up as a football fan. I grew up in the game. I've been brought up around the sport and I'm totally aware of the situation. Does it motivate me? Probably a little bit, yeah, when it comes to the game, I'll probably have that little extra buzz on that game, but that doesn't change for any other game.
"I'm motivated to win every game that we play. For the fans, I suppose it's a day to give me some stick and that's absolutely fine. I completely understand and it is what it is. It's possible, I'm totally aware of that."