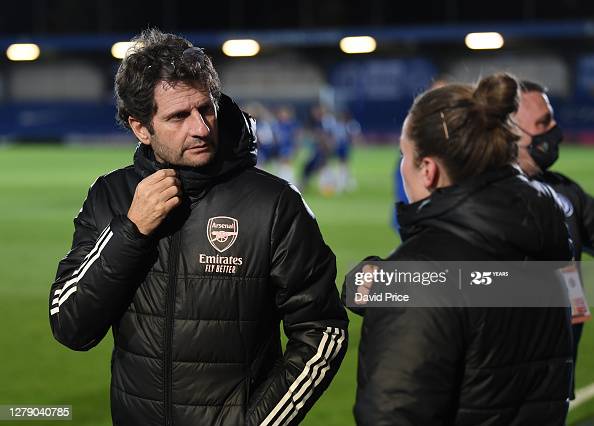 Joe Montemurro's squad is looking for a sixth consecutive win in the FA Women's Super League up against Manchester United to continue their perfect start to the season.
A squad that's notably always caused Arsenal problems are better than ever. Casey Stoney's United have recruited excellently over the summer window adding Alessia Russo, Ona Batlle, Christen Press and Tobin Heath to the squad.
Arsenal have won all their league games, but in cup competitions they have lost against Manchester City and Chelsea. Montemurro will be delighted to have a fit squad coming into the difficult match up with Kim Little, Jill Roord, Leonie Maier and Lydia Williams all fit to play after recovering from injuries.
The last time these two sides met was fourteen months ago in September 2019 at Leigh Sports Village before the curtailment of the WSL stopping them from meeting a second time at Borehamwood. The match ended 0-1 with Danielle Van de Donk netting a late goal to steal all three points.
"The context is a little bit different this time, last time we had just travelled for an away Champions League tie and there was a quick turnaround. So it's slightly different this time but they are an exceptional team that have invested very heavily and it is showing in their league form," said Montemurro.
Manchester United have already stolen points off of WSL champions, Chelsea, in their opening match of the season and have won every match since, with their summer signings proving to be crucial on the pitch.
"They're very dynamic going forward and they isolate you out wide with very good wingers, especially Alessia Russo and Tobin Heath. They've got some really good players in one-on-one situations and it's added another dimension to their game. They're a very good team and we are expecting a very difficult game.
"They have good stability and balance in the squad. They're very well organised and hard to break down and they've shown this year. They've taken points off big teams, but they've also won games quite comfortably and easily."
Montemurro had nothing but praise for the club that's only been i existence for three years and is already challenging the top clubs in the league; "I think they're in the top three or four teams at the moment. They've proven it .
"Every game that I've been involved with they've made it very hard for us to get through. So we're expecting nothing but a very, very, very difficult game from a team that's improved, from a team that's doing very, very well and is expected to challenge for the top three, top four this year.
"I think when you represent a big club of that nature, you play with the level of confidence and pride that you see in their team. They have the full package and they deserve to be at the top. We applaud the investment they've made and applaud the fact that they're doing so well."
Arsenal have had a history of suffering with injury setbacks which leaves Montemurro with a shortage of bodies on the bench. In their last league match, against Tottenham Hotspur there were only four players on the Gunners' bench, including a keeper and an academy player.
Though happy to get Roord, Little and Maier back, Montemurro is still waiting for a few key players to comeback. Jordan Nobbs, Lisa Evans, Steph Catley and Noelle Maritz are still to feature in full team training.
Casey Stoney has mentioned being unable to gain any momentum with her squad with the constant breaks and busy schedules across different competitions, but the Australian coach finds himself on the other side, needing a bit more time with his squad on the training pitch.
Apart from momentum, Montemurro mentioned how COVID-19 restrictions have impacted his team in correlation with the increasing amount of injuries seen at Arsenal. Stoney has mentioned similar, having to deal with more nagging injuries than usual due to lockdown restrictions.
"The momentum is more based on the current environment where we need to be a lot more careful with what we do in terms of the covid situation so that breaks up different situations. I can definitely say that a lot of injuries have come from the infrequent layers of training that we've had because of restrictions.
"The internationals, you have to factor them in as part of the player's load. We're playing a lot of football and we're [compared to Manchester United] probably on the other end of the spectrum where we need a little more time with the team at the parc rather than just doing match day minus one preparation."