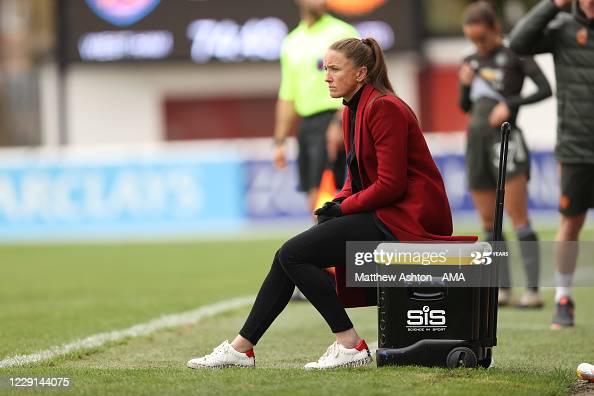 Willie Kirk's Everton is coming into Wednesday's Continental Cup fixture off a fresh defeat, but Manchester United have had two weeks of no fixtures. Though the Toffees had a tough weekend, Casey Stoney believes they always rise to the occasion against her squad.
The two teams sit levelled on points in the FA WSL, with Everton ahead in second on goal difference. After defeats to Liverpool and Manchester City, both sides remain at the bottom of Group C with no points in the Conti Cup.
United's last competitive fixture was two weeks ago against West Ham United where Stoney's squad came out with a 4-2 win, where Tobin Heath and Christen Press opened their WSL goal tallies.
Looking past Wednesday, Stoney's side faces Arsenal who are on a five game winning streak and a week later, United feature in the the first Manchester derby of the season.
"We don't have a lot of momentum at the moment. These are the games and periods that you have a squad for. These are the periods that you prepare the players for," said Stoney.
"You should need no motivation to go into a run like this against the top teams and this is where we want to be. If you want to push into the top three you have to perform against the best teams and get results."
Leaving the FA Cup in early stages left a bitter taste. Stoney's United fell short 2-3 against Manchester City back in January in the fourth round.
Just two years after leading United to WSL promotion, the former Arsenal and England captain, is keen for silverware in the big competitions;
"When I first took the job I had a very clear vision and timeline, a long-term plan and strategy, so far we're on track probably ahead of where I thought we'd might be.
"The WSL is as strong as it's ever been and it's gonna be a real challenge to push into [the top three] but I think it has to be our aim. Our ambition is to improve every year, last year we finished fourth so we have to set those targets higher.
"When I got to win [the FA Cup] at Wembley with Arsenal it was probably one of the greatest days of my career. I never thought as a little girl I'd play at Wembley, walk up the steps and lift that trophy."
"It is the showcase game of the women's calendar and it gives us added motivation. We went out too early for me. We had a tough draw against City but these are the sort of cup finals we want to be involved in."
Of Stoney's 24 woman squad, only five players were out on international duty after England's camp got cancelled after a positive COVID-19 test from a backroom staff. While, Jackie Groenen qualified to the 2022 Euros with the Netherlands, Hayley Ladd was on duty with Wales and Kristy Smith, Jane Ross and Kirsty Hansen were with Scotland.
Manchester United had almost a full squad to work with during the international break, except for Martha Harris who is still recovering from injury.
"We're about to go into a really big run of games and we're looking good so far in terms of what we've been able to do in the international break. We got players back with England a bit early, unfortunate for them but it benefitted us. We're in a good place.
"My only focus is to win games and get momentum at the moment. I will pick teams that I think can do that. Other than Martha, we're hoping to have everyone available."
Ona Batlle is back from injury after having a stellar start to the season and Alessia Russo is okay to play after pulling out of the England camp with an injury.
Ivana Fuso has yet to feature for the club since signing in the summer, but it seems like the German-Brasilian is back in team training, but is not yet match fit to be able to face the likes of Everton and Arsenal this week;
"It's not quite right to put her in yet, we want to make sure players are physically right before we put them in."
Everton fell 3-1 to Manchester City in the FA Cup final Sunday afternoon, but Kirk's side always rises to the occasion to beat a Manchester side.
Though, Stoney wasn't surprised that City lifted the trophy at the end of the day, Everton impressed the manager who looked on from home.
"They're a good team. I was really impressed with Sandy in goal, a young player who didn't seem phased by the occasion one bit. We're gonna have to play well to score against her. We're gonna have to take our chances and be clinical.
"I know Valerie Gauvin well, playing against her many times with England. She's strong, physical, good in the air and good with her back to goal so she gives you presence."
"I always thought Everton had a chance. City have stumbled at times this season and Everton have played well."
The match finished 1-1 at the end of normal regulation and forced an extra 30 minutes to be played, where City poked themselves ahead in the 110th minute to lift their second consecutive FA Cup.
"It went into extra time and some might think that'll benefit us but sometimes you never know, teams can respond really well when teams have had a game when we haven't had a game in so long.
"Yesterday was a tough game for them, but every time we play them they want to beat us so I know they'll raise themselves for the game and we need to do the same."