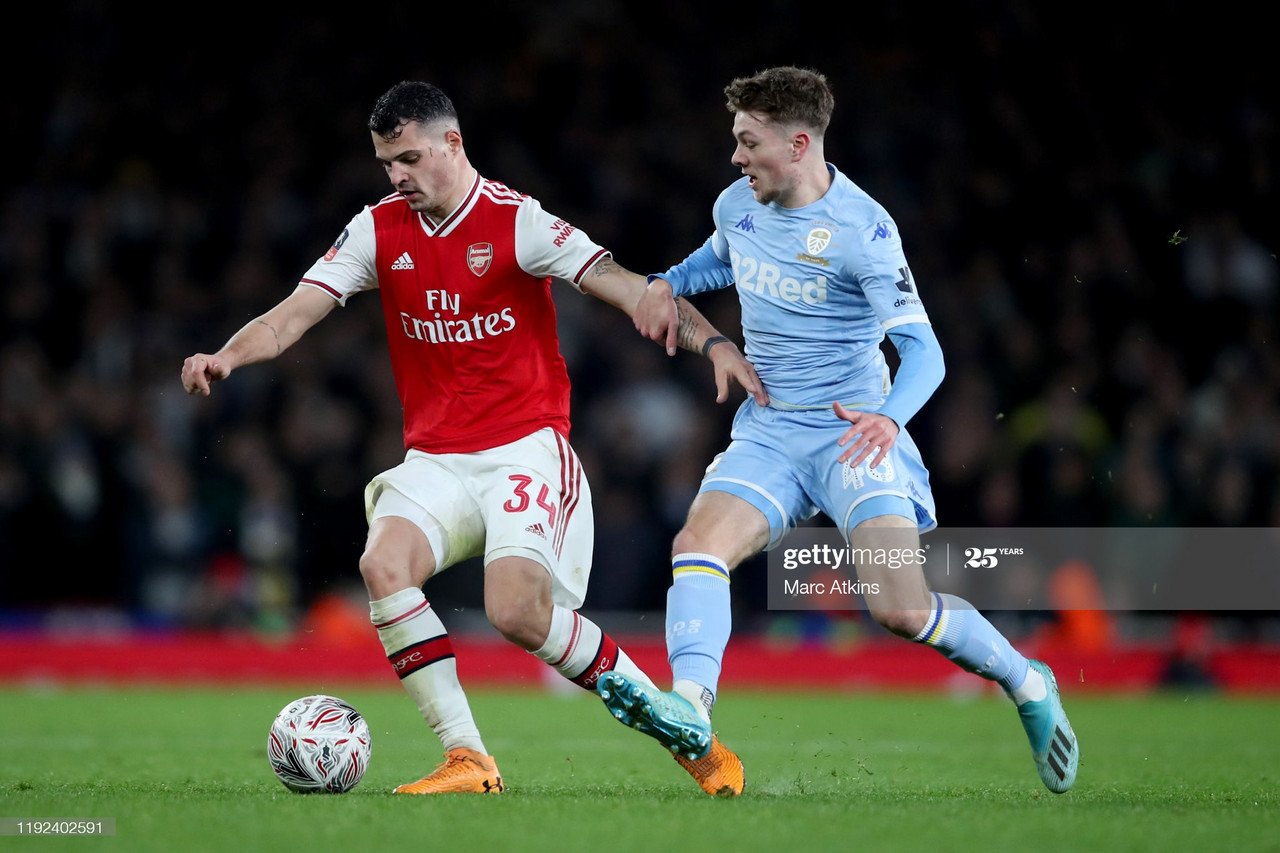 The International break probably came at the wrong time for Arsenal and Mikel Arteta. After the disappointing 3-0 defeat to Aston Villa, Arteta would have definitely preferred to put things right straight away.
Instead, The Gunners have had to wait two weeks, suffering injuries, among other things. They will have to massively improve as they take on Leeds United this Sunday.
Marcelo Bielsa has taken England by storm, ever since he first took over Leeds back in 2018, where his unique style of play helped Leeds to lift the curse and achieve promotion back to the Premier League for the first since 2004.
Bielsa likes his teams to play free-flowing attacking football, with passes made on the ground rather than in the air.
The primary focus is very much on counter-attacking football deployed generally within a 4-1-4-1 formation changing to 3-3-1-3 in attack, relying a lot on interchanges between the wingers and the full backs, to feed Patrick Bamford as the out and out striker.
This style means Leeds will play at a high tempo throughout the game as it often can leave them exposed at the back when the opposition are able to attack at them, as seen in their previous two games which they lost both 4-1.
A lot of goals is always the expectancy when Leeds play. Despite being in 15th place, they have outscored 11 other sides in the league, but with this have conceded the joint most.
Arteta will know already the threat of these tactics, having experienced it back in January when Arsenal just managed to clinch a 1-0 win in the FA Cup against Leeds after being virtually dominated in the first half.
The temptation to play a defensive side would be understandable with Bielsa having little luck against sides who play a low-block.
However, in recent weeks this has worked against The Gunners as their ability to score goals has been reduced.
Arsenal will be without Thomas Partey and Mohamed Elneny, so going for an attacking side may be inevitable and though it may leave them slightly exposed against Leeds' high press.
This could work if Arteta picks the right players to fit his free-flowing passing style in order to break the lines with the likes of Nicolas Pepe and Bukayo Saka to feed Pierre-Emerick Aubameyang in the middle.
Aubameyang Needs To Play Centrally
Aubameyang has not been his usual self this season. With only two goals in the league, it may explain why Arsenal themselves have only scored the nine goals in their eight matches.
Despite this, it is hard to put much blame on Aubameyang's shoulders with his position on the field leaving him exposed, with very few chances being made for him.
The Gabonese International has played the majority of the season on the left with Alexandre Lacazette taking on the centre-forward role.
Aubameyang has registered only 10 shots on target this season with Arsenal themselves scoring only one goal in their last four games and even that was a penalty.
Creativity has been a big problem as well, but Arteta will be forced to play more attack minded midfielders, which may help to solve that issue.
If Aubameyang is switched to the middle, he will have less defensive work to do, as well as being able to run off the defenders, which will be of benefit if Arsenal can match Leeds' counter attacking system to break the lines and feed in Aubameyang.
With Leeds looking shaky before the International break, Aubameyang's strengths need to be used fully if Arsenal want the three points.
Three Or Four At The Back?
This season Arteta has preferred to start with a back three. Though there is no doubt, defensively, The Gunners have improved and have become harder to score against, ultimately it has meant the attack has suffered.
Arteta's hand may be forced in maintaining playing three centre backs, due to player availability, with less defensive minded midfielders available to cover the backline.
As explained, this has seen its benefits. Before the defeat to Villa, Arsenal had the best defensive record in the league and have become very confident when playing out from the back.
With Leeds' high attacking line, The Gunners will need to sure up the defence to block them from finding space to create chances and overload the area.
They like to use the full width of the pitch to attack, but if Arsenal can have numbers back, the Yorkshire-based side will find it very difficult to break it down, allowing Arsenal to break.
However, as stated, the North Londoners have only scored nine league goals, outscoring only five other teams.
Much of this has been because they have played the 3-4-3 formation, with defensive midfielders.
Leeds like to attack and the only way Arsenal can break their goal drought is to break at them in numbers. Changing to a back four will allow Arteta to play more of his attacking assets.
Should they manage to deal with Bielsa's press, they can easily break at speed with quick link ups and one-twos, which many struggle to deal with, perfectly represented by Aubameyang's winner vs Chelsea in the FA Cup Final.
On the other hand if the right personal aren't available in defence, Arsenal may struggle to deal with the likes of Jack Harrison and Helder Costa and we may just see the same mistakes creep in from the pre-Arteta era.
Overall it will very much be a weighing up game for Arteta in the dugout
This Sunday will be a big test for Arsenal and despite Leeds taking a dip in form, they will be difficult to beat and will know the Gunners will be desperate for a result.
Mentally the direction of the game may well be decided at 15:30 when the line ups are answered by the two sides.