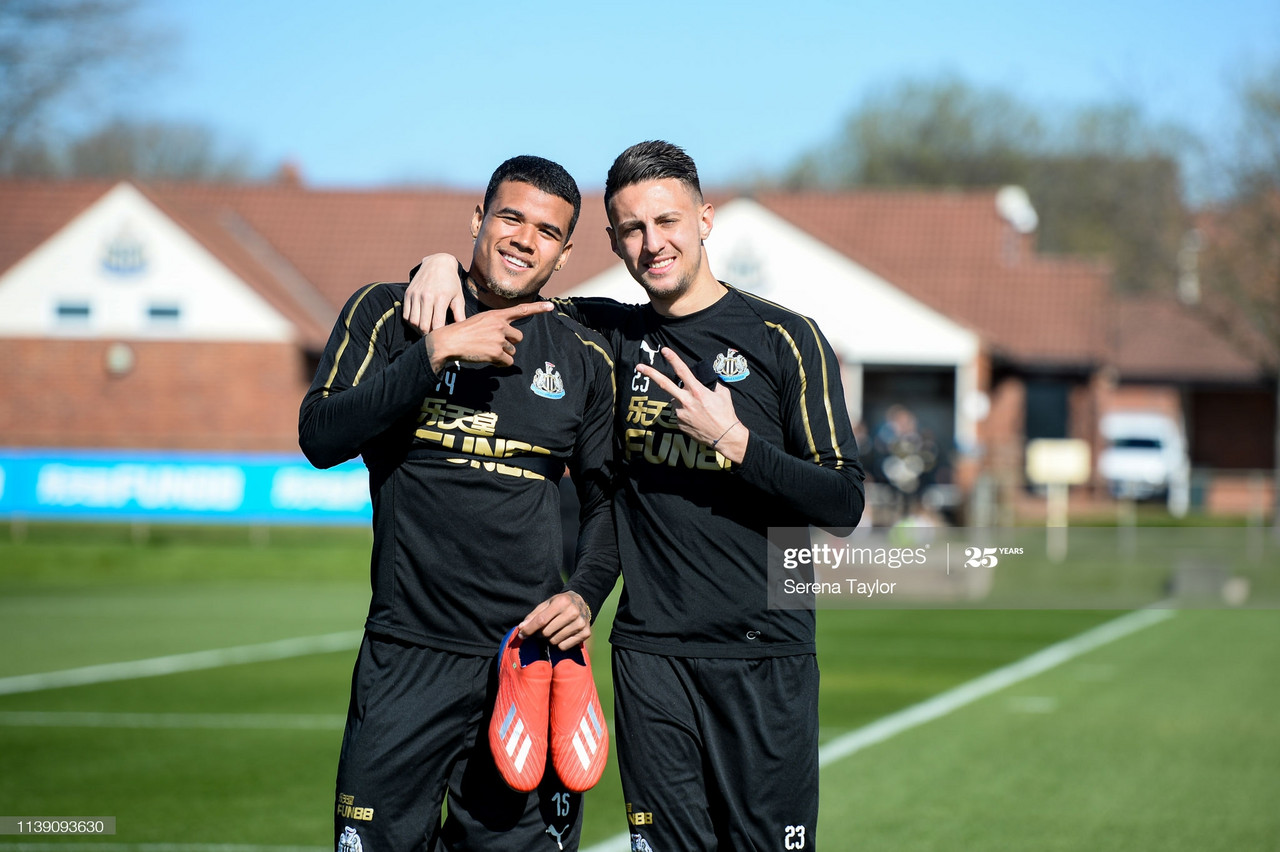 Friday nights win over Crystal Palace was a highlight as to how dependant Newcastle United are and will continue to be on Callum Wilson and Federico Fernandez.
Both made game-changing plays at both ends of the pitch and remain 'Mr reliable' for Steve Bruce.
Therefore the Magpies may require reinforcements in the January transfer window, but with the purse strings set to be tightened amidst a global pandemic and ongoing battle to sell the club Mike Ashley is not sent to spend lavishly and loans could be the way forward.
Dangerous time to do business
It's a notoriously difficult market to do business in is the January transfer window with high fees and higher risks, a loan deal offers a bit of security, a bit of try before you buy.
The Magpies have had a very mixed bag of results when it comes to midseason loan deals ranging from truly horrendous to magnificent. Below is a look at the previous 10 players to arrive in January on a temporary basis.
Dany Rose - 2019/20
Starting with the first of a trio of loan signings last January. Danny Rose arrived not match fit but in the final few games, he proved he could still do a good job in the Premier League.
He made 11 appearances and was always solid enough for a rather leaky defence at times. He brought great leadership to the team constantly barking orders at his teammates and questioning them when they were not performing to his standards.
Rose did not return after his loan spell with his wage demands being too high and Bruce wanting to freshen up his squad with youth and pace.
Disappointingly, Rose is not in Tottenham Hotspur's Premier League squad, thus not playing any football at the minute despite proving he still has the ability to do so.
Valentino Lazaro 2019/20
A bizarre deal for both parties as Lazaro offered a lot at both ends of the pitch but was not fancied by Bruce despite putting in good performances when given the chance.
An electric and exciting player who showed glimpses of what he was capable of. He scored the winner in the 3-2 win over West Bromwich Albion to send Newcastle to the FA Cup quarter-final as well as a delicate dink finish against Bournemouth.
Definitely one to rank under 'keep an eye on' as he could easily become a top talent considering he's just 24-years old but could also fail to live up to expectations with too many moves.
Nabil Bentaleb 2019/20
If anyone has something positive to say about Bentaleb's loan spell please do let Newcastle fans know because he was nothing short of sensationally awful.
Lack of pace, spacial awareness and offered nothing but a sideways pass. What was the point in bringing him in when there were sufficient players in midfield?
He started eight games with just one of them seeing Newcastle pick up three points, highlighting how much of a passenger he was in the side last campaign. A true waste of time and money on everyone's behalf.
After starting the first five games in the Bundesliga this season Bentaleb has now been told to train on his own until he finds a move away from Schalke.
Antonio Barreca - 2018/19
A lot of people would've forgotten about the bizarre signing of Barreca from AS Monaco and nobody can blame them.
Brought in on deadline day to provide competition at left-back, however, he did the opposite not even making the bench for most matches.
He played a total of five minutes for Newcastle against Tottenham and unsurprisingly he has never returned.
Barreca is currently at Fiorentina and is yet to make an appearance, to nobody's surprise on Tyneside.
Islam Slimani - 2018/19
There was a real split in transfer outcomes during the 2019 January window and Slminai falls into the category of 'what was the point' with Barreca.
Newcastle were desperate for a striker with Dwight Gayle not providing enough goals and the Magpies flirting with relegation so Rafa Benitez turned to a man who had previously found the net 61 times in 82 games for Sporting Lisbon.
However, his move to Leicester City stopped his career in its tracks despite being the club's record signing and his move to Tyneside did no better.
Arriving injured and making just four appearances before picking up a three-game suspension is not a great way to earn yourself a permanent deal.
On paper, Slimani offered Newcastle an outlet and a natural finisher. He did manage 13 goals in 23 appearances during his first season with the Foxes but his spell on Tyneside summed his career up since leaving Lisbon.
Martin Dubravka - 2017/18
The only player on this list which earned a permanent move to Newcastle after a simply amazing loan spell. His debut against Manchester United was a clear sign of what was to come from Dubravka.
Since joining in January 2018 from Slavia Prague where he made just 11 appearances after arriving that previous summer, Dubravka had not missed a minute of Premier League action before his injury over the summer.
An alarmingly loud voice, confident at claiming crosses and a great shot-stopper highlights how his signing of around £4 million was an absolute snip.
Dubravka is a player who just gets it on Tyneside which you can tell by the way he celebrates goals, like the late equaliser vs Manchester City last season. A sublime piece of business from Newcastle shows there are deals to be done in the winter transfer window.
Kenedy - 2017/18
It seemed like Newcastle had made a doubleheader of great loan signings when Kenedy made his mark on loan from Chelsea.
Terrorising defences with his silky skills and devastating pace got fans on the edge fo their seats with many clamouring for the club to make his move permanent.
However, only another loan followed this time for the entire 18/19 season and what followed was simply disappointment.
An opening day stoppage-time penalty miss dented his confidence beyond belief and the Brazillian has failed to find any form since then. He managed just one goal and assist which forced Newcastle's hand to not make his deal permanent.
A prime example that loan deals can be worthwhile to save the club paying over the odds for a player who may be a flash in the pan.
Seydou Doumbia - 2015/16
Yeah, this happened. Doumbia signed on loan by Steve McClaren as a parting gift before the club went down to the Championship.
Zero goals, zero assists and zero starts. Doumbia was a very bizarre signing after not impressing at Roma it is still unclear why anyone at Newcastle thought this was a good idea.
Benitez arrived and clearly thought the same as Doumbia clocked up just 32 minutes of Premier League football during his brief, but still too long stint on Tyneside.
Luuk De Jong - 2013/14
In 12 appearances De Jong failed to do even the simplest of tasks right with his strength, spacial awareness and all-round play for a footballer, nevermind a striker was quite painful to watch.
However, since that torrid loan spell, he has won three league titles and a Europa League proving there was a talented player locked in there somewhere but Newcastle mustn't have had the correct key to unlock it.
12 appearances which included eight starts saw De Jong have just seven shots on target in a side which was lacking firepower under Alan Pardew.
Stephen Ireland - 2010/11
Short, sweet and once again, pointless. Ireland arrived injured, remained injured for the majority of his loan spell despite two appearances from the bench which added up to 51 minutes of football.
A player that has never played out of the Premier League from 2005 - 2018 never cut it on Tyneside with fitness issues and questions over was he bothered to be there, likely not.
A move which is likely forgotten about by both player and fans and probably best as it would be pointless information and limited memories.