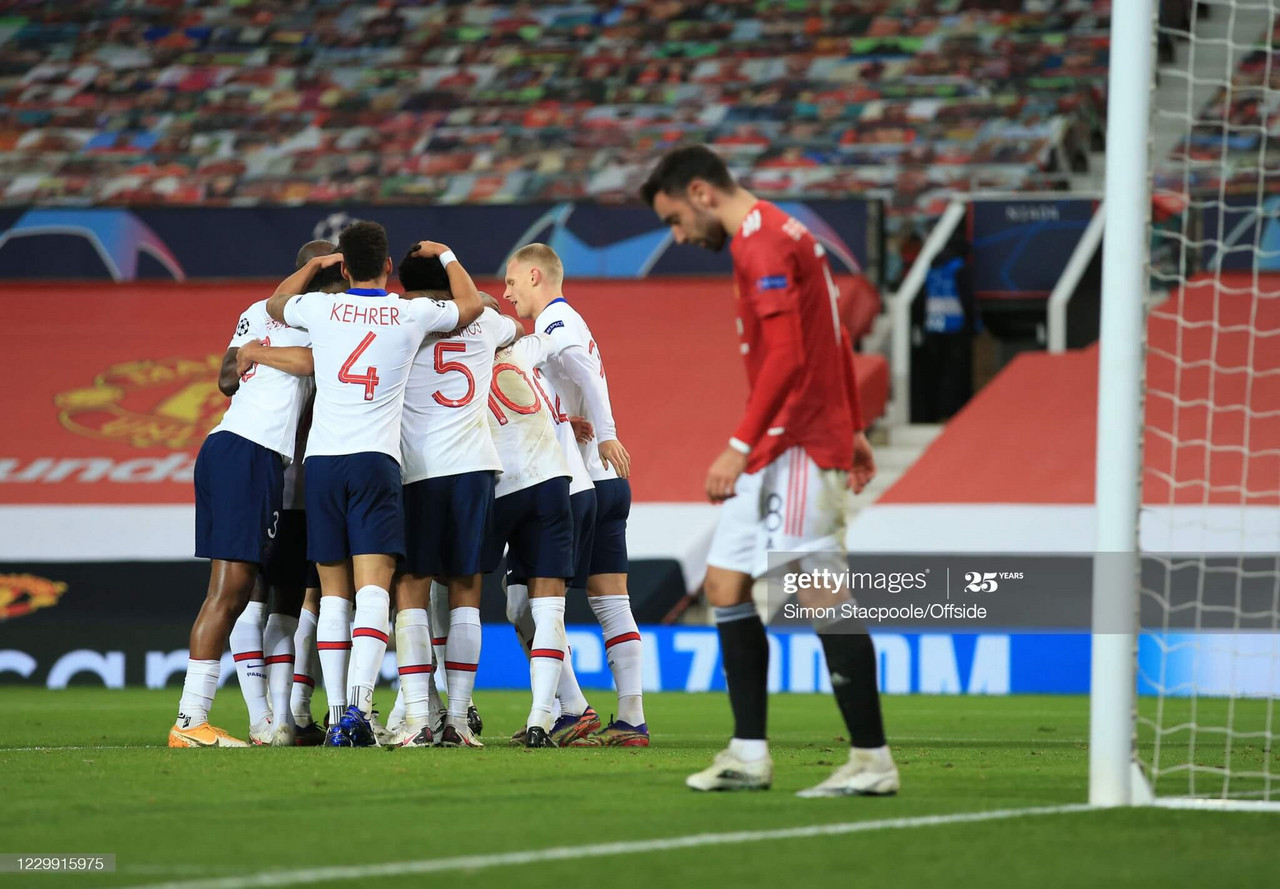 A Marquinhos goal in between a Neymar brace gave Paris Saint-Germain the victory they needed to remain in the Champions League going into the final group-stage match-day. In a great game with an intriguing tactical battle, the French side overpowered Manchester United in the second half to claim the points.
However, this defeat was partly self-inflicted: having levelled in the first half and grown in ascendency there after, United were left looking within as they lost a man and a goal in a pivotal three-minute period in the second half. It now means that Group H is too close to call ahead of match-day six.
United pushed PSG in second half
It must be noted that PSG were hanging on at times in the second half. United were getting joy on the counter, particularly down the right, as PSG had more men up-field and a greater share of possession. Thomas Tuchel knew it; he switched to a back-three and made a double substitution just after the hour.
It was only four minutes later that the visitors had the lead again, although a scrappy and fortuitous goal it came as a result of PSG's renewed appetite to claim the points they needed to stay in contention for qualification. Ander Herrera was the player who drilled the ball back into the area for Marquinhos to score then Rafinha, another sub, teed-up Neymar late on for the gilded touch.
The PSG manager needs to progress in this competition for the sake of his job and one could tell that he knew as much when United started to cause problems in the second half.
Solskjaer should have removed Fred
Tuchel's men were given a helping hand by their hosts when Fred got sent off for a second bookable offence. It appeared the first - a head-butt at Leandro Paredes - should have been a straight red but Ole Gunnar Solskjaer should have managed the Brazilian better regardless.
Not only had Fred come close to seeing red with a stupid act but he continued to walk a tightrope by crashing into challenges and positioning himself front and centre in the referee's mind. His final challenge - a lunge on Herrera - was arguably his least offensive of the evening having got to the ball first, but that didn't matter. Fred had to walk.
The United manager should have done Daniele Orsato's job for him by swapping Fred at half time - he does have five substitutes at his disposal in the Champions League and everyone could see what was coming.
PSG lessened United's threat
United had chances to win this and defeat in the end was partly self-inflicted. Anthony Martial fluffed two good chances, Paul Pogba fired a well-executed volley just over the crossbar and Edinson Cavani chipped the ball onto it. The former PSG striker, the club's top-scorer with 200 goals, was relatively quiet on the night. He touched the ball 33 times, the second lowest after Moise Kean (17).
The home side were particularly bright on the wings, that was because PSG tried to dominate the midfield. Marco Verratti was making his first start in the competition since mid-February and showed why he is the French side's reliable conductor playing with tenacity and defensive diligence. Alongside him, Paredes achieved a 100 per cent pass completion as PSG's midfield put in the hard yards for this win.
A thrilling end to the group
What all this means is that PSG, United and RB Leipzig are all in contention of qualifying for the knockout stages as they head into the final round of group games next week. Solskjaer's side travel to Leipzig while PSG host Istanbul Basaksehir. If PSG defeat the Turkish side, as many expect, then it is a shoot-out between United and Leipzig - although the English team will qualify with a draw.
This is some turnaround for United who were heading for the point they needed to progress before the pivotal few minutes in the second half against PSG. They are making qualification unnecessarily complicated and a drop down to the Europa League would do little good for their schedule in the new year.