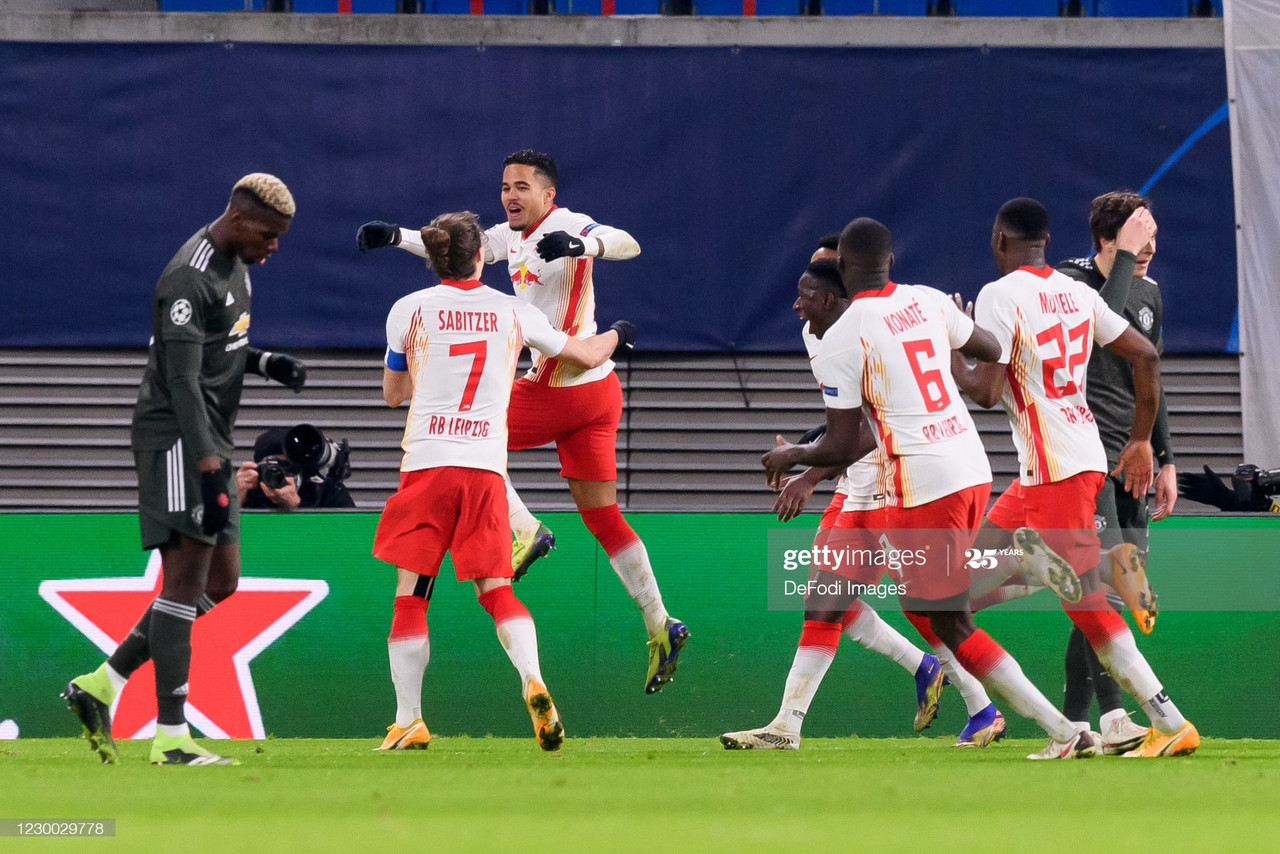 Eight days ago, Ole Gunnar Solskjaer's men needed merely a point to progress to the knockout stages of the Champions League - they found themselves in the same position entering the game against RB Leipzig.
Manchester United, however, got off the worst possible start on Tuesday evening as they found themselves two goals down inside 14 minutes after Angelino and Amadou Haidara scored for the hosts. In recent weeks, dramatic comebacks have become a regularity for United - another was needed in this match.
Manchester United pushed for goals in the second period but Leipzig stayed resolute. After Brandon Williams was fouled on the edge of the box, Bruno Fernandes' dipping free kick cannoned back from the underside of the crossbar. This chance lead to Justin Kluivert putting the hosts three ahead and firmly in control after a misunderstanding between Harry Maguire and David de Gea.
Fernandes converted a penalty after Mason Greenwood was bundled over in the 79th minute and suddenly the score was 3-2 after Paul Pogba's header deflected in off Maguire – it looked like another incredible comeback for the away side.
Unfortunately for the red half of Manchester, United couldn't find that third goal despite Leipzig almost conceding an own goal in the final moments of the game.
But what did we learn from this game?
Manchester United need to improve drastically if they want to be a force in Europe
After winning their opening two group games against Paris Saint-Germain and Leipzig respectively, it looked like United were destined to qualify for the knockout stages.
Four games later and there will be few United fans who claim that their team deserved to progress in the competition.
In recent weeks, United have had to come from behind on countless occasions to claim wins after starting games very poorly - but when the opposition is as strong as most Champions League outfits are, you cannot expect to be able to triumph after going two goals down early on.
West Ham could have been three goals up at the weekend and United were fortunate that they weren't clinical enough – Leipzig were clinical here, as were PSG last week.
There is no doubting that Solskjaer's reds can score goals in abundance, but defensively they come unstuck against average teams at best; let alone last season's semifinalists.
Every United defender gave an underwhelming performance on Tuesday night and none of them have been covering themselves in glory recently whatsoever. Had United progressed to the latter stages of the Champions League, it is likely that they would have been embarrassed at the back.
Perhaps this defeat can act as a reality check to everyone involved with Manchester United. Success would have merely papered over the cracks – United's weaknesses are clear to see.
Manchester United lack game management
As good as United can be and as scintillating as they are going forward, it seems like they are living off moments and individual brilliance as opposed to a clear style of play.
The fact that the reds only required a single point out of a possible six but then conceded three goals in each game highlights the fact that many United players need guidance in how to see results out.
Is this down to Solskjaer, the players, the staff, or an accumulation of all three?
It is in the key moments that United let themselves down time and time again. In the game against Leipzig, United needed to be resolute and see how the game panned out for the opening 30 minutes. Instead, they let Leipzig bully them down the right flank and left themselves with a mountain to climb.
A 0-0 draw in either of United's last two group games would have pleased United fans but there were no signs of defensive solidity nor defensive confidence from any members of the away side.
It is always more entertaining to see a 4-3 or a 3-1 than a 0-0, but United's one job was to progress and a 0-0 in either game would have sufficed – Ole and his team learnt that lesson the hard way.