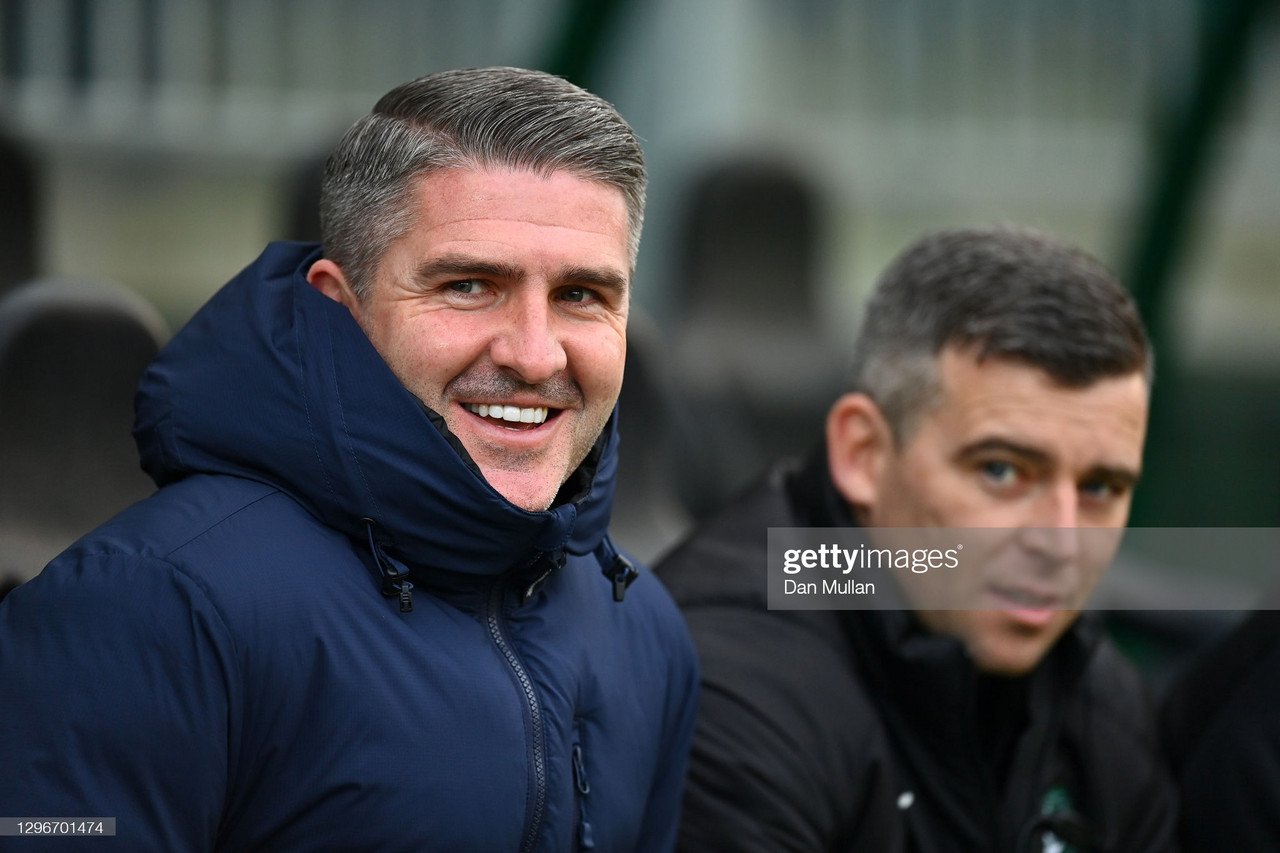 Plymouth Argyle have ended their 11-month spell without an away win in the league.
Ryan Lowe's side have moved back into the top half of League One with an impressive 2-1 win against Sunderland at the Stadium of Light on Tuesday.
A debut goal for wing-back Adam Lewis put the Pilgrims in front after 11 minutes before the hosts got back on level terms in the second half, courtesy of Aiden O'Brien.
The lead was soon regained, though, as Argyle captain Joe Edwards fired past Black Cats 'keeper Lee Burge – ensuring the coach was full of smiles for their 400-mile journey back to Devon.
"I have not let it get on my mind"
Argyle had failed to win their last 11 away fixtures in the league before Tuesday – a spell dating back to their stretch in League Two.
The last win came in February 2020, where Ryan Hardie's injury time strike saw them defeat Salford City 3-2 at the Peninsula Stadium.
Lowe claimed his side's solid record at Home Park, which saw the Pilgrims go unbeaten in the league between January and December, eased the headaches that came with their turbulent away form.

No, the Pilgrims' boss is not talking about Lego.
Argyle's form so far this campaign has been sporadic, something Lowe has cottoned on to, he said:
"We had a good start (in the league), a little bad patch, and now another good patch that we have got to continue."
Argyle are unbeaten in all competitions so far in 2021, winning three and drawing one.
The new year's results are a far cry from their performances two months prior, where the South Coast side lost six on the bounce in League One.
The turn in form comes as no surprise to the Liverpudlian.
"Each day, and week, the results are getting better," said Lowe.
"The way we play, the goals we score, the possession and patterns of play; that is what we build to, they are the game plans.
"We will give the lads credit where credit is due. They have got a fantastic three points but what we have got to do is keep building."

"The league is tough, we are not getting carried away"
"When you perform the way we performed, you have got the right to be happy," he said.
Plymouth are seemingly back to their best under Lowe, and while they are not setting their sights on a top six finish just yet, they are not ruling out the possibility – especially after completing the signings of striker Niall Ennis and the aforementioned Lewis so far in the January window.
"I told the lads in there that if you believe in what you can do and what you want to achieve where do you want to be? Do you want to be midtable or do you want to keep aiming high?
"Confidence grows, and when you are in a good little run of form you need to continue that. As long as our lads keep believing and do what we say, then we will win a lot more games."

"No one probably expects us to win"
One game that the Pilgrims are not expected to exit victoriously in is their FA Cup fourth round tie with Sheffield United.
"It will be another tough task, we respect Sheffield United massively."
The Blades will welcome the third division side to Bramall Lane on Saturday, with the winner playing either Millwall or Bristol City in the fifth round.
"I see a lot of people talking about how they haven't won but we are not going to disrespect any team let alone a Premier League outfit under Chris Wilder.
"We have got to go there and set a game plan up and hopefully try our best to win. We know that is going to be massively difficult because of what they have got but it will not be through a lack of trying."