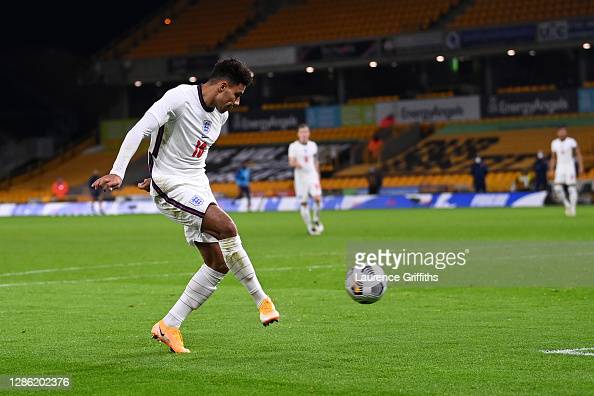 With the Premier League under commencement for many months, England boss Gareth Southgate has had a great amount of time to scout and assess his options for the Upcoming 2022 Qatar World Cup Euro Qualifiers.
There have been numerous amount of English players who have sustained great levels of production this season, but Leicester City fullback James Justin has been one of those players who has had a breakout season this campaign.
After having signed for the Foxes back in the summer transfer window of 2019 for a reported £6million, City manager Brendan Rodgers has been able to unleash his potential and display to everyone what an exemplary player he will become in the future. Justin has featured in 19 games for the East-Midlands club so far this season, accumulating a grand total of 1710 minutes of game time in the process.
When reviewing the last England squad for the UEFA Nations League, Southgate opted to call up Arsenal left-back Ainsley Maitland-Niles and 21-year-old Chelsea right-back Reece James, as well as Manchester City right-back Kyle Walker to provide experience to both youngsters. Both Maitland-Niles and James have been in mediocre form as of late due to the fact that their teams have had underwhelming seasons, which should cause Southgate to depend on other fullbacks in March.
Justin should be in total contention to attain one of those spots, but he will have fierce competition with at least three other England fullbacks.
Who are the competitors?
The three biggest competitors that Justin has to outshine in order to receive his first senior call up are Manchester United right-back Aaron Wan-Bissaka, former Leicester and current Chelsea left-back Ben Chilwell, and 30-year-old Atlético Madrid right-back Kiernan Trippier. In terms of performances and production, Chilwell and Wan-Bissaka have had very decent seasons. On the other hand, Trippier has seen himself in the nucleus of a betting breach scandal that has subsequently led the FA to ban him from any football-related activity for ten weeks. Regardless of that occurrence, Trippier had been enjoying a very favorable La Liga season, helping Diego Simone and his Colchoneros significantly.
To comprehend why Justin deserves to be a candidate to compete for a spot in Southgate's team, it is essential to analyze and compare his statistics to those of the three previously mentioned players. Thanks to statistics provided by WhoScored.com and FBRef.com, it is evident that Justin is comparably performing to the same degree of production as the three other established stars.
A Dangerous Justin is a Great Justin
In terms of his offensive contributions, Justin has not disappointed at all. In his 19 appearances this season, he has produced 45 shot-creating chances, which is the highest in comparison to Wan-Bissaka, Trippier, and Chilwell. Not only that, but the Leicester fullback has also completed 35 live-ball passes that have led to a shot attempt, which is more than double that of Chilwell's and ten more than that of currently suspended Trippier.
Overall, Justin is completing 77.8% of his passes, which would put him above players in this specific category this season to the likes of Tottenham Hotspur star Sergio Reguilón, Liverpool right-back Trent Alexander-Arnold, and France international and Everton player Lucas Digne.
The Luton-grown fullback is additionally providing great shooting opportunities, with an expected goal sum of 0.6, which is 0.3 higher than Wan-Bissaka and only 0.4 less than that of Chilwell at Chelsea. Trippier cannot be compared in this statistic, as he never scored a goal for Atletico before getting suspended. In comparison to the rest of the Premier League, Justin is providing more expected goals than players of the caliber of Brazil international and Aston Villa midfielder Douglas Luiz and Yves Bissouma from Brighton Hove-Albion.
This is very interesting to point out, as only two years ago Justin was playing with his boyhood club Luton Town in League Two.
Finally, when assessing Justin's possession stats, you can once again note his quality on the ball. Justin has been able to provide a decent 58.1 percent of dribbles completed this season, which is around the same vicinity of Wan-Bissaka (65.5%) and Chilwell (61.1%). The Luton grown player once again defeats world-class players in this category at the moment such as Arsenal defender Kiernan Tierney, Manchester City and Portugal international João Cancelo, and even Liverpool star Andrew Robertson.
James Justin would provide much needed creative and offensive firepower to Southgate's England side, which is an amazing asset for Southgate to exhibit when needed.
Defensive Prowess
When assessing Justin's overall game, his defensive contribution is one of his greatest assets, and he has not disappointed at all this season with how solid he has been. He currently leads the entire Premier League with most tackles in the defensive third of the field with 37 tackles. That is eye-opening for any manager, which is why Rodgers will most likely keep him as a starter in the defensive side of the lineup when Portugal and Leicester player Ricardo Pereira starts to play full 90 minutes games again promptly.
In terms of overall tackles, Justin has tackled 52 players throughout the transpiring of this league season, which ranks him sixth overall in this category among all Premier League players. Compared to the mentioned full-backs before, only Wan-Bissaka defeats him in this category, as he is currently second with 60 tackles on players this season.
Justin has also been very efficient at blocking shots and passes this season, with 36 blocks overall. This ranks him 15th among all players in the Premier League, above Manchester United midfielder Scott McTominay, Robertson, Tierney, and even ex-Leicester and current Manchester United defender Harry Maguire. Unfortunately, he does not defeat Aaron Wan-Bissaka in this category, as he is deservedly in first place with a staggering 68 blocks so far this season. On the other hand, he does defeat Chilwell, as the current Blue has only made 35 blocks. Trippier had made 30 before his suspension.
The final area of Justin's defensive actions that must be highlighted is his number of times in which he applies pressure to a player in the defensive final third. He has applied pressure in the defensive final third 155 times this season, ranking him second among all Premier League players. This is only five fewer times than the current leader, who is Tottenham Hotspur midfielder and Denmark international Pierre-Emile Højbjerg. In comparison, Wan-Bissaka ranks 28th with only 99 pressures and Chilwell is in 93rd place with only 63 pressures.
Taking everything defensively mentioned into account, these statistics further exemplify how rock-solid Justin has been as a fullback, especially in the final third. His composure defensively has allowed him to position himself high in these categories, which the England senior squad can certainly put into use in any game. He is truly one of the best fullbacks in the Premier League this season, and the statistics prove that.
Statistically, James Justin is putting up a great case to get called up, and Southgate must certainly not be ignoring that. It will be hard for Justin to convince Southgate to give him his first senior appearance, but not impossible. The Three Lions' boss will determine who will get a personal phone call from him before March to announce an England senior cap for the fullback position, and certainly, Justin must truly be in contention for this call-up.