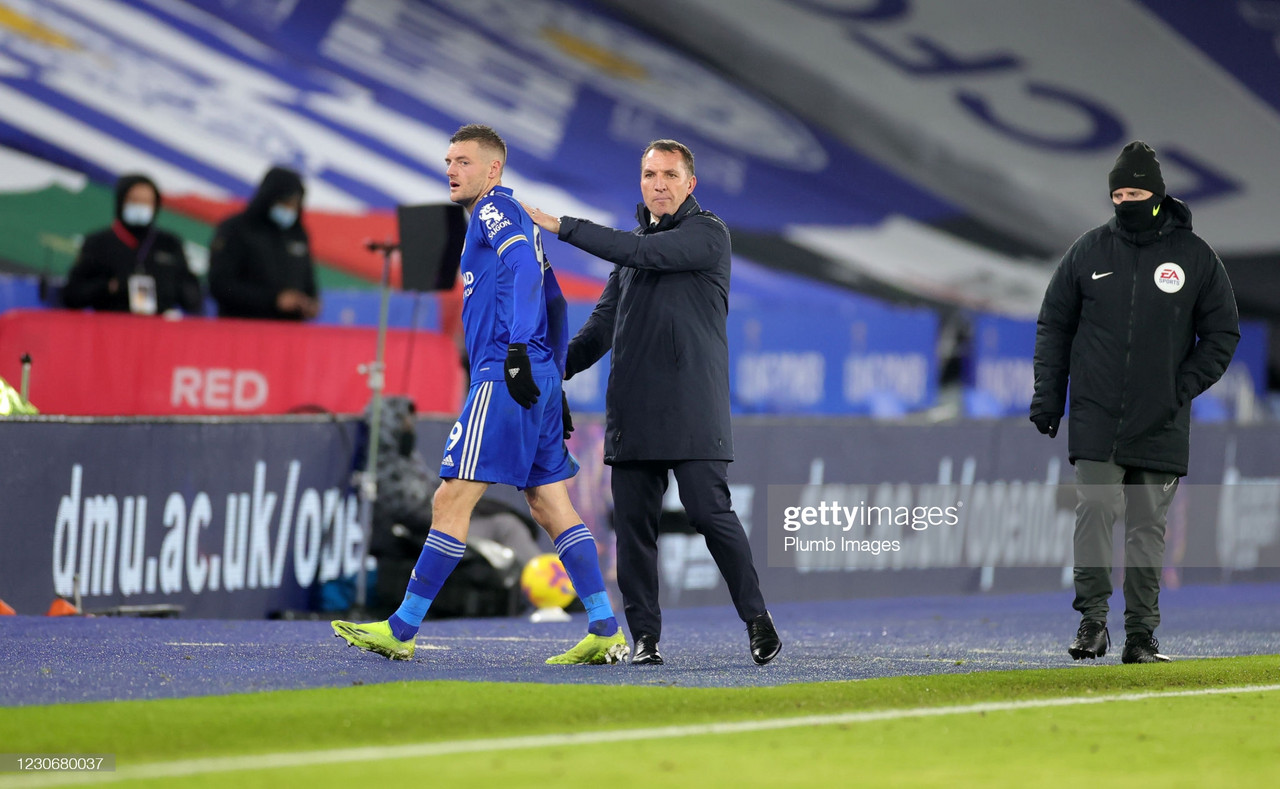 As Leicester City head to Brentford in the Emirates FA Cup fourth-round on Sunday, Brendan Rodgers confirmed the absence of his main number nine due to a persistent hip problem that has affected him for most of the current season.
Nevertheless, Jamie Vardy has scored a remarkable thirteen goals and assisted five in twenty matches across all competitions.
According to the official statement, Vardy is set to undergo a minor hernia operation and will be out for a short while.
The striker is likely to miss matches against a roster of high-profile teams over the next month, most notably away and home encounters against Everton and Liverpool respectively. The Foxes will also face the likes of Leeds United, Fulham and Wolves sandwiched between the two Merseyside opponents. They also face Slavia Praha in the Europa League round of 32 and Arsenal in the beginning of March.
Rodgers mentioned Vardy's absence for a few weeks. Being a hernia injury, although minor, he could be sidelined for up to a month.
He said: "Jamie Vardy will be out for a few weeks. As you know, we've been managing him over this last number of months, and he's been absolutely fantastic. We have a window now that allows him to have a minor operation on his hernia and then he'll be back within a few weeks. He'll be out for that period.
It's one that doesn't keep him out for too long, but it's just a repair in and round that hernia area. It's one we feel he can't really put it off much longer."
Rest of the Foxes' have stepped up
Vardy has been on a surprising dry run since Leicester's two-nil victory over Tottenham Hotspur before Christmas, a goalless run of five matches in the top flight. Although the English striker has not found the back of the net, the Foxes have not succumbed to a defeat in the last five – thanks to outstanding displays from Harvey Barnes and James Maddison in the attacking half.
Rodgers also spoke about his other injuries: "Obviously, Dennis Praet has been away, and Wes Morgan will be out for a few weeks as well, but apart from that, we have the same squad."
On his team selection, he said: "With the games that we've had and the games coming up, I have a real trust in the squad and I'll always pick a team to win the game, but yes, there will be some changes."