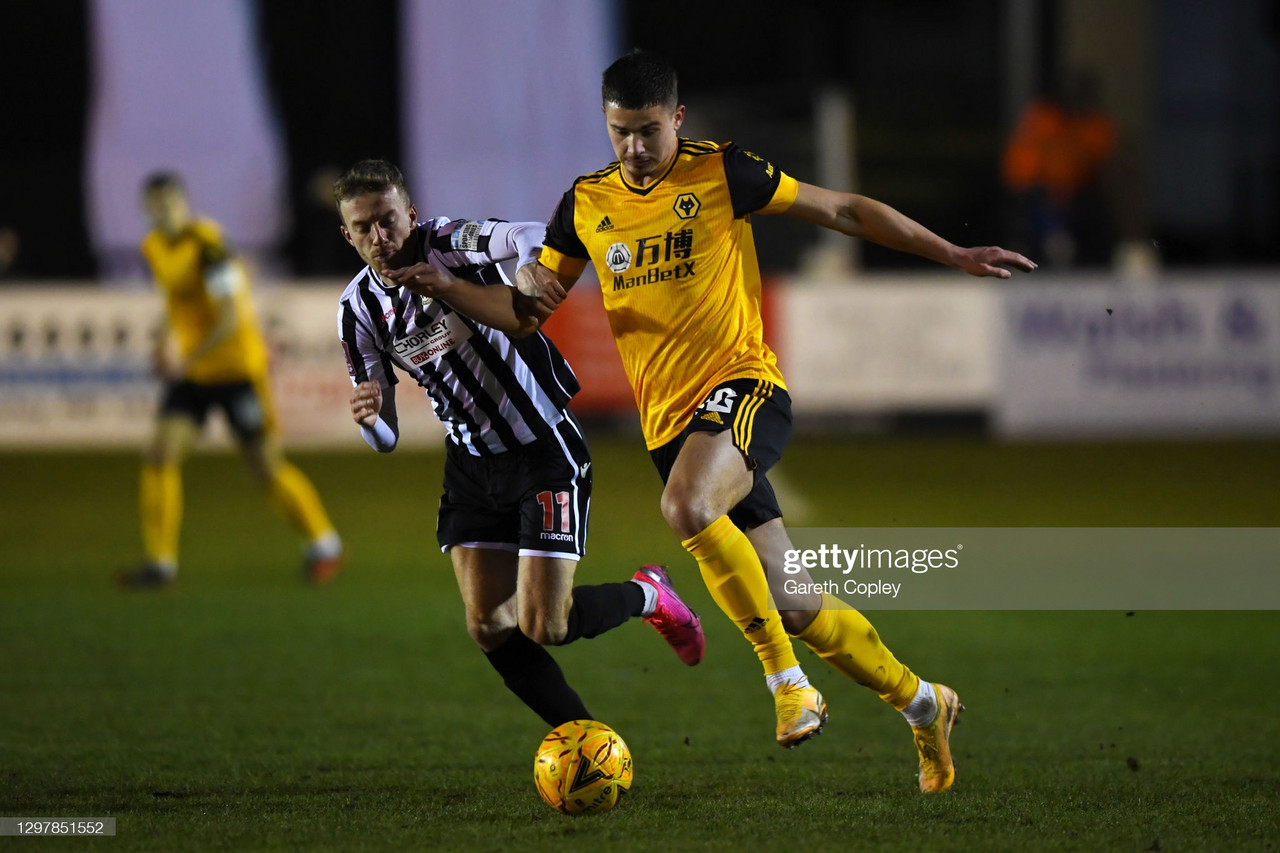 Wolverhampton Wanderers ran out 1-0 winners over Chorley in the FA Cup fourth round on Friday night.
Victor Ferreira scored the only goal of the game for Wolves, with a wonder strike from 35 yards out early on in the first half.
Nuno Espirito Santo spoke to the media to discuss the game, the pitch, a potential new striker and the FA Cup.
• On the FA Cup:
Nuno spoke about the importance of the FA Cup to the club and how they must improve. However the Wolves manager will be wary that they must perform better on Wednesday against Chelsea.
Nuno also believes that they must press better and aim not to set games up in a position where they could lose it.
He said "The FA Cup means a lot for us. Next one is Chelsea, need improvement. Let us recover well and prepare the team. We need to perform better than we did today.
"Need to press better and react better. The scene was set for us to lose this game. I have been on the other side of games like this. I will be honest, I don't think many people will remember this game. The quality was not good."
• On the pitch:
Nuno was aware that it was hard for his Wolves team to keep possession, on a pitch that may not have been up to the standards that they are used to in the Premier League.
Nuno had this to say "We are aware of the difficulties of the pitch. They are in a lower division but they are organised. John Ruddy did his job, everybody knows his quality. He helped us to win the game.
"They were well organised. We should have moved the ball faster but a win is a win. They were tough.
"Difficult to keep possession. We adapted well to the pitch. It was important for everyone we went to the next round."
On a potential new striker:
Wolves are currently heavily linked with Willian José, a 29-year-old Brazilian player who plays for Real Sociedad in Spain.
When asked about any potential new striker's joining Wolves in the current transfer window, Nuno admitted it was no secret that they were after a player but he kept quiet about who the player could be.
Nuno said "Until the transfer window is open, [whilst its open] it's no secret we are working on a player to join us, but until things are official I can't speak about that."
• On the game:
When asked about the game, Nuno was happy with the result but he found the game tough and gave full credit to Chorley, for making the game hard for his team.
Nuno had this to say about the game "It was tough, Chorley did well and were well organised. We should have moved the ball faster, but like I said it was tough, the boys stuck together and a win is a win."
• On Chorley:
Nuno was full of praise for Wolves' non-League counterpart and especially their strikers, who made it tough for the Wolves backline winning a lot of headers, putting Willy Boly and Conor Coady under pressure.
Chorley put in a good account of themselves after beating Peterborough United, Wigan Athletic and Derby County on their way to the fourth round of the FA Cup.
Nuno said "It was a test, the pitch was difficult but the boys adapted well, it was difficult to keep possession and the speed of the ball and credit to Chorley, they put us against the ropes with long balls and they have a good striker that wins a lot of headers."