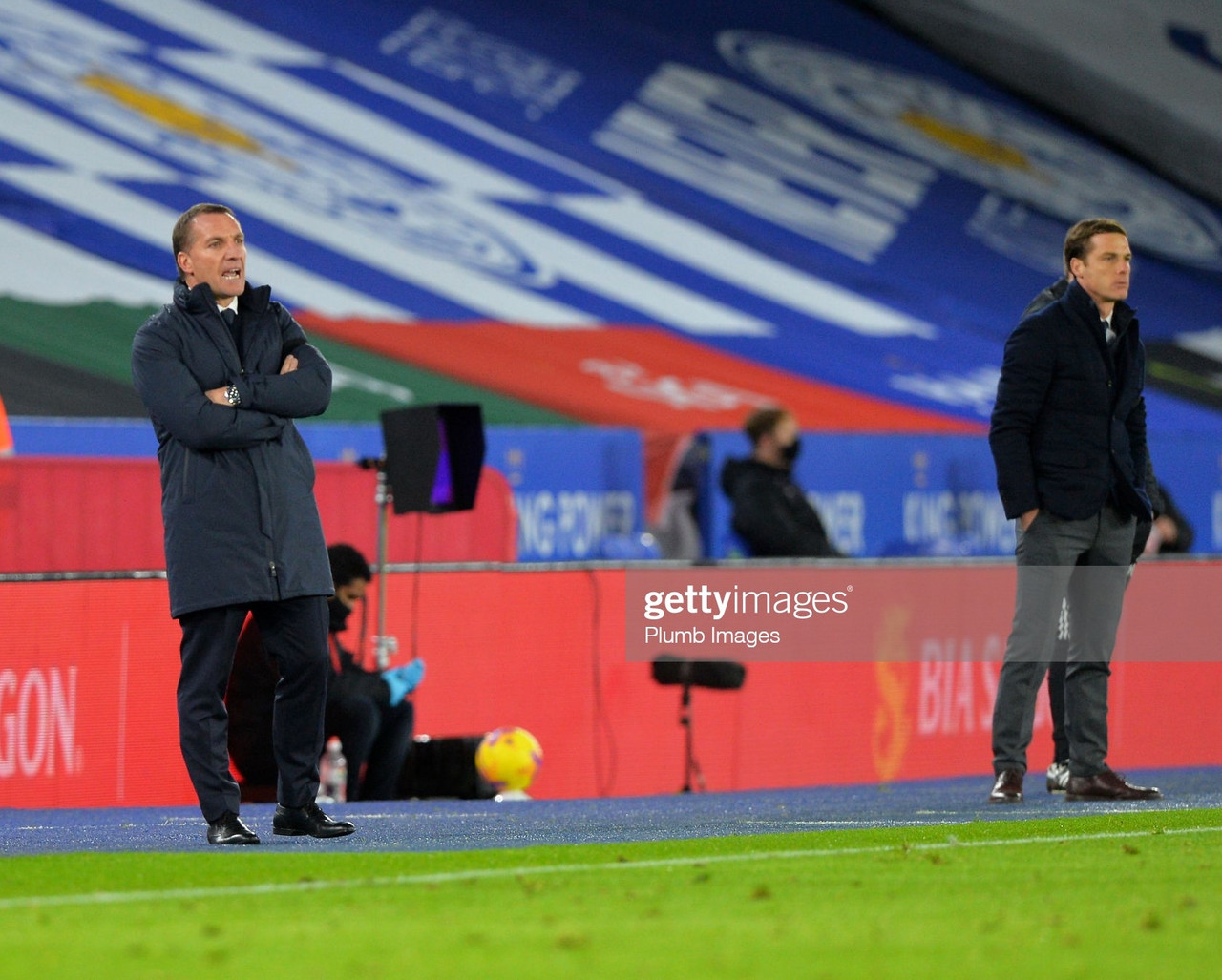 As the final whistle blew at the King Power Stadium after Leicester City's defeat at the hands of Leeds United, an array of doubts began to arise for Foxes manager Brendan Rodgers and his squad.
What was perceived to be a very reasonable and predictable win on Sunday turned into a nightmare, as Leicester allowed Leeds to net three goals that resulted in the end of the Foxes' seven-game unbeaten win streak in the Premier League. Most of the players seemed demoralized after the game, which was completely merited as they allowed Argentinean manager Marcelo Bielsa and his men to dictate the match in pivotal moments leading to decent goals.
Although the game against Leeds was extremely poor and unacceptable, the East Midlands club will receive an opportunity to put that dreadful result in the past, as they will play relegation-tipped Fulham on Wednesday. Even though Scott Parker and his men have finally found a cohesive way to play collectively as a team, they have struggled to get points, only obtaining three points out of their last five games in the Premier League. The Cottagers are in dire need of points to get out of the relegation zone, and they can possibly find a way to victimize Leicester for their own benefit.
Challenges ahead?
The last time these teams clashed against each other in the Premier League was not a very fond memory for the Foxes, as they managed to lose 2-1 at home. Not only is the thought of this last meeting alarming for Leicester, but the fact that Fulham is playing more efficiently and that key players will be out for this fixture is even worse. This will only incentivise Parker's men to play with confidence and fearlessness, which must be concerning for Rodgers and his players.
The Foxes will have to deal with the absences of Leicester stars Jamie Vardy and Wilfred Ndidi, but additionally Timothy Castagne and Wesley Fofana, who both sustained hamstring injuries during the loss at the hands of Leeds. Rodgers has indicated in his last press conference that both players will most likely be out for a period of time, which will be a crushing blow for everyone at the club. Thankfully, Turkish Fox Çağlar Söyüncü and Portugal international Ricardo Pereira are back in full fitness, as they will take over in the starting 11 in the absences of Castagne and Fofana.
Even though Leicester might have all the pressure applied on them to attain a positive result from this game, they have a great chance at coming out victors at the end of the 90 minutes. It is critical to assess what strongpoints both teams must bring to the forefront in order to attain three coveted points from this match.
Deadly production up top
One of the most essential things that Rodgers and Parker will be seeking for is a great offensive performance, specifically from their strikers.
As of late, Fulham have found a great partnership up top with Portuguese wideman Ivan Cavaleiro and England youngster Ademola Lookman at the helm. In total, they have scored a combined six goals in the Premier League, which is decent considering that Fulham has only been able to score on 17 occasions this campaign. Cavaleiro has been enjoying a satisfying campaign, as he has been able to produce 36 shot-creating actions throughout the transpiring of this season. This places him above players like Southampton talisman Danny Ings, Everton and Brazil international Richarlison, and even Vardy. He is a very skillful and tricky player to defend, which will certainly cause problems for Leicester in the defensive side of the game.
His English striker partner Lookman has been in form as well, as he has boasted 17 shots on target this season, resulting in a rate of 1.1 shots on target per 90 minutes. This is a great rate of production, as he defeats Arsenal wonderkid Bukayo Saka, Crystal Palace faithful Wilfred Zaha, and Aston Villa talisman Jack Grealish in these categories.
On the other side of the spectrum, Rodgers' Foxes have struggled to find production since Vardy's groin injury, as they have been depending on the services of Spanish Fox Ayoze Pérez. In his last two starts since Vardy's injury, Pérez has only been able to dribble successfully past players three out of seven times, resulting in an approximate percentage of 43 percent. This is poor for a striker, as in comparison Nigeria striker Kelechi Iheanacho was able to boast a dribble succession of three out of three in his last two appearances in the Premier League as a substitute. Rodgers should consider starting Iheanacho, who last played in the Premier League when Leicester disappointingly lost to Crystal Palace at Selhurst Park.
Leicester will also trust in depending on academy graduate Harvey Barnes' offensive production, as he has been in hot red form as of late. In his last four appearances in the Premier League, Barnes has produced two goals and two assists for the Foxes, resulting in him being one of the most consistent players in the squad.
Barnes has produced 43 shots this season, placing him 13th overall in the entire Premier League for shots taken. Not only that, Barnes has also overachieved his expected goal ratio, as he was expected to score 4.8 goals this season when he already boasts of seven goals at the moment. Rodgers will seek to unleash Barnes' fantastic form against Fulham, as it can be a game-changing contribution for the East Midlands club.
Defensive masterclass
In contemplation of salvaging at least one point from this clash, both Fulham and Leicester must make sure that their defense is under control and as solid as it can be.
Fulham will defensively depend on their Danish loanee Joachim Andersen, who has been able to clear the ball out of the area 96 times this season. That is a very high rate for a centre-back, as it ranks him 11th among all players in the Premier League in clearances. He has produced a higher clearance contribution than Manchester City and Portugal defender Rúben Dias and Liverpool starter Fabinho, which is eye-opening for anyone to realize.
The White will also seek to unleash the defensive actions of Cameroonian and Fulham midfielder Andre-Frank Zambo Anguissa, as he has generated amazing defensive numbers this season. Anguissa has been able to produce 58 tackles this season, placing him third alongside English Fox James Justin and Brighton star Yves Bissouma, who also boasts 58 tackles. Even more importantly, Anguissa is tied in first with Manchester United right-back Aaron Wan-Bissaka for total tackles and interceptions with a staggering 95 this season. Anguissa will try his best to stop Leicester's offensive inclinations, and he has the statistics to back him up.
Leicester will seek to shut down Fulham's offensive advances with the probable quartet of Justin, Söyüncü, Northern Irish defender Jonny Evans, and Pereira. Justin keeps excelling as a fullback this season, as he has pressured an opposing player in the defensive third 160 times. This places him comfortably in second place in this category, only getting outproduced by Danish and Tottenham Hotspur midfielder Pierre-Emile Højbjerg. Evans has been solid as usual, winning nine of his last twelve aerial duels in his past two Premier League appearances.
Hands of Steel
The last area to highlight for this game will once again be the goalkeeping productions for both teams.
Paris Saint Germain loanee Alphonse Areola has probably been the most consistent player for Parker this season, producing 72 saves this season meanwhile only getting scored against in 27 occasions. He is currently fourth in the Premier League for most saves this season, with a save percentage of 76.6 percent.
Leicester veteran Kasper Schmeichel has also been enjoying a decent season, producing 72 saves and conceding 25 times this season. Although the Foxes lost 3-1 in their previous fixture, Schmeichel still had a decent performance in which the defense was responsible for the goals being conceded. The Dane must continue his great feline form to keep the Foxes in this game tomorrow, which will most likely not cause any problems for him.
Wednesday at Carven Cottage will be a true test to Rodgers' blue army, as it will prove if they can bounce back from a horrendous result or remain in the obscurity of constant defeat. Fulham will strive to keep ruining Leicester's top-four aspirations, as they need points to exit the relegation zone.