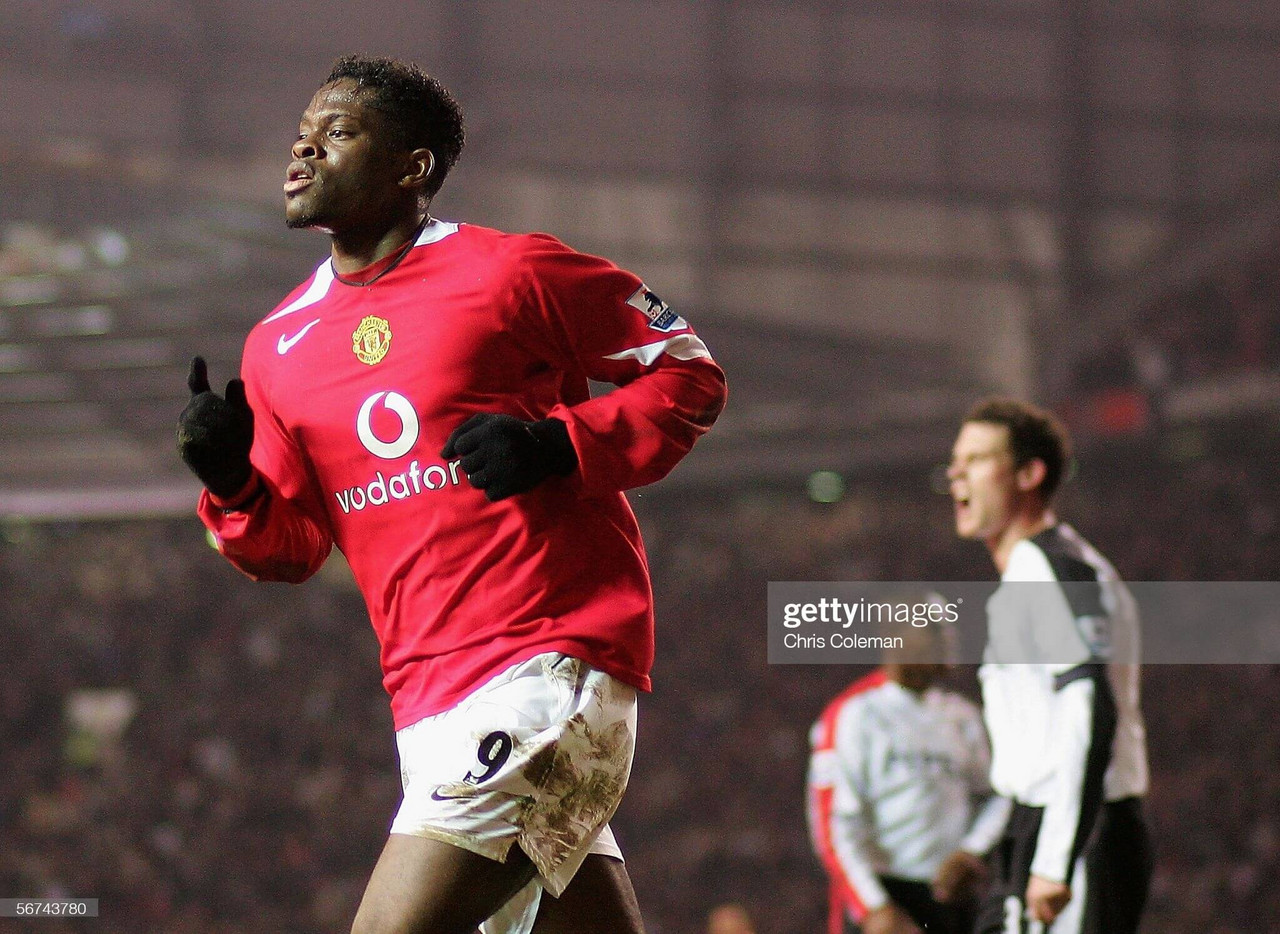 A Champions League winner's medal draped around your neck, two Premier League titles and almost 150 goals across a 14-year career look like statistics for a striker to lean back on for life.
But for former France, Manchester United, Everton, Newcastle United and Tottenham Hotspur forward Louis Saha, retirement almost made him feel dead inside.
"It [retirement] was tough. It's almost like a bit of you dies. You don't have that competitor when you retire."
Writing became therapy for Saha - in the shape of a book - a move that inspired him to launch a new business, a private community for professional athletes and entertainers.
"When people read my book, they see it was not just my story, it was a guide as it came from a lot of different players.
"I felt really passionate about it, so it was easier in terms of the transition as I had something really exciting to go into."
Saha's actions after he left the sport behind for good led him down the path to become an ambassador for the Sport Integrity Global Alliance (SIGA) - a campaign who promote the same pure sporting values which took him from kickabouts in the Parisian streets, to last-minute winners at Old Trafford.
"I'm really behind SIGA, and any understanding of how to limit integrity. We as athletes are one of the strongest tools in terms of influence for the youth."
In an exclusive interview with VAVEL UK, Saha spoke in-depth about football, business and his fight for sport integrity.
Growing up in Paris
Saha grew up in the footballing hotbed of Paris - a place where it seemed all the kids had one thing constantly on their mind: football, football, and even more football.
"In Paris, maybe unlike most places in France, it is a very challenging area to grow up in.
"There is a lot of pitches everywhere, so you're gonna play [football]! Any spare time you had, you're going to play!"
Many of France's 2018 World Cup winning side, including the likes of Paul Pogba and Kylian Mbappe, were unearthed on the same Parisian streets Saha grew up playing on.
Saha said that if football scouts want to discover the Pogba's and Mbappe's of tomorrow, they must head to the French capital.
"If you are a scout, you have to go to Paris. There is just so much talent."
In his early teens, Saha travelled to the French football academy Clairefontaine, globally renowned for developing those talented teenagers on the streets into international superstars - something which came true for him.
"I had the chance to go to Clairefontaine, which is the biggest academy in France and from there they just told me 'now I will teach you how to play football', because yes, playing in the streets is good, but I was very naive and innocent."
Saha said that he played football as a professional with the same attitude he had playing in the park all those years ago: to dribble and score goals, not for fame and fortune.
"Basically I was playing just to dribble with the ball and score goals - not for the money, not at all. I never thought of playing football to earn money."
Representing his country at a World Cup
Saha reflected passionately on some of his 'amazing moments' as a player.
His first goal, his first trophy, his first game for Manchester United all came to him instantly.
But what eclipsed all of that was the first time he donned the famous red, white and blue jersey of his country, France.
"I had a few amazing moments. My first goal, my first trophy, playing for Man United. But maybe the best one for me was the one where I could visualise how much work I put into it, was when I played for France.
"It was always a dream for me, and when you manage to do something like this, you call it a dream. I'm was 16/17 when I started playing for France, and a few years before that you do realise there is such a big step up."
He had his first taste of a World Cup in 2006 - the tournament where his Les Bleus teammate Zinedine Zidane stole the headlines for his infamous head-butt on Marco Materazzi.
Saha said the pressure was huge, but the feeling of knowing that the entire globe was watching him play football was an 'amazing feeling'.
"You don't really understand what the pressure is like playing in a World Cup. There's millions of people watching you; you have your club, your family and your friends all behind you, which is an amazing feeling."
On his time in the North East
Saha was fortunate enough to experience brief spells at North East pair Newcastle United and Sunderland during his 14-year long career.
Playing for Newcastle was a 21-year-old Saha's first taste of English football, a loan move under the stewardship of Dutch icon Ruud Gullit.
Saha was only on Tyneside for six months, but he quickly fell in love with the city, the people and its supporters - even if the weather was incomparable to what he was used to in France.
"The fans are amazing. Coming to Newcastle was my first experience in England, so I was shocked at how warm the people were. It is cold, it is definitely a different type of cold, mainly because of the wind! But the people are so warm and friendly. They're just human and that's why I found it really easygoing."
Saha saw Newcastle as the football club that had the aspirations to reach the peak of English football, but never quite made it.
"Newcastle were always that club that had the ambitions to go to the very top, but didn't quite make it. I left there early as I only played for six months and pretty much the same with Sunderland."
Despite only spending half a year on Tyneside and Wearside respectively, Saha called the two clubs 'immense' and can understand the supporters current frustrations.
"I can't speak in great detail, I did not take enough time to assess those two clubs. But they are two immense clubs, and I can see why there is a lot of frustration for both sets of fans too."
Life after football
When you are a professional footballer, the day you hang up your boots is undoubtedly the one you will dread the most.
It is stepping out into the 'real world' as such; after being wrapped up in somewhat an alternative reality of bright lights, fame, and of course, fortune.
"Yeah, it was tough. It's almost like a bit of you dies. You don't have that competitor when you retire," Saha said.
The Frenchman found a coping mechanism to deal with his football career coming to end, by writing his own book, named 'Thinking Outside The Box' - a reflection on his professional career.
"At first it was difficult, but writing my own book was kind of like therapy for me. I was able to understand everything I did in my career. The people reading it will be like 'oh, this guy has done this as well,' when they didn't know before. They start to realise the impact of getting those stories all together.
"When people read my book, they see it was not just my story, it was a guide as it came from a lot of different players. I felt really passionate about it, so it was easier in terms of the transition as I had something really exciting to go into."
Saha did reveal that many of his fellow retired footballing compatriots have struggled to adapt to life without the game being a prominent role in their life no more.
"I know a lot of my friends who are former players have struggled because you don't have the same intensity, you don't have the same challenge in front of you."
How the pandemic affected himself and his business
Saha formed AxisStars in 2014, a year after his retirement, with the goal of giving athletes and entertainers the same amount of confidence in person as they have in their talent.
As a man who thrives on interaction - combined with the social aspect of his business - Saha has found the COVID-19 pandemic tough so far.
"It affected me as I couldn't travel and meet people face-to-face, which was tough because I am a man of interaction. I like to speak to people, I like to know about their journey because there is no way we can learn everything about someone if we don't interact. So I was definitely impacted, but the tools like Zoom, what we are using now, do help."
One of the most challenging aspects of the pandemic to Saha was the fact that barely any sport was being played, meaning that many of his clients were temporarily detached from the thing they know best: playing sport.
"I don't think that the pandemic has been good, but it has helped a few people to realise what we offer," he says.
"We built AxisStars because we want to build a motorway and provide the services athletes need to help with situations like this."
Saha's fight for sport integrity
As well as juggling the running of his business, Saha became an ambassador for the Sport Integrity Global Alliance in November 2020.
The role Saha has taken up embodies the principles of AxisStars, by ensuring that athletes are advised off pitch in a more transparent and credible manner.
"It [sport integrity] is very important to me. If you are a big organisation at the top and you do whatever you want, there is no integrity," he said.
"Players can do that, for instance, if they can do whatever they want. I think it's very important that we have been given a bigger platform for those players to speak out."
Saha feels he is in a better position now than he was when he was as a player to fight this head on - mainly as he is 'more educated now'.
"I feel like now I'm more prepared to fight because I'm more educated now than when I was a player. Now I hear so many voices, when you are a player, you only really speak to the staff. You speak, but you aren't really confident. Now I understand that a lot of people are struggling to come out because they don't have the confidence. I have it now because I think I am now working with the right people, I'm working with the right team."
Saha's work with SIGA is all about transforming the sports industry in a positive manner, a big reason why he is very much behind them.
"That's why I'm really behind SIGA, and any understanding of how to limit integrity. We as athletes are one of the strongest tools in terms of influence for the youth."
What the future holds for Saha
His football life may have come to an end, but Saha's business life seems to have entered its prime.
The Frenchman's focus now is now on being the best ambassador he can be, as well is providing his expert view on business to others.
"My ambition is to be the best ambassador I can be, and be supportive with the best skills that I've learned.
"I know exactly how to help organisations, how to give back or improve things," Saha said.
Despite Saha having a highlight reel full of football memories that could only be dreamt of by the masses - none of those memories make him prouder than what he is doing now - a life that sees him fully detached from the game that moulded him into the man he is today.
"Whatever it is for me, it's going to be all my life this story, because this is where I have the best feeling. Maybe not as good as scoring goals, but I'd definitely say I'm prouder of what I'm doing now than I ever was kicking a football."