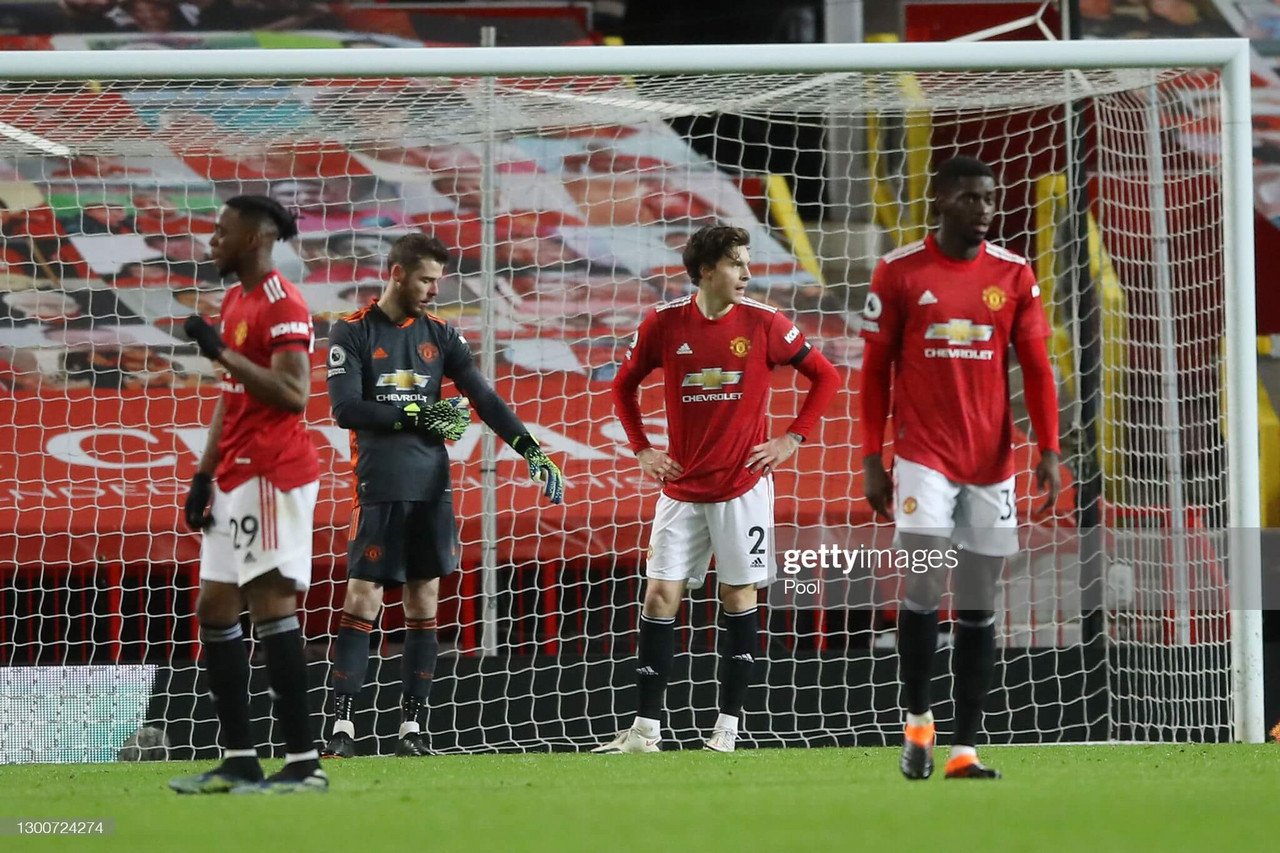 A heart-breaking, last-minute equaliser from Dominic Calvert-Lewin condemned Manchester United to drop two points at home to Everton in the Premier League this weekend. While the Red Devils twice looked like victory was assured, a defensive lapse in concentration ensured they would walk away from the game without the three points needed to keep pace at the top of the table.
Here are five things we learned from the draw.
1. A draw, not a defeat
As easy as it is to let the agony of a last-minute equaliser ruin a weekend – or ruin the time until United next take to the field – it is important to note that the result from the match with Everton was a draw and not a defeat. As difficult as it was to stomach, United still got a point from a tricky game against Carlo Ancelotti's side, who have grown over recent years to be one of the club's proverbial 'bogey' teams.
It isn't much solace to take from the result, but with Manchester City looking in unbeatable form, and many believing United still peak and trough throughout the season, a point here is better than none.
2. Ole still struggles with substitutions
Was Axel Tuanzebe really the right man to bring on in the dying moments of added time, with United seeking to contain the Toffees? Solskjaer has tried many times to bring on an extra defender in place of an attacker, and often it works, but the side look a shadow of their former selves without the extra creativity.
Surely Daniel James, who scored against Southampton in midweek, would have been a better option, considering the Reds were chasing a goal that would have sealed the victory. Dynamic pace against tiring defenders? It could have been much better, and possibly could have allowed United to retain the three points that had once seemed guaranteed.
3. De Gea may not be the best option
David de Gea had a woeful second half against Everton, with two poor attempts to save the double salvo in the first five minutes, and cowering when Dominic Calvert-Lewin was advancing on goal for the equaliser. De Gea has struggled with commanding his box for far too long, and made yet another mistake against the English striker, whose ability to snipe goals from loose balls is one of the best in the division.
With the few minutes he has had this season, De Gea's understudy Dean Henderson has shown to command his area well, as well as being an excellent shot-stopper. While the Spaniard's performances have improved this year, would Henderson have done much worse?
4. A centre-back must be a priority
Let's get it out there. Neither Victor Lindelof nor Axel Tuanzebe are top centre-halves. Harry Maguire, for all the criticism he receives, has performed admirably this season alongside different partners at centre-back as well as two different left-backs. Tuanzebe is talented – the performance against PSG against Kylian Mbappe and Neymar was phenomenal – but he isn't there yet. The Lindelof experiment should be considered over – he's simply not good enough.
Eric Bailly may be. But can he be trusted to sustain a near-fifty game season including cups and European competitions? He hasn't shown it yet. Maguire needs a quick, strong centre-half alongside him, and the performances of Lindelof and Tuanzebe against Everton proved it.
5. Cavani is the best striker in the squad
To finish on somewhat of a lighter note, the performance of Edinson Cavani against Everton was excellent. Opening the scoring with a strong header from Marcus Rashford's cross and leading the line efficiently against a solid defence, Cavani proved, as he has done in the last month or so, that he is the club's best option to lead the line.
🇺🇾 Edinson Cavani in the Premier League this season:

⏰ Minutes: 714
⚽️ Goals: 6
🎯 Assists: 2

A goal involvement every 89 minutes. 💥#MUFC pic.twitter.com/Dqz6yUUJGj

— Oddschanger (@Oddschanger) February 7, 2021
Anthony Martial still has talent, of course, and is a good option, but he is nowhere near consistent enough to maintain that position. His work-rate has dropped considerably since last season, looking a shell of his former self, and his determination to become the world-class player that he so clearly could be just isn't there.
For the time being, Cavani should be the number-one choice for Solskjaer up front. The pursuit of a long-term number-nine should also be considered a priority.