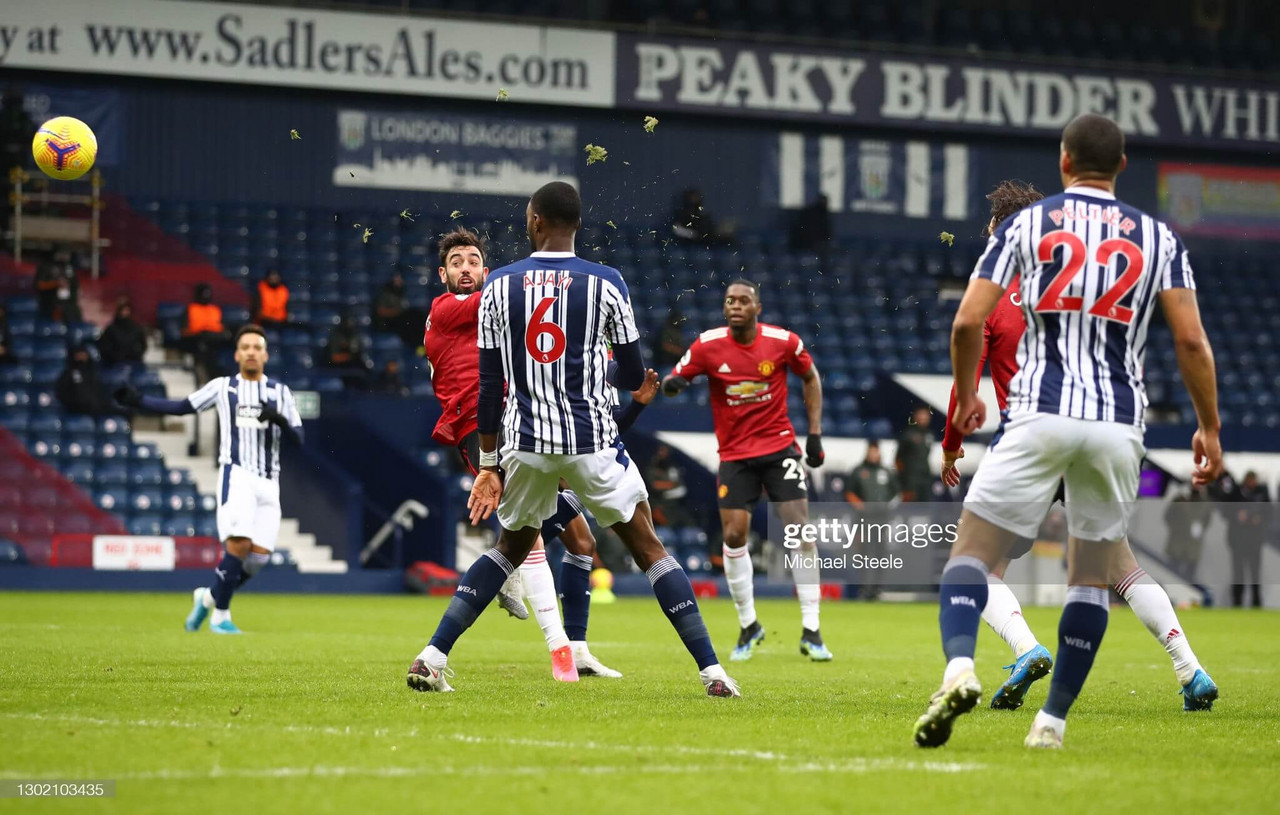 Manchester United were held to a point at the Hawthorns on Sunday afternoon as they drew with West Bromwich Albion 1-1 in the Premier League.
Albion took the lead inside the opening 90 seconds of the match. Mbaye Diagne was fearless and put his head where Victor Lindelof did not. Diagne headed home to give his side an early lead. There were shouts for a foul, but VAR did not seem to look.
Bruno Fernandes who was having an off day by his standards produced an excellent volley to get his side level just before half-time. It was Luke Shaw's cross from the left which set up Fernandes, he now has four assists in three games.
Despite Fernandes' efforts, United could not find a winner and drift further from league leaders Manchester City.
Story of the game
United started the game like they have multiple times this season, sloppy. But credit to West Brom, they pressured United on the ball and forced Lindelof into an early aerial duel. Diagne beat the Swedish international to the ball and headed past David De Gea with ease - a goal which United have conceded far too many times this season.
Some will think Diagne fouled Lindelof during the aerial duel but the fact is that the United defender was too weak and showed little to no bravery. An argument can be raised for the lack of consistency from the officials across the campaign as Harry Maguire's headed goal at Burnley was disallowed for something similar.
Approaching half-time, United finally got forward and were patient in their build-up play. Shaw found space down the left-wing, put in a perfect cross for Fernandes to hook with his left-foot and level the scoreline.
It was Shaw's fourth assist in three games and no other player in the league has more assists than him in 2021.
United started the second half with more intent and had the majority of possession in Albion's half of the pitch.
On the hour-mark, Maguire was brought down in the box from a Fernandes free-kick. The referee initially awarded United a penalty but he went over to the monitor and reversed his decision - United players fumed as they felt it was a stonewall penalty.
Substitutions were made as a very poor Anthony Martial departed for Mason Greenwood. Greenwood got in on the action immediately and forced Sam Johnstone into making a save with his feet from close-range. Scott McTominay got the rebound and his shot was saved off the line.
De Gea was called into action with just over ten minutes to play, Diagna bullied Maguire off the ball and looked certain to score but somehow De Gea recovered and parried the ball away from danger.
Diagne had a glorious opportunity to snatch all three points in the 88th minute, he put his sliding effort wide from just over six yards out.
Maguire had a great chance in stoppage time but his header struck the post.
United never stopped in their search of an equaliser but their efforts simply did not deserve the three points. As for Albion, they defended relentlessly and worked incredibly hard for the point.
United away record impressive but need to turn draws into wins
United's away form under Solskjaer has been tremendous and whilst the record of unbeaten away league fixtures continues, they need to start turning draws into victories if they are to stand any chance of being involved in the title race.
The unbeaten run was in jeopardy - as it has been so many times - and it required yet another comeback which was given life after Fernandes got on the scoresheet.
Solskjaer has now managed 19 away games unbeaten in the league, picking up 14 wins and five draws. It has not come easy and his side has been accused of starting slow away from home - which has often resulted in United having to produce a comeback. United have had to save their run from coming to an end multiple times this season. Notably, the comebacks against Southampton, West Ham and Fulham.
Only three other sides have been able to play better than United away from home in Premier League history. Arsenal's Invincibles managed 27 games unbeaten, Liverpool under Jurgen Klopp managed 21 and Chelsea did 20 without a loss.
Another note of progress is that United have now managed to score 50 league goals this season. This is the first time they have scored that amount in 24 games or less since Sir Alex Ferguson's last season as boss.
When you consider that Albion have conceded the most goals in the league and United have scored the most - Solskjaer will be frustrated his side were held to a point.