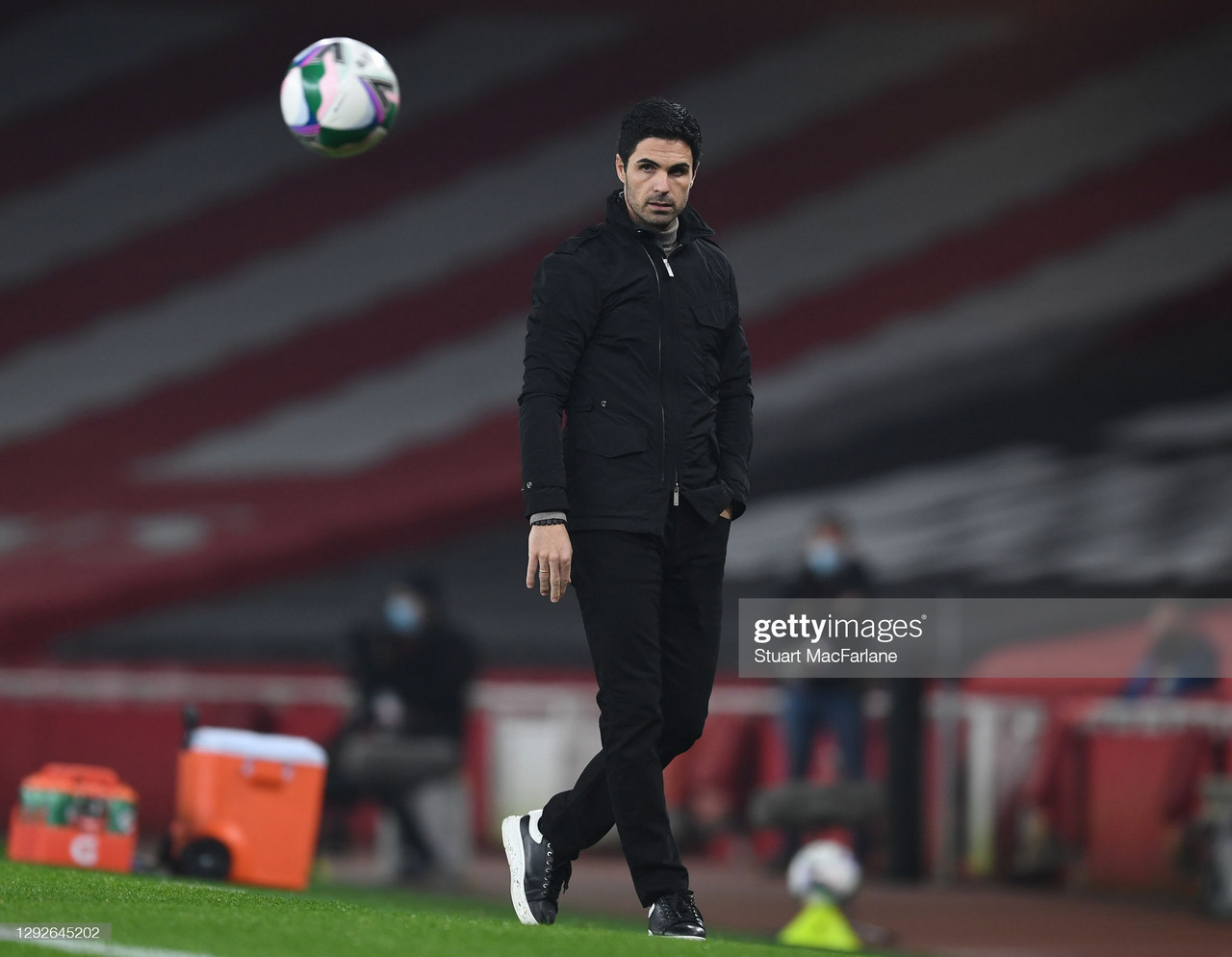 The Premier League treadmill keeps rolling on!
Game of the week
Arsenal vs Manchester City: Emirates Stadium, 16.30 (Sky Sports)
It was a toss up between this match and the Merseyside derby but the master versus the apprentice is always a good narrative.
Mikel Arteta hasn't had an easy time of it since making his move into the world of management. He built his craft as Pep Guardiola's assistant but that apprenticeship could not have prepared him for the challenges at Arsenal. A limited transfer budget, the Mesut Ozil fiasco and a dressing room full of sizable egos threatened to prematurely end Arteta's adventure. But the Spaniard has steadied the sinking ship and things are steadily looking up.
Guardiola will expect his team to win this match. While Arsenal are much better than they were in the middle of December, they are still a far cry away from the team that consistently achieved Champions League football. There is nothing ambiguous about City's aims of redemption, following their disappointing slump in the 2019-20 season.
The Gunners have improved defensively under Arteta and they could make life difficult for the visitors. Nobody will excuse them from sitting in a deep-block against the runaway leaders of the division. However, with so many creative players at their disposal, it's difficult to see City not unlocking the door at least once.
Friday
Wolverhampton Wanderers vs Leeds United: Molineux, 20.00 (BT Sport)
Wolves have managed to claw their way out of the hole that they were in; a bit of luck coupled with some moments of individual brilliance. They will fancy their chances against Leeds but Marcelo Bielsa's men have been lively in an attacking sense. Leeds have racked up ten goals in their past five matches.
Southampton vs Chelsea: St Mary's, 12.30 (BT Sport)
The Saints are on a run of six straight league defeats and they won't be looking forward to the visit of a Chelsea team that have won their last five matches. Ralph Hasenhuttl's players have steadily improved after their dismal 9-0 collapse against Manchester United, but they are still a long way from their buccaneering best.
Prediction: 1-2
Burnley vs West Bromwich Albion: Turf Moor, 15.00 (Sky Sports)
Sean Dyche will have been content with a draw against Fulham, especially after falling behind. The Londoners are the most likely survivors out of the current bottom three but a point keeps Fulham eight points away from the Clarets. Dyche will know that West Brom are starting relegation in the face and he will expect his team to take maximum points from this clash.
Liverpool vs Everton: Anfield, 17.30 (Sky Sports)
This could be the perfect game for Liverpool to get themselves back on track. A Merseyside derby is always laced with an added spice. The Toffees have an outside chance of finishing in a Champions League position but their recent defensive efforts have massively undermined that possibility.
Fulham vs Sheffield United: Craven Cottage, 20.00 (Sky Sports)
Two teams with a clear and sustainable identity. The difference is that Fulham have recruited better players and they look a little more convincing when they play their football. It is a huge game for Scott Parker and he knows that his team has to win this. Seven points from nine is a great return and they face out-of-form Crystal Palace next Sunday.
West Ham United vs Tottenham Hotspur: London Stadium, 12.00 (Sky Sports)
This is a big London derby for Jose Mourinho -- an opportunity for Spurs to address their flailing league form. The problem is that West Ham have six points more than Mourinho's men and they will also be welcoming Michail Antonio back into the fold.
Aston Villa vs Leicester City: Villa Park, 14.00 (Sky Sports)
The third derby of the weekend pits these two high-flying foes against each other. Recent performances haven't been quite as flashy from either team, although Leicester still managed to overturn a Liverpool team that was short of confidence.
Manchester United vs Newcastle United: Old Trafford, 19.00 (BT Sport)
United were slow and lethargic against West Brom last weekend. Had it not been for Albion's poor finishing and a wonder goal from Bruno Fernandes, the Red Devils would have been on the end of another embarrassing slip up. Many will be expecting them to swat aside Newcastle but Steve Bruce's men have improved in recent weeks.
Brighton & Hove Albion vs Crystal Palace: AMEX Stadium, 20.00 (Sky Sports)
Two more bitter rivals going toe-to-toe. All season, Brighton's Achilles heel has been scoring goals and never was that more true than last week against Aston Villa. Emi Martinez made NINE saves and the Seagulls just couldn't squeeze the ball over the line. However, their usually resilient opponents have lost their defensive discipline and Roy Hodgson needs to find a way to regain the focus and desire of his squad.
Leeds United vs Southampton: Elland Road, 18.00 (Sky Sports)
The second match of the week for both of these teams and it should be entertaining. Neither team can defend and it could well be a battle between who is sharper in-front of goal. Patrick Bamford has made a strong impression over the campaign but Southampton's Danny Ings is the more accomplished centre-forward.
Prediction: 2-3